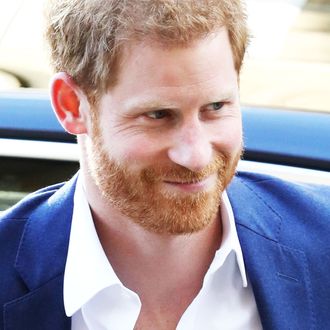 Prince Harry.
Photo: Chris Jackson/Getty Images
You can take the prince out of the party, but you can't take the party out of the prince. According to the Mirror, Prince Harry wants to have a "carnival and festival-themed" wedding after-party that resembles his favorite posh nightclub, featuring vodka-filled ice luges, South African Wagyu beef, a steel band, and frozen tropical drinks.
Following his wedding with Meghan Markle on May 19 at St. George's Chapel at Windsor Castle, 200 of the couple's closest — and most importantly, coolest — friends and family will make their way to the after-party at Frogmore House, where I imagine all of Harry's friends from his party-boy days will suck vodka directly from ostentatious ice sculptures. Fifty bucks Meghan puts a tiny umbrella behind her ear after her second slushy Lava Flow.
According to the Mirror, Harry wants Frogmore House to resemble Mahiki, a Tiki-themed party destination that has attracted celebs like Beyoncé and Rihanna, and posh Londoners who are looking to drop hundreds of British pounds on bottle service. When the club first opened in 2005, both Prince Harry and Prince William frequented the kitschy Mayfair haunt.
While these after-party rumors have not yet been confirmed, they're pretty believable. Not only is Harry a fan of slushy drinks with swizzle sticks, but he also loves to get creative with his party themes. Who could forget his 30th birthday party in 2014 that was a "ski-themed nightclub," whatever the hell that means. Apparently, there were snow machines there, which were the "highlight" of the whole rager.
Fingers crossed for the queen, Meghan, and all of Harry's family that the prince keeps his clothes on.