Prince Harry and Meghan Markle.
Photo: Ben Birchall/WPA Pool/Getty Images
Prince Harry has several passions in life: humanitarian causes, Vegas, his soon-to-be wife Meghan Markle, and, of course, man jewelry. So it should come as no surprise that he is reportedly planning on wearing a wedding ring after his upcoming May 19 nuptials — unlike his jewelry-phobic brother (and best man) Prince William.
The royal ginger has frequently been spotted wearing man jewelry over the years — including the matching blue beaded bracelets that he and Markle wore when they were just dating, a fancy gem necklace he wore during his notorious Vegas high jinks, and even a subtle necklace that he was pictured in at an event with Prince William just last week (it was fairly hidden, but we could see it emerge in certain pictures).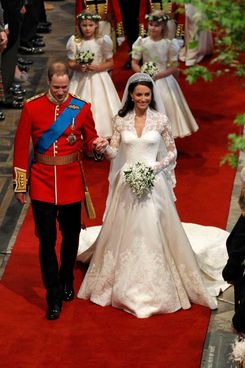 On the other hand, Prince William "doesn't like jewelry," E! notes. So that's apparently why the heir to the throne hasn't been sporting a wedding band since marrying Kate Middleton in 2011. A royal aide once said that whether a royal decides to wear a ring "simply comes down to royal preference," and according to E!, Prince William just "prefers to go without one" (even though Middleton often wears her stunning sapphire engagement ring inherited from Princess Diana).
However, Prince Harry, noted fan of man jewelry, "does want to wear a wedding band," a source told E!. So, despite having the choice not to, the royal will be following that particular marriage tradition. No word yet on what exactly Prince Harry's wedding band will entail, though a source did tell E! that's Markle's band will be made of the same Clogau-Welsh gold used for Princess Diana and Middleton's rings. How nice and fancy.