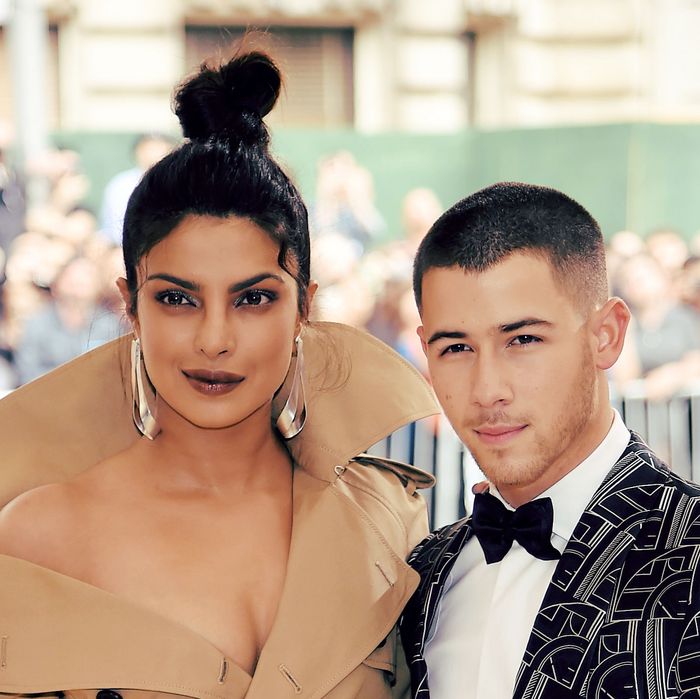 Priyanka Chopra and Nick Jonas.
Photo: Dimitrios Kambouris/2017 Getty Images
Even celebrities aren't immune to summer love — actress Priyanka Chopra and Nick Jonas are reportedly dating. The weather gets warmer, and suddenly an actress and former Miss World falls for a former Disney star who released one (1) bop in 2014.
"They are dating and it's brand new. It's a good match and they are both interested in each other," a source told Us.
Until Us reported that they're dating, they didn't seem to even exist in the same celebrity-sphere, but they've been in each other's circles for a while. The two spent time together over the long weekend. They attended the Beauty and the Beast Live concert together on Friday then went to a Dodgers game on Saturday. At some point during that busy time, they were also on a boat with the newly single Chord Overstreet.
At the baseball game, they "were talking really closely and were very smiley and very happy," a source told Us. "They weren't trying to be private as they were in a pretty public place, but they were talking to people around them, sitting closely and they both just seemed super happy."
The two previously attended the 2017 Met Gala together. Chopra told Jimmy Kimmel at the time it was because they were, "on the same table," both wearing Ralph Lauren, and "already knew each other." Kimmel also asked if he was 11 years old. For the record, he is 25 years old, and Chopra is 35.
Congrats to the new, maybe-couple. May you continue to spend lots of time together.