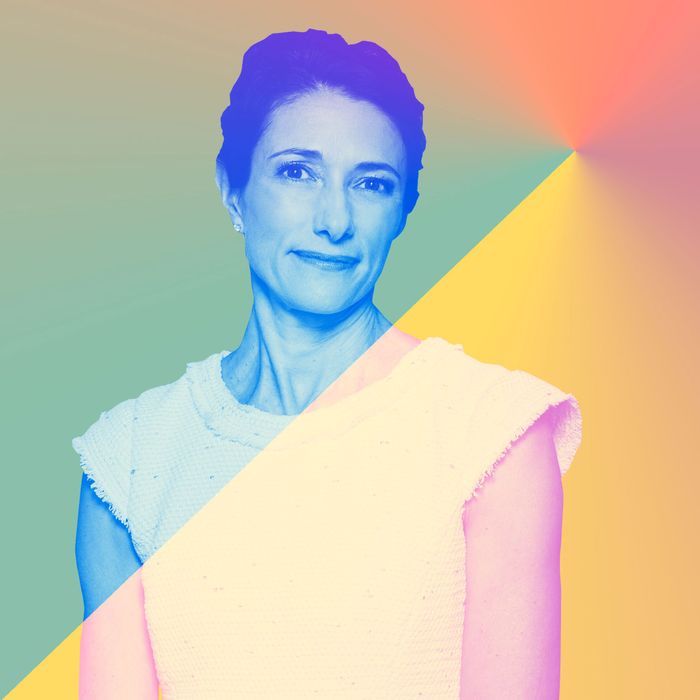 Photo-Illustration: Stevie Remsberg
To borrow a famous Gay Talese opener, Alex Keith has a cold. The President of P&G Beauty apologizes for the intermittent coughing, but you'd never know she just finished up a Z-Pack; in a flowing skirt, sleeveless top and ballet flats, she looks more ready for a photo shoot than a sick day.
Nice clothes played a part in Keith's career, but fashion didn't step in until after she received her degree in chemical engineering and landed a job inside one of Proctor & Gamble's storied labs.
"At some point I realized that I just couldn't see myself wearing steel-toed shoes and hairnets every day," she laughs. "I wanted to be dressed in tailored suits and fancy shoes. More importantly, though, I always had this vision of myself leading a business."
P&G, which is known for encouraging movement, approved her request to move to marketing and offered her spots in two categories: Household care and skin care. She chose the latter.
"Everyone said, 'You're crazy! Laundry is the core of P&G!' But I remember saying, 'I think I'll like skin care better.' So I followed the passion."
When Keith joined Olay's marketing team in 1995, the brand was in the midst of a reinvention, having shed the square pink bottle, phasing out the "Oil of" and launching the first mass moisturizer to contain sunscreen (Olay Complete). By the time she was appointed brand manager, she oversaw the launch of the wildly successful Total Effects. Stints in deodorants and personal care followed until Household finally did nab her, and she quickly made her mark by launching Tide Pods. Heard of 'em?
She was promoted to her current post last July, where she oversees the category from Geneva, Switzerland and is one of the rare female heads of a big beauty company.
An avid runner with five marathons under her belt, Keith's travel schedule has prevented a sixth, but when the opportunity arose to participate in a leg of Cincinnati's Flying Pig Marathon last week, she laced up her running shoes.
"With this cold, I was conservative about my prospective time, but I actually finished 30 seconds a mile faster than my target time!" she smiles at the thought, then adds. "I've accomplished a lot in life, but nothing gives me more personal joy than running faster than I thought I would. That is the most amazing feeling."
Keith shared with the Cut some of her favorite other feelings including her favorite spot in the entire world, the football team she would be best friends with, and the candle she is getting ready to stockpile.
Favorite time of day and why? Early morning — time is truly your own at 5 a.m.!
What do you cleanse with? Olay Daily Facials
Daily carry-all of choice? Vuitton's "Never Full" bag. I was sold when I heard the name!
Work shoe of choice? High heels or wedges. I don't have a go-to, but based on share of shelf, Prada leads.
Casual shoe of choice? J.Crew ballet flats.
Watch of choice? I have a few lovely watches that I switch around, but my current favorite is a lavender-faced Tiffany Atlas.
Preferred fancy lingerie and daily underwear? I'm sporty, so I tend to wear Gap underwear every day.
What celebrity would be your friend if only you two could meet? Any one of the Pittsburgh Steelers.
What fashion look do you struggle with achieving? High waisted anything. I have a freakishly short torso.
Favorite smell? I have an Illume Roasting Chestnuts holiday candle that is my absolute favorite smell, but it's running out and I can't find another one.
Least favorite smell? Bacon.
Sweet or salty eater? Sweet — but not too sweet. A dark chocolate kind of sweet.
What drives you crazy?  People who talk too much and don't get to the point.
What is a lost art? Casual conversation.
What is always in your fridge? Parmesan Reggiano.
What do you think Pantone's color of 2018 should have been? Fluid-y silver.
What are you working on mastering? French and skiing. And I'm not doing well at either.
Weakness? I have "inbox-itis." I find it hard to do things if I haven't gone through all my email.
Preoccupation? If I have said something wrong to anyone at any time.
Favorite Instagram? @Natgeo. Amazing and inspiring photos of the world.
Favorite meal and where? Anything my aunt and uncle cook, at their house.
Comfort food? Acini de Pepe pasta with Pecorino and black pepper.
Comfort music? Classical music for dummies.
Most recently binged TV show? The Crown.
Favorite spot in the entire world? On Richmond Hill in London overlooking the Thames.
What do you wish you had invented? Starbucks.
What product in your domain is misunderstood and should be a best seller? Pantene. It's the only shampoo that actually improves the health of hair from within, but it's hard to explain that in an exciting and interesting way.
What do you foresee as the top beauty trends in 2018? A key trend happening right now is "play" — particularly in cosmetics. Women are getting lost in the magic and mystery of beauty — think colors, texture, visual impact. This is a fun one to watch, and exciting to see women so engaged. We're also seeing a rising trend in unisex fragrances, especially in the clean/natural space.
If you won the Power Ball tomorrow, what are the first five things you would do? (after, of course, donating the majority of it to your top charities…) Do my job with more abandon; establish a scholarship or two for young women in STEM schools; buy my husband that Cirrus plane he wants; and keep the rest to decide later where it will mean the most.