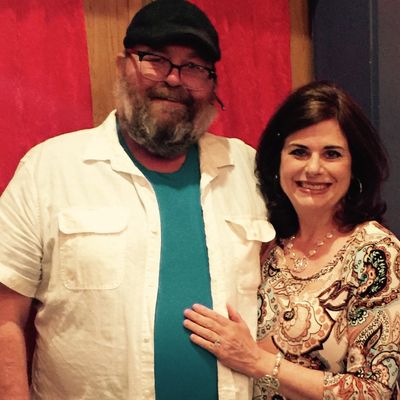 The happy couple!
Photo: @TomJack20176306
On the first episode of Netflix's Queer Eye reboot, the Fab Five made over Tom, a sweet, bearded man from Georgia who loves recliners and "redneck margaritas" and kept calling himself ugly, which made me cry a lot. He was also still very in love with his ex-wife Abby. At the end of the episode, he showed her his new look and revamped apartment, which included his and hers recliners, and she seemed impressed, but we didn't really know where there relationship would go. But back in March, we learned the exes were back together, and now, Tom and Abby have gotten remarried!
The couple told Us Weekly they eloped together on March 27, and had a private ceremony at Chapel at the Park in Gatlinburg, Tennessee, during which they lit a unity candle, and had a small wedding cake.
"I was excited and happy!" Abby told Us. "I was marrying the love of my life. Tom looked happy and excited as I walked down the aisle — I was looking at him looking at me and he was smiling as I walked down the aisle!"
The couple then enjoyed a "honeymoon in the mountains," according to Tom's tweets on Wednesday.
"Thomas and I, we have never really been apart, apart," Abby said earlier this year. "We have been best friends for 12 years and we have known each other for 12 years. We have always loved each other, that never stopped, whether we were together or not."