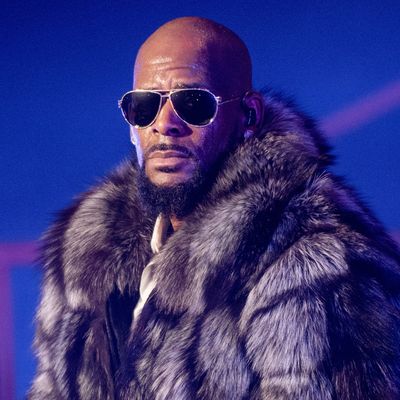 Photo: Noam Galai/Getty Images
After Time's Up called on streaming corporations like Spotify to remove R. Kelly's music from its platform in the wake of decades of allegations of sexual abuse, Spotify has finally responded. Billboard reports that Spotify is wiping its playlists clean of R. Kelly's music beginning today. While it isn't deleting Kelly's catalogue entirely, you will no longer be able to find his music on its promotional and algorithmic playlists — RapCaviar, Discover Weekly, New Music Friday, etc. — or any of its many genre and mood-curated playlists. The decision to cease promoting Kelly's music falls under Spotify's new Hate Content and Hateful Conduct policies, which states:
"We don't censor content because of an artist's or creator's behavior, but we want our editorial decisions - what we choose to program - to reflect our values. When an artist or creator does something that is especially harmful or hateful (for example, violence against children and sexual violence), it may affect the ways we work with or support that artist or creator."
Spotify has confirmed to Vulture that the service will no longer "actively promote" Kelly's work on the platform but his music will still be available. According to Billboard, Kelly is the first to be penalized under these new guidelines but other artists may be affected. A search of Spotify's RapCaviar playlist shows that XXXTentacion's music is no longer listed either; the rapper has faced allegations of domestic violence and a pending trial. Kelly has recently been accused of running a "sex cult," with two more women coming forward last week to accuse the singer of sexual abuse.