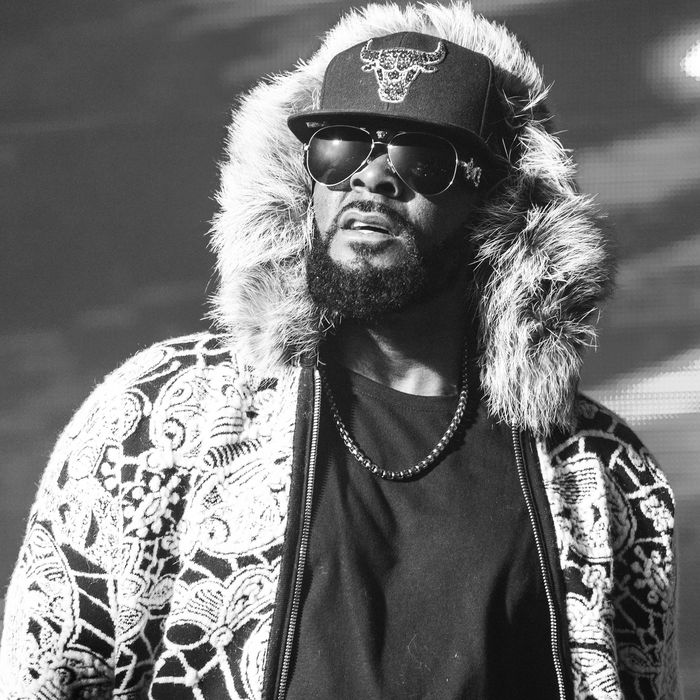 R. Kelly.
Photo: Scott Legato/Getty Images
Days after the Women of Color of Time's Up — a group within the Time's Up movement dedicated to issues particularly important to women and girls of color — published an open letter on the Root calling on corporations to boycott R. Kelly, two additional women have come forward to accuse the singer of sexual abuse.
Speaking with BuzzFeed News, one woman, Lizzette Martinez, opened up about a four-year relationship with the singer that she alleges was her mentally and physically abusive, and which began in the '90s when she was a 17-year-old Florida high school student (the age of consent in Florida is 18, so she was underage at the time). Martinez says Robert "R." Kelly was 28 at the time and knew she was a virgin when they met, and that he took her virginity. She also alleges Kelly hit her on five occasions and forced her to partake in sex acts against her will.
The other woman, Michelle, is the Chicago-based mother of "N.," whose name is being withheld to protect her privacy. Michelle says "N." began a relationship with Kelly when she was 17 (the age of consent in Illinois). She claims her daughter is "brainwashed" and part of the "cult" Kelly has previously been accused of operating, and that she believes "N." is in trouble. "I don't know what hold he has on her, but her last words to me was, 'Don't ever give up on me,'" Michelle told BuzzFeed News.
With these two new accusations, the women join many others who have accused R. Kelly of sexual abuse. The singer has previously married a minor, been hit with a lawsuit by four women for sexual misconduct, been arrested on 21 counts of child pornography, and faced multiple additional allegations of sexual abuse.
In their letter, the Women of Color of Time's Up wrote, "We demand appropriate investigations and inquiries into the allegations of R. Kelly's abuse made by women of color and their families for over two decades now." Kelly has denied the allegations, and in a statement in response to the Time's Up letter, his representative wrote, "Soon it will become clear Mr. Kelly is the target of a greedy, conscious and malicious conspiracy to demean him, his family and the women with whom he spends his time."