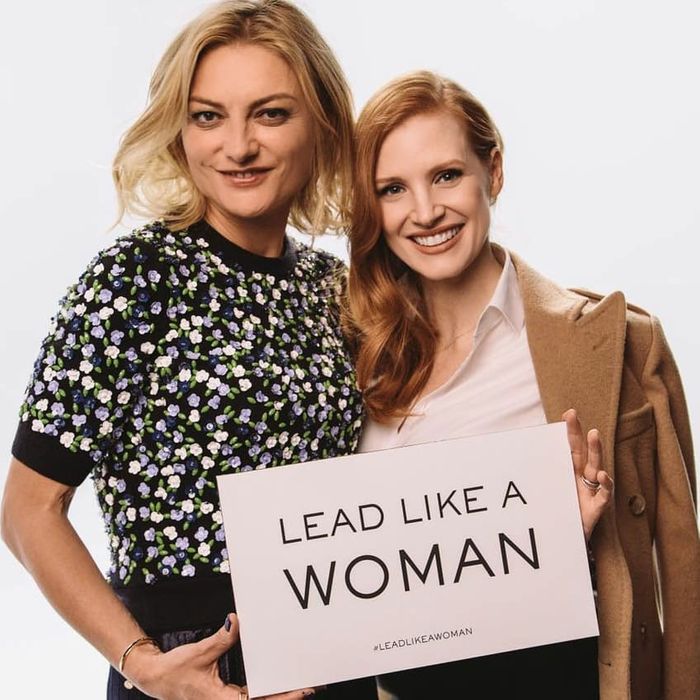 Photo: Courtesy of Ralph Lauren
Mother's Day is quickly approaching — have you chosen a gift for the woman who brought you into this world? If not, the Cut made an extremely useful guide to choosing the best gift. Or, you could also make like Ralph Lauren's new campaign and make a video telling your mother how much you love her and what a great role model she is. Ahead of the holiday, Ralph Lauren donated to and partnered with Women in Film, a media parity advocacy organization, for the Lead Like a Woman campaign. It focuses on bridging the leadership gap between women and men in film, and encourages followers to share what they think makes a great leader.
To introduce the campaign, Ralph Lauren released one of three short films featuring women from the entertainment industry, including actresses Jessica Chastain, Zoe Lister-Jones, and Rachael Taylor, who spoke about their moms and how they continue to break barriers. In the first video, Chastain, who is also the global ambassador for Ralph Lauren's Woman fragrance, said, "There were so many sacrifices both my grandmother and mom made to help get me where I am today."
Ralph Lauren will release the other two videos, Lead With Intensity and Sisterhood of Leaders throughout the week. The new campaign reinforces Ralph Lauren's gender-parity mission, which includes a pledge to interview at least one qualified woman for every open position, vice-president and above.
To join in on the campaign, shop Ralph Lauren's Woman scent (which smells like tuberose, pear, and black currant) and share how you and your role models are leaders with the hashtag #LeadLikeaWoman.
If you buy something through our links, New York may earn an affiliate commission.