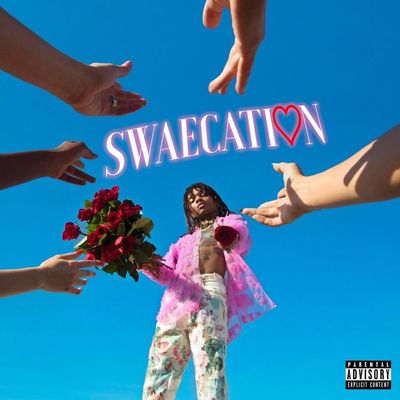 Photo: Eardruma Records / Interscope Records
What's Good is a weekly column collecting TV, music, movies, and miscellaneous cultural ephemera worthy of your time. Why? Because we like it. Check back Fridays at lunchtime for your guide to what is good.
It's May! a.k.a the fast lane to summer, a.k.a. The Horny Time, a.k.a. the time I start strategizing (obsessing) to ensure I'm never caught in a warm weather gathering without the perfect soundtrack. Before the temperature even got consistently warm, there was way too much music to choose from. But rather than give up and put on Drake's "Nice for What" and Cardi B's "She Bad" on loop, I'm looking for an album I can play from start to finish, at any occasion, and still seem like a cool human with great taste. Last summer, that album was Drake's More Life. This summer, it's Swae Lee's Swaecation.
Swae Lee is one half of Rae Sremmurd, rap's most exuberant duo, best known for songs you just got out of your head: "Black Beatles" and "No Flex Zone." Swaecation is one third of SR3MM, the three-in-one album they just released. Play SR3MM when you want to impress the Rae Srummurd fans and Jxmtro when you want the party to take a turn toward debauched ("Chanel" is the soundtrack to all my future bad decisions) — but when you want to set the vibe to "perfect" and just sit back and enjoy yourself, Swae Lee's solo effort is it.
It's just nine tracks of breezy bangers that blend right into the next. The album is light and mellow, perfect for beach trips, day parties, ingesting very trendy CBD products at a BBQ, even attending a baby shower with your grandmother — and pleasing just about everyone in attendance. (Who doesn't like songs about falling in love, enjoying life, having lots of money, and taking lots of money to strip clubs?)
If the idea of a one-size-fits-all summer album doesn't appeal, then "Touchscreen Navigation," "Heat of the Moment," and "Hurt to Look," should at the very least have a home on any playlist. Or maybe be the playlist.