What do fashion and European Catholicism have to say to each other? Everything, as it turns out, and you do not want to miss the conversation staged by the Met Costume Institute in "Heavenly Bodies: Fashion and the Catholic Imagination." Even non-Catholics will be moved — I myself felt nearly ready to convert.
The Institute's largest exhibition ever, "Heavenly Bodies" features 20th- and 21st-century fashion inspired by the Catholic tradition, as well as sacred items from the Sistine Chapel Sacristy. And it occupies — unusually — two separate sites, the Met on Fifth Avenue — AND the uptown Cloisters, encouraging a "pilgrimage" from one to the other.
"Heavenly Bodies" is also Andrew Bolton's most ambitious show conceptually. It confirms the historical, even mystical power of fashion, its worthiness of serious attention from everyone — including those scoffing straight men in your life.
Fashion and religion are natural interlocutors: Both are systems of visual and metaphoric communication, born of our desire to transcend the quotidian and find larger meaning within a community. And like religion, fashion can add structure to life, providing codified rules — including those governing bodily display and diet — celebrations, hierarchies, prohibitions, and penalties for transgression. If you doubt this, consider the annual ritual of the Met Gala, with its pantheon of anointed celebrities, worshipful spectators, chronicler-scribes, and devotés seeking inspiration. Is it sacrilege to make such a comparison? No. Merely an acknowledgement that the sacred and the profane co-exist on life's continuum.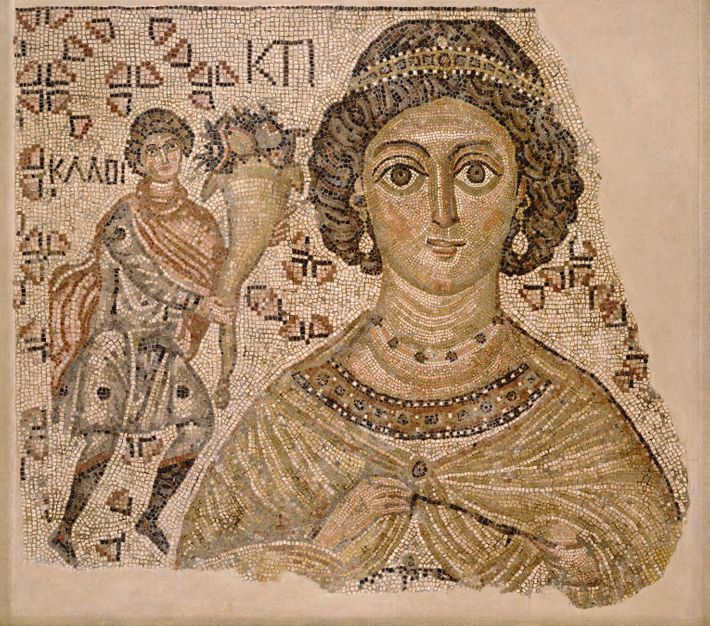 European Catholicism and fashion enjoy a particularly close bond, especially in their mutual devotion to art and beauty (and most of the designers in this show were raised in the Church, even if no longer practicing). Consider the centuries of ravishing Catholic artworks: medieval altarpieces, Raphael Madonnas, the stained glass at Chartres. Clothing too belongs on this list, and "Heavenly Bodies" begins with exquisite church vestments — 40 liturgical garments and accessories borrowed from the Vatican (a loan negotiated over two years and 12 trips to Rome).
Entering these early galleries, you will feel becalmed — by the ethereal music — and dazzled — by items worn by popes from three centuries. They include the dalmatic of Pope Pius IX, (papal reign: 1846–1878), a heavy garment whose golden embroidery depicts stalks of wheat and bunches of grapes, references to the body and blood of Christ in Communion; Pius's cope, a vast semi-circle of glossy white silk embroidered with scenes of the Nativity and the Marriage of the Virgin; and a papal tiara encrusted with 19,000 gemstones.
I was moved by both the objects' sheer physical beauty and their symbolic heft — the way those embroidered biblical scenes, for example, evoke moments of sacred transition: Christ's transubstantiation or Mary's Immaculate Conception — when human bodies cross from the earthly to the divine.
These Vatican items are talismanic, highly charged and spiritual. Yet they are also simply beautiful fashion — and a certain power derives from that too. It's impossible to disentangle the spiritual from the aesthetic. And that's the point. The rest of "Heavenly Bodies" consists of modern couture placed in strategic, sometimes witty dialogue with medieval artworks. A mannequin in a habit-like Riccardo Tisci outfit — black silk wimple over white poplin blouse — stands before a tapestry depicting Mary Magdalene in similar garb. Another medieval tapestry offsets a Jean-Paul Gaultier black velvet cassock, austere save for the painted, mini-triptych icon whose panels stretch daringly between the breasts.
Madonnas and angels abound: A figure dressed in Thierry Mugler's 1980s "Madonna" ensemble of blue and ivory silk, with jeweled "halo," floats atop a stone archway, arms outstretched as if in benediction. John Galliano's 2005 "Madonna" bridal gown is a frothy confection of white tulle, embroidered angel "wings," and a golden sunburst headpiece. This unearthly ensemble posed next to a 14th-century marble angel, originally sculpted for the Duomo. Lamé Rodarte gowns sprout golden wings, as does an embroidered 1939 Lanvin in Madonna blue, inspired by a Fra Angelico painting. Conversely, lines of austere black dresses by various designers conjure the sober garb of nuns and priests.
The modern and the ancient merge here creatively: Thousand-year-old crosses hang beside near-identical 20th-century copies by the convent-raised Coco Chanel. Black leather Versace motorcycle jackets sport jeweled crucifixes inspired by Byzantine mosaics, blending edgy coolness with churchly devotion.
This amalgam of luxury, iconoclasm, and piety further unfolds at the Cloisters, where couture masterpieces often incorporate religious painting. Among the most stunning are a series by Alexander McQueen, imprinted with images from 15th-century Flemish paintings. Maria Grazia Chiuri blends her work with Cranach's famous Garden of Eden, and one of the few non-European couturiers, Jun Takahashi, looks to Hieronymus Bosch's Garden of Earthly Delights.
Some pairings are outright funny: The famous Unicorn tapestries surround a mannequin dressed in an outrageous, nearly surrealist Thom Brown confection of organza and white mink — suggesting an encounter between mythical white-mane'd creatures of past and present.
Beyond such witticisms, the European cloister setting heightens the sensation of reverence. In one chapel, visitors fell into a hush: Maria Callas was singing Ave Maria and a mannequin-bride in an oceanic, unadorned Balenciaga wedding gown bowed her head beneath Christ on the Cross. A bride alone at the altar, she recalled the nuns who take Christ as their only spouse. The purity and splendor of the dress were thrilling. This is fashion woven back into the sacred realm from which it springs, and where it still lives — sometimes.