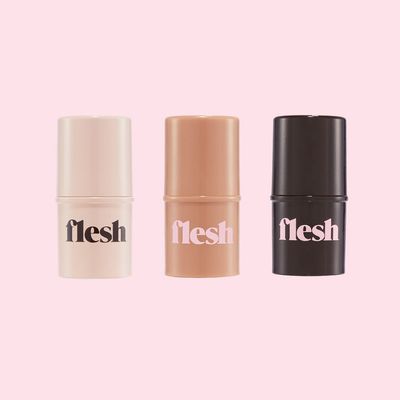 Good news: Revlon is launching a prestige brand with 40 foundation shades. The new label, developed by brand creative director and Allure creator Linda Wells, will launch in late June.
Flesh is specifically designed to complement different skin tones and includes foundation, 14 highlighters, 13 lipsticks, and 8 shades of blush at a prestige price-point. Wells, a former Cut beauty-editor-at-large, reportedly used her wide network of industry contacts to develop the line, which will roll out exclusively at Ulta.
Forty shades just so happens to be the exact number that Rihanna's Fenty Beauty supplied, somewhat revolutionarily, last September. This could be increasing evidence that Rihanna's beauty mogul status is pushing more traditional labels toward inclusivity, as brands like Dior Beauty and CoverGirl have followed. Progress, no? Additionally, the lipsticks and blushes will be designed to work on different skin tones. Inclusivity and a broadening definition of "nude tones" and skin tones, also inspired the name Wells told WWD.
"It's really focused on the idea of flesh being all flesh colors — we're redefining the notion of what flesh color really is and having it be inclusive on every level," Wells told WWD. "Now, 40 foundations has almost become the industry standard, but it's really broadening that conversation and proposition out to other products as well."
Flesh's packaging is sleek and millennial, with a peppy logo and tubes corresponding to the shade of foundation inside. Get it at Ulta.com on June 24 or in Ulta stores on July 8.