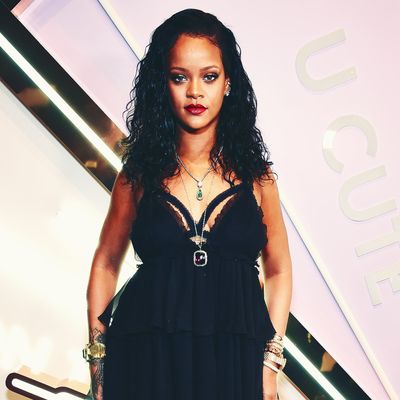 Photo: Kevin Mazur/Getty Images for Savage X Fenty
What's Good is a weekly column collecting TV, music, movies, and miscellaneous cultural ephemera worthy of your time. Why? Because we like it. Check back Fridays at lunchtime for your guide to what is good.
Rihanna' pop-up shop for her Savage X Fenty lingerie line was a place for fans to shop affordable, sexy underwear (and handcuffs, naturally). It was a also a place where I could stand with a cheese burger in one hand, a strong Cognac-and-Champagne cocktail in the other, and watch totally mesmerized as a dancing, grinding, laughing, booty-waggling Rihanna hologram demonstrated exactly what we should all do after purchasing her underwear — that is, make others horny for us, and make us horny for us, too. I mean it: if free Shake Shack and Rihanna's butt aren't what awaits me on the other side of the pearly gates, send me straight to hell.
Rihanna has never been more inspiring than she is right now — she's out there usurping the papacy with a single Met Gala look. Her Vogue make-up tutorial taught us how to accept our double chins, and gave all of us the only necessary Instagram caption for the next four months ("summer, sunset, love, drama, bitches"). Even if I don't buy a single item from the lingerie line (lol, take all my money, Rihanna), what she's selling goes beyond underwear. It's about a lifestyle that includes boozy drinks, fatty food, good highlighter, and lace teddies whether you have a thigh gap or not. This summer, all our thirst traps and sext exchanges are hereby sponsored by Rihanna, the alpha and omega of savage.
I spent about two hours on the Savage site, filling a shopping cart and getting really excited for my new life of being incredibly hot. There are bodies of every shape and size, wearing lingerie of every level of sexy (Subtle to nipples out). Rih never politicizes the fact that she's made underwear for women of all sizes; she just treats it as a reality to be embraced — that asses look good in lace thongs even if you eat Shake Shack.
It's a similar ethos with her beauty line. Do I need body shimmer? I didn't think so, but Rihanna got me to buy it. Do I need highlighter developed to be applied so liberally my face gleams like the sun? Probably not. But Rihanna persuades you to take your body, and shine it up. It's a mindset, not just make-up.
What will we all be inspired to do this summer, now that Rihanna has shaped the vibe? Now — covered in body shimmer and a black lace teddy — we will all hit our best angles as we take our thottiest pictures. Dance in the mirror for an entire night and say "Damn!" every time we catch a glimpse. Proudly post those thirst traps on Instagram. Instead of saying cheese, we'll say Rihanna.