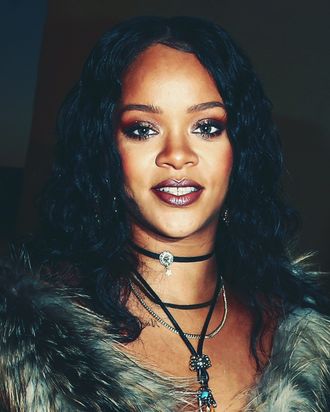 Rihanna.
Photo: Rich Fury/Getty Images
It's hard to pinpoint when exactly Rihanna took over the music, beauty, and fashion worlds. But at some point, it happened. Now, she's the newest Vogue cover star, accompanied by a profile that reminds us why we fell in love in the first place. The newly-turned 30-year-old has launched a massively successful beauty brand, is starring in a new movie, Oceans 8, and is co-hosting the Met Gala this year. And then there's also her music career, which is why she rose to fame in the first place. But there's still more to learn about the singer turned fashionista. Here are eight things we gleaned from her new Vogue profile, from her relationship status to her reaction to her cousin's tragic death.
She also didn't know what to do when she turned 30: It's universal! Rih said, "OK, so now that I'm 30, are there things I'm supposed to do? Should I be worried? Should I be freezing my eggs? What do you do at 30?!"
Yes, she's in a relationship: It's been a while since we've got a glimpse of Hassan Jameel. While she didn't discuss her partner by name, she confirmed that one exists. More than that, he has inspired her to take time for herself. Per Vogue:
"I used to feel guilty about taking personal time," she says, "but I also think I never met someone who was worth it before."
She cleared up how she feels about Drake: While talking about the VMAs where the rapper proclaimed his undying love for her, Rihanna "wince[d] slightly" and said, "We don't have a friendship now, but we're not enemies either. It is what it is." Drake will have to give his Birkins to someone else.
She didn't anticipate the fervor around Fenty Beauty: Her 40-shade foundation range created a frenzy in the beauty world. And while Rihanna said she knew that she had to create shades for darker skin tones, she didn't "anticipate was the way people would get emotional about finding their complexion on the shelf, that this would be a groundbreaking moment."
She has one regret about her famous naked dress at the CFDA awards in 2014: The bedazzled, completely sheer Adam Selman dress (accessorized with a fur stole) drew shock, awe, and comparisons to Rose McGowan's 1998 VMAs dress. Rihanna wore a nude thong with the dress, but told Vogue she wished she had gone with a bedazzled one instead. It was the wrong shade, or, as she puts it, "not my nude." She is launching an inclusive, body-positive lingerie line, Savage x Fenty. It will include many shades of nude, just like Fenty Beauty.
There's a personal meaning behind the name of her lingerie line: The new line, Savage x Fenty, is more than a name: it's a state of mind. Rihanna wore a necklace spelling out "savage" the day of the interview, and explained its empowering message.
"Savage is really about taking complete ownership of how you feel and the choices you make. Basically making sure everybody knows the ball is in your court," she says, twisting the nameplate between her purple-lacquered fingernails. "As women, we're looked at as the needy ones, the naggy ones, the ones who are going to be heartbroken in a relationship. Savage is just the reverse. And you know, guys don't like getting the cards flipped on them—ever."
She loves Lisa Vanderpump: To Rih, she is "goals AF."
"She's chic but still funny. She likes to be at home with her husband and then goes and handles her business. Maybe there's a couple of thousand Birkins in her closet, but she's still focused. I love that about her."
She opened up about her cousin's sudden death: On Boxing Day, her 21-year-old cousin Tavon Kaiseen Alleyne was shot and killed. Now, she makes sure to appreciate the people around her, even just to cope with the current political climate.
"I really hugged my cousin the night before he died; I didn't know why. Now each time I hug somebody lately, I hug them like it's the last time. That may be my biggest life lesson, not to wait on anything, not even tomorrow," she says, pausing to gather her thoughts. "Tomorrow is too late in my opinion."
Read the full profile here.