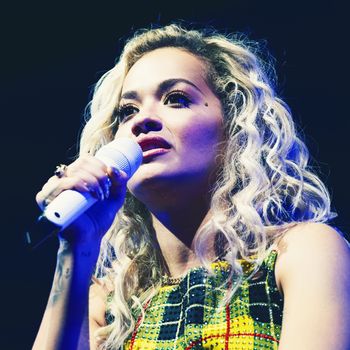 Rita Ora.
Photo: Roberto Ricciuti/Redferns
Last Friday, Rita Ora ushered in the weekend with her new single "Girls." The song featured Bebe Rexha, Cardi B, and Charli XCX, singing lyrics like "Sometimes, I just wanna kiss girls, girls, girls / Red wine, I just wanna kiss girls, girls, girls," and "I am excited, I'm open-minded / I'm 50-50, and I'm never gonna hide it." By Monday, Ora had issued an apology on Twitter, and come out as bisexual, after many people criticized the song for reinforcing negative stereotypes about bisexuality, as well as the fact that lyrics supposedly meant to celebrate women's sexuality were written largely by men.
Hours after "Girls" came out, musician Hayley Kiyoko shared her concerns with the song, calling it "downright tone-deaf," and saying it "fuels the male gaze while marginalizing the idea of women loving women."
"I know this wasn't the intention of the artists on the song," Kiyoko wote, "but it's the lack of consideration behind these lyrics that really gets me. I don't need to drink wine to kiss girls; I've loved women my entire life. This type of message is dangerous because it completely belittles and invalidates the very pure feelings of an entire community."
Kiyoko was soon joined in her criticism by singer Kehlani, who tweeted that there were many "awkward slurs" in the song, and that "certain quotes weren't progressive," and the band Muna, whose member Katie Gavin posted a note on behalf of the band that read:
sooo this song "girls". i feel grateful for it. grateful for the reminder that the songwriting world is full of people that feel entitled to write about communities to which they do not belong. grateful for the renewed fire under my ass to give us queer people better bangers.
Gavin went on to say that the song reminded her of her own experiences as a "young confused bisexual kissing girls at slumber parties and getting shamed by other girls for seeming like i was enjoying it too much."
Naomi McPherson, another member of Muna, shared her own thoughts as well, tweeting, "we all know sexuality is a spectrum & everyone is absolutely entitled to label or perform their sexuality how they so choose. the real issue brought to light today is the truly insidious nature of the straight, white, male dominated pop songwriting sphere."
Indeed, as musician Shura pointed out, many of the "Girls" songwriters were men.
Faced with this wave of criticism, on Monday, Ora issued an apology on Twitter in which she said, "Girls was written to represent my truth and is an accurate account of a very real and honest experience in my life. I have had romantic relationships with women and men throughout my life and this is my personal journey."
"I am sorry how I expressed myself in my song has hurt anyone. I would never intentionally cause harm to other LGBTQ+ people or anyone," she wrote. "Looking forward, I hope that continuing to express myself through my art will empower my fans to feel as proud of themselves as I'm learning to feel about who I am."