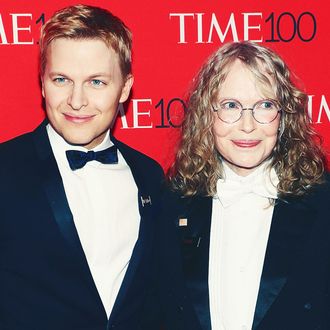 Ronan and Mia Farrow.
Photo: Taylor Hill/FilmMagic
Ronan Farrow has finally come to the defense of Mia Farrow and Dylan Farrow, who were the subjects of a scornful personal essay his brother, Moses Farrow, published Wednesday.
In the post, Moses — who is the adoptive son of Mia Farrow and Woody Allen — defends Allen against his sister's long-standing sexual-abuse allegations, and claims that his mother was the abusive parent. While Dylan was quick to respond to the essay, referring to her brother as a "troubled person," Ronan waited until the next day to release his own defensive statement.
"Not worth saying much to dignify the repeated campaign to discredit my sister, often by attacking our mother," Ronan wrote on Twitter. "This happens every time Dylan speaks, so this is all I'll offer: My mother did an extraordinary job raising us, and none of my siblings with whom I've spoken ever witnessed anything but love and care from a single mom who went through hell to keep her kids safe."
He continued, "Our brother Moses said the same thing in statements dating back many years. After relentless legal scrutiny of my mother's parenting — and efforts to discredit her — she was granted sole custody to protect us from Woody Allen. We all grew up with offers from him to speak out against our mother in exchange for support. (He made helping to pay for my college education contingent on turning against her and lying. I declined.) … I believe my sister."
While Mia has yet to release a formal statement about Moses's essay, she has responded to supportive tweets to Ronan and Dylan with hearts and notes of gratitude.