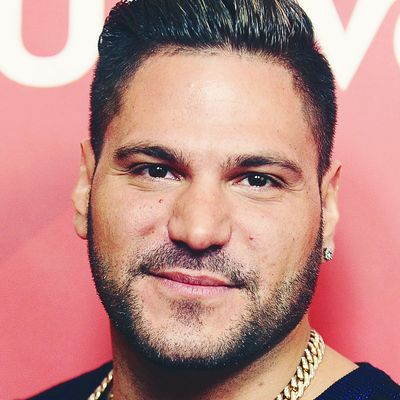 Ronnie Ortiz-Magro.
Photo: Jason LaVeris/FilmMagic
Ladies??? Just kidding.
Ronnie Ortiz-Magro, resident meathead and creator of "Ron Ron Juice" on Jersey Shore, and his girlfriend Jen Harley have officially broken up following several heated and intricate back-and-forths that took place all over Instagram, according to E! News.
The drama all started this past Sunday, when Ronnie and his girlfriend/baby mama (Jen gave birth to the couple's daughter Ariana Sky less than a month ago) started sub-Insta-storying(?) each other. First, Ronnie posted on his story, "Note to self, can't turn a natural born HOE, into a HOUSEWIFE, if you find them in the gutter then leave them in the gutter," to which Jen posted on her story, "You can't turn a coke head into a father." Ronnie then retaliated by posting a poll on his story and asking his followers, "If your significant other keeps sex videos of their ex, shouldn't they show enough respect to delete them, esp [sic] after being in a new relationship for over a year?" Ronnie also allegedly texted Jen a video of a woman's face with a message saying, "This is going to Mason and ur grandmother," which Jen took a screenshot of and posted onto her story with the caption, "What kind of man says this shit[.] He's going to send videos of me to my 11 year old son!! [sic]" Yikes. Can someone check on their daughter please?
Later, Ronnie apologized for "act[ing] out of my gut and not rationally," but just when you thought it was all over, on Monday he went live on Instagram in between the ex-couple fighting, telling Jen to "put your hands on me again, I dare you." Some other physical altercations also appeared to be taking place. After the livestream stopped, Ronnie apologized again for exposing "a private matter that should have never been made public."
The news of Ronnie and Jen's official breakup isn't too much of a shock to anyone who watches Jersey Shore Family Reunion (a.k.a. me). First, Ronnie took a girl home from the club and almost cheated on Jen, and then he admitted that he was still in love with his ex Sammi Sweetheart. Now he's the creator of an extremely unnecessary social-media shitstorm. In the words of Sammi herself, "RAHHHN, STOP."