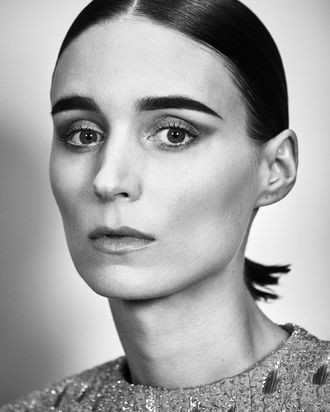 Rooney Mara.
Photo: Courtesy of Givenchy Beauty
Two-time Oscar nominee Rooney Mara's résumé has a new addition. WWD reports that the actress is the new face of a Givenchy Beauty perfume that will be released in September. She's worn Givenchy multiple times on the red carpet, including last night's Met Gala. Her first time wearing a Givenchy design was for the London premiere of The Girl With the Dragon Tattoo.
Designer Claire Waight Keller is a long-time admirer of Rooney's, comparing her to the brand's most famous muse, Audrey Hepburn. Of Rooney, Waight Keller said, "I love how versatile she is, and how she defines soft power. She has that presence. She doesn't need to say she is there, your eyes are just naturally drawn to her anytime she enters the room." Mara told WWD that the appreciation was mutual explaining, "I always feel my best and most comfortable wearing [Givenchy] clothes. Getting to represent them now in this way feels just right."
This will be Mara's second time being the face of a perfume (the first was Calvin Klein's fragrance, Downtown in a campaign shot by David Fincher). Details about the new scent including the name and its notes are still under wraps. The brand also provided this picture of Mara shot from the back so perhaps there's a clue to future imagery. But it's safe to assume that the new scent will most likely not smell anything like Mara's least-favorite food, pie.