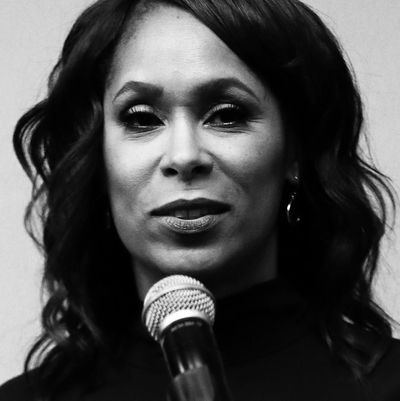 ABC president Channing Dungey.
Photo: David Livingston/Getty Images
On Tuesday afternoon, just hours after Roseanne Barr's racist tweet about Valerie Jarrett, ABC president Channing Dungey announced the network was canceling Roseanne via a scathing statement: "Roseanne's Twitter statement is abhorrent, repugnant and inconsistent with our values, and we have decided to cancel her show," she wrote. Dungey's decision was met with praise, and some noted that it's no surprise that it took a black woman executive to take a stand against racism. So who is the woman behind the decision to fire Roseanne? Here are a few things to know about Dungey.
She's the first African-American woman to head a major broadcast network.
Dungey has been at ABC since 2004. She is a Sacramento native and graduate of UCLA. She was appointed network president in February 2016, when she succeeded then-president Paul Lee, who said he was thrilled about Dungey's appointment.
She has a history with Shonda Rhimes.
Dungey has worked with the creator of some of ABC's most successful programming. She has previously worked on Scandal, Criminal Minds, How to Get Away With Murder, and Quantico. Movies she worked on include The Matrix, Devil's Advocate, and Steel Magnolias. Rhimes tweeted her support for Dungey's decision following the dismissal of Roseanne, calling ABC's choice "human."
She had previously defended Roseanne's incendiary statements.
Earlier in the season, Dungey claimed that there were misperceptions surrounding the show. She said: "I think [Roseanne Conner's Trump support] allowed us, between the differing political views of Roseanne and Jackie to address some issues that we think have been conversations at other family dining tables across the country."
She once fired her sister.
It was Dungey who made the call to her sister, the actress Merrin Dungey, to inform her that she would be replaced on the Grey's Anatomy spinoff, Private Practice. According to a Los Angeles Times profile, published when Dungey was first appointed last year, many saw this as proof that she had what it took to be a network executive, a notoriously turbulent, high-pressure position. Her sister later congratulated her on her new position.
Dungey promised a "diverse" Bachelor lead.
According to Variety, Dungey was responsible for the decision to cast the network's first African-American bachelorette, Rachel Lindsay. Dungey said she chose Lindsay because of the overwhelming fan response to her on a previous season.