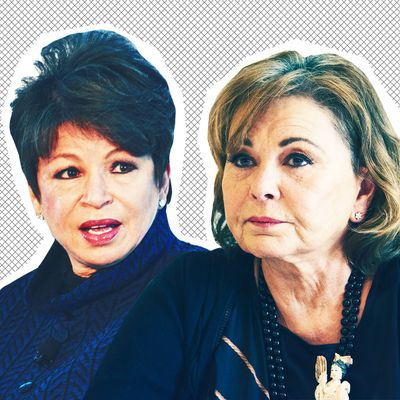 Valerie Jarrett and Roseanne Barr.
Photo: Getty Images
Sitcom star Roseanne Barr apologized on Tuesday for her racist tweet about Valerie Jarrett, in which she says the former Obama administration adviser is a product of the Muslim Brotherhood and Planet of the Apes. She also said she is leaving Twitter.
Barr posted the comment in response to a tweet alleging that Jarrett helped "hide" various Obama-era secrets.
"Muslim brotherhood & planet of the apes had a baby=vj," Barr wrote in the since-deleted tweet.
The Roseanne star initially seemed to defend her comments, tweeting "It's a joke" and "Muslims r NOT a race." Shortly after, however, she tweeted, "I apologize. I am now leaving Twitter." Then, still decidedly on Twitter, she elaborated, "I apologize to Valerie Jarrett and to all Americans. I am truly sorry for making a bad joke about her politics and her looks. I should have known better. Forgive me-my joke was in bad taste."
This is not the first time Barr has landed in hot water for her tweets. The vocal Trump supporter has advanced various right-wing conspiracy theories to her nearly 650,000 followers, including claiming that the president has been breaking up high-level pedophile rings. Earlier on Tuesday, Barr also apologized for tweeting that Chelsea Clinton's husband, Marc Mezvinsky, is the nephew of liberal businessman and frequent conspiracy theory target George Soros, writing, "Sorry to have tweeted incorrect info about you!I Please forgive me! By the way, George Soros is a nazi who turned in his fellow Jews 2 be murdered in German concentration camps & stole their wealth-were you aware of that? But, we all make mistakes, right Chelsea?"
ABC, the network airing the Roseanne reboot, has not commented on Barr's tweets. And as of the publishing of this post, Roseanne remains on Twitter.
Updated, 5/29/2018, 1:55 p.m.:
In a statement on Tuesday, ABC Entertainment president Channing Dungey announced the network is cancelling Roseanne.
"Roseanne's Twitter statement is abhorrent, repugnant, and inconsistent with our values, and we have decided to cancel her show," the statement reads.
Updated, 5/29/2018, 3:20 p.m.:
According to Wall Street Journal media reporter Joe Flint, Barr's talent agency ICM has dropped the actress as a client.