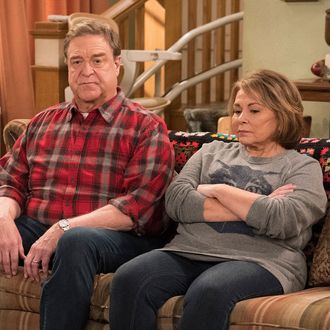 Twitter matters. On Tuesday, Roseanne Barr learned just how much. It took ABC about 12 hours to cancel her eponymous show in response to public outrage over an ugly, racist tweet about your homegirl and mine — advocate and former Obama adviser Valerie Jarrett.
This is not the first time Roseanne has been problematic on Twitter or elsewhere. Roseanne's long-standing bigotry — which has been directed at people of color, Muslims, and LGBTQ people with equal fervor — may not be new, but the consequences for it feel almost shocking in a time when a racist, sexist administration is in power. So what does this moment mean for us? What can we learn? There are several key lessons we should take forward, especially as we head into the midterms.
Racism isn't a problem until we make it one. There's no question that mounting public pressure (thanks to #BoycottRoseanne and a massive outcry on social platforms like Twitter) gave Channing Dungey, the first black president of a major television network, the fuel and cover to get the show's cancellation approved. As Dr. King reminds us in "Letter From a Birmingham Jail," "Nonviolent direct action seeks to create such a crisis and foster such a tension that a community which has constantly refused to negotiate is forced to confront the issue." Many people say that Roseanne did herself in. But if that were the case, her years of bigotry would have been enough to prevent her show from being revived in the first place. This wasn't even the first time she called a black Obama appointee an ape — she compared former U.N. Ambassador Susan Rice to one in 2013. In pressuring her, the network, and her advertisers, we, the people made sure that her racism could not be ignored. The "hashtag activism" many people love to deride is often necessary to spread the word — and help create the crisis that forces institutions to respond. One tweet won't change the world. But thousands can certainly help change move faster. Silence is never an option.
Leadership comes with responsibility. Whenever a member of Congress has to leave their position due to scandal, my very first thought is of their staffers. These young, already underpaid team members now have to find new roles, and do so with a permanent stain on their résumés. My thoughts here weren't greatly different. And I'm not speaking of the well-paid actors who chose to work on this sitcom. I'm talking about the grips, the production assistants, and the camera people. Roseanne let all of them down, too. It is my hope ABC doesn't do the same, and that within their television group, they find new employment for the crewmembers who suddenly find themselves unemployed because their old boss is a racist.
Yes, ABC did the right thing, but I'm still searching for why Roseanne was brought back to life in the first place.  Ben Sherwood, president of the Disney-ABC Television Group, told the New York Times, "You can't control Roseanne Barr," when they first brought her show back. ABC made a willful choice to put a reckless bigot on the airwaves. ABC made a bet that racism would pay. And it did, for a while. Until we made sure it didn't. Next time? Put people first. There are plenty of stars of color, showrunners from underrepresented communities, and untapped audiences that could do much better with Roseanne's old time slot — without that pesky side of racism. ABC can start by airing the Black-ish #TakeAKnee episode they shelved. I'll tune in.
Protest is many things.  At its foundation, protest is the simple act of telling the truth, out loud and in public. Activism is Wanda Sykes stepping down and Channing Dungey stepping up. It is everyday people making a hashtag go viral and internet sleuths who dig up a show's advertising list. It's the public never letting "It's just a joke," or "It's just a tweet," or "It was just my Ambien" be an excuse for the spreading of dangerous, hateful rhetoric. Tweets become thoughts, thoughts become actions, and actions leave people like Valerie Jarrett and everyone who looks like her in harm's way. Don't just sit and eat cake. Fight hate by joining organizations like Erase the Hate. Learn how to stand up to bigotry by joining your local community's chapter of SURJ.
That energy? Keep it up.  Now that Roseanne's gone, I'd love to see the end of the Trump Show, where the unduly elected president separates families, endangers marginalized people, makes fun of disabled reporters, and tweets us to oblivion. The Gun-Violence Variety Hour has similarly got to end (you know the one where cowardly elected officials are more concerned with NRA campaign contributions than they are children's lives)? The Women Aren't People weekly sitcom can also stop now. That show is mostly just reruns of white men regulating my womb. The good news is, a referendum on all of those and more is coming. Midterm elections are quickly approaching, local elections will continue through 2019. Sure, voting your candidate in isn't exactly like tweeting about Roseanne — mostly because of voter suppression and disenfranchisement. Never underestimate the power of showing up and speaking up.