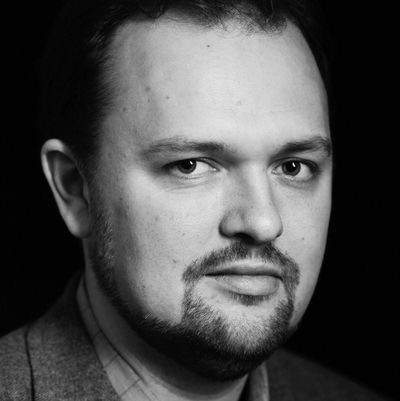 It's my belief that we all could be talking about sex less in general, and my definition of "we all" firmly includes Ross Douthat. The 38-year-old conservative columnist inspired a new wave of outrage today after publishing an op-ed in the New York Times about incels, the redistribution of sex, and [checks notecards] sex robots. But this is hardly Douthat's first sex outrage rodeo and, because life is a slog of predictable miseries, it will hardly be the last. So let's look back on his greatest hits on the subject, from his strict stance on porn to the infamous "chunky Reese Witherspoon" episode.
The Insistence That Women Hate Casual Sex
This started with a study that claimed having daughters makes parents more likely to be Republican, which inspired a piece by Douthat that invoked fuckboy bildungsroman The Love Affairs of Nathaniel P. When the book's author, Adelle Waldman, shut down his argument, he doubled down. "If you look at the sociological literature on premarital sex and the attitudes surrounding it … you see fairly clear gender differences," he wrote. "In the aggregate (note: I said aggregate), women's stated preferences incline them toward a somewhat longer period of dating before sex and a closer link between intimacy, monogamy and commitment." He said aggregate, you guys.
Let's! Ban! Porn!
A completely modest and realistic proposal that will surely solve society's ills and take us back to a simpler time, when we made do with honking away to an old Playboy we found in the woods.
The One About Magic Mike XXL
Two-thousand and fifteen was a simpler time: Adele's "Hello" topped the charts, we were blissfully unaware of the pee tape, and one of the most popular movies of the year was about the inner lives of a group of beefy male strippers. And, in his capacity as a film critic for the National Review, Douthat wrote about said stripper movie. Even though his article is called "Is Sex Necessary?" this one isn't actually all that painful — especially since three-quarters of the piece is just a summary of Magic Mike XXL.

Chunky Reese Witherspoon-gate
Our dude's latest book may be about the Pope, but his first one — about his trials and tribulations at Harvard — included a description of a sexual encounter that has seared itself into my brain. "One successful foray ended on the guest bed of a high school friend's parents, with a girl who resembled a chunkier Reese Witherspoon drunkenly masticating my neck and cheeks," he wrote. "It had taken some time to reach this point — 'Do most Harvard guys take so long to get what they want?' she had asked, pushing her tongue into my mouth." Ah, chunky Reese Witherspoon: if only every woman could have the honor of being thus immortalized in print.
This Single Tweet About His Libido