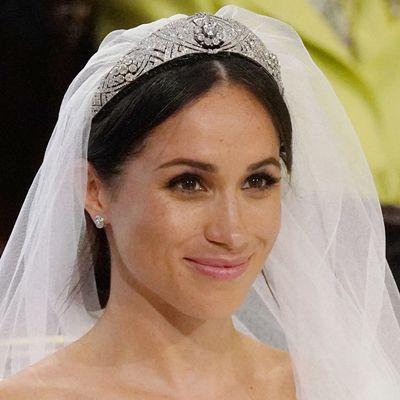 Meghan Markle.
Photo: Jonathan Brady - WPA Pool/Getty Images
I am still coming down from my excitement about the royal wedding on Saturday. Despite the painfully early hour, I loved every minute of it. Prince Harry and Meghan Markle's highly anticipated ceremony had so many incredible unapologetically black moments I could barely hold it together. The Duchess of Sussex did not come to play — the melanin came all the way through and she did not disappoint.
Scroll down to see my favorite black joy moments from the royal wedding.
Having her single black mother, Doria Ragland, at the wedding was a big statement — she wasn't ashamed at all. You could just tell she was beaming with pride (and probably relief that her ex-husband and his trifling kids weren't there). But showing up in her locs in a twist out and her nose ring? I practically fell out!
Y'all, Bishop Curry was showing out! Curry presides over an Anglican church so he probably knew the royal family was not ready for this sermon. Between the Martin Luther King Jr. mentions and shouting about the power of love and fire, I was waiting for him to start hollering up and down the aisle.
Rose Hudson-Wilkin is the first black female chaplain to the queen. Can a prayer be lit? Because her prayer at the wedding was. I hadn't heard of her before the royal wedding but after reading more about her thoughts on Britain's institutional racism, I'm a fan.
I had already lost my cool at this point. Every single person's hair in this choir was laid. I got hair inspiration for days from these three minutes. And the song "Stand By Me" was the perfect choice, just enough soul to rock side-to-side to.
Sheku Kanneh-Mason is only 19 years old, he's the first black cellist to ever win BBC's Young Musician of the Year award, and did I mention he is a cellist? Because that's not just some everyday kind of instrument to master. Also, Meghan personally called him and asked him to come play at the wedding. If that isn't black excellence, I don't know what is.
Our Black Duchess's Dress
This dress just blew me away. The boatneck haute couture gown designed by Clare Waight Keller for Givenchy was so understated and elegant. When she stepped out of the car I noticed how massive her veil was, but later learned that she specifically requested the flowers on her veil to represent all 53 countries of the British Commonwealth. The duchess literally had black nations on her back, using one of the biggest days for the royal family to subtly note to their history of colonization and showing the world that all British people of color should be represented. Your fave could never!
The Black Civil Rights Songs
As if the choir wasn't enough, on their way out of the chapel they sang "This Little Light of Mine" and "Amen," gospel songs that are sung in practically every black church because of their significance in the Civil Rights Movement.