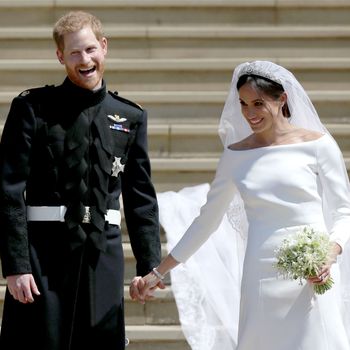 Prince Harry and Meghan Markle at the royal wedding.
Photo: WPA Pool/Getty Images
Royal Inquiries is your comprehensive guide to everything you ever wanted to know about life under the crown.
The royal wedding of Meghan Markle and Prince Harry finally took place on Saturday. Meghan's family drama was the biggest back story in the days leading up to the event, and while most of the stories surrounding her dad have petered out, no royal wedding is complete without at least some drama and gossip. Join me as I go over some of the best gossip from the day.
• The kids were reportedly acting like kids. Meghan and Prince Harry's wedding featured a gaggle of children — including Prince George and Princess Charlotte — as pageboys and bridesmaids. And wouldn't you know, those kids (each of whom are under the age of 8) reportedly acted … well, their ages. According to the Mirror, the kids kept "misbehaving" during the wedding rehearsal — to the degree that Meghan and Prince Harry reportedly had to make a small change during their wedding day.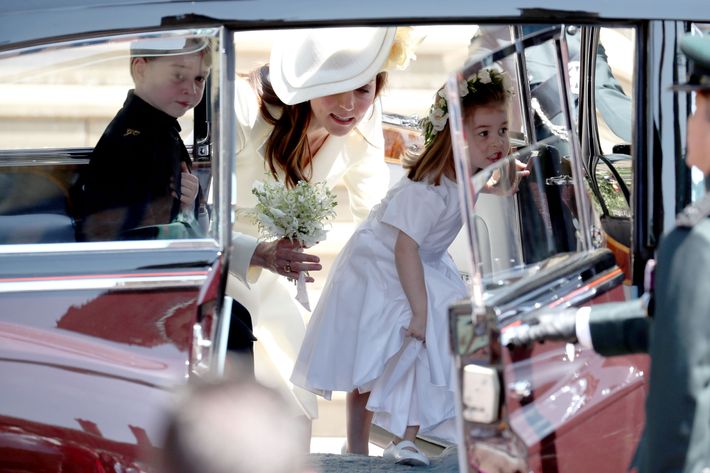 Per the Mirror:
Royal insiders revealed the first rehearsal was so chaotic that the tiny attendants had another practice on Friday … when it was decided their mums should ­accompany them into the chapel.
So that's why we saw Kate Middleton and Meghan's friends Jessica Mulroney and Benita Litt escorting their kids into St. George's Chapel. But hey, at least this kid drama is adorable!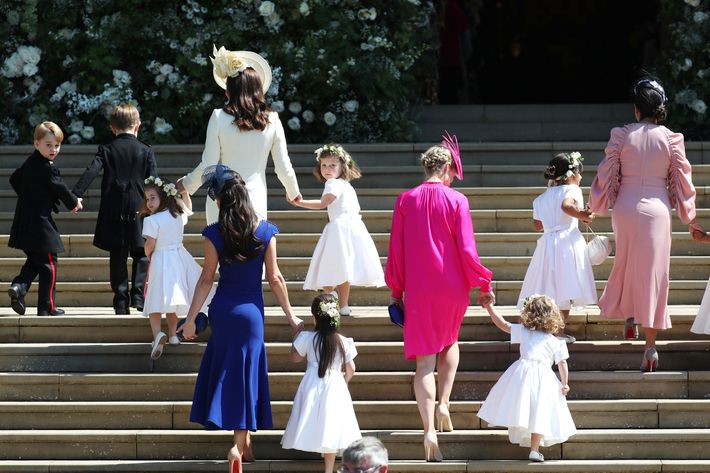 • And George Clooney acted like George Clooney. While many people are still wondering why Amal and George Clooney were even invited to the royal wedding — and sitting in the prime, close friends and family spot in the chapel, for that matter — it should come as no surprise that ol' George was reportedly being his true self at the private reception. By that I mean, he is said to have gone behind the bar to pour some of his Casamigos tequila for fellow guests, before dancing with not only Meghan Markle — but also Kate Middleton. How George Clooney of him!
Also, on Tuesday morning, Celebitchy posted a truly intriguing theory about Amal and George's attendance … could they have actually been there because of his tequila brand? I highly suggest checking it out.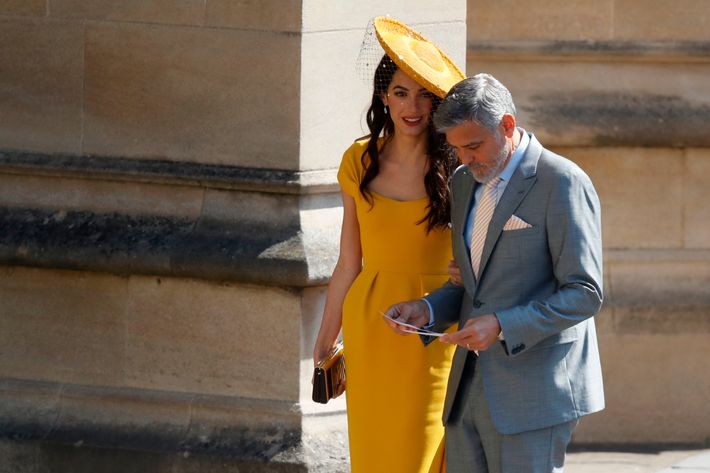 • At least two women apparently wore the same dress Meghan's character wore to meet the queen in the Lifetime movie. Those of us who watched Lifetime's cheesy (and epic) made-for-TV movie Harry and Meghan: A Royal Romance know that the character of Meghan wore a $580 Self Portrait dress in a scene where she met the Queen. And then, one Twitter user noticed that at least two women seemed to wear that very dress to the royal wedding. At least they were on theme!
• Did Meghan curtsy to the queen? This isn't gossip so much as a clarification on some gossip. Some people were wondering whether Meghan curtsied to the queen during the wedding — and since they didn't see it happen, others were apparently upset at the lapse in royal etiquette protocol. But never fear: Meghan did curtsy to Queen Elizabeth. It just so happens that the camera panned out to a wide shot at that very moment, so that's why no one saw it go down.
• Prince Harry's ex-girlfriend Chelsy Davy is rumored to have hugged Meghan. As loyal followers of Royal Inquiries, you already know that Chelsy Davy is Prince Harry's most significant ex — they dated on and off for seven years. They are on good terms, so she snagged an invite to his wedding. During the ceremony, she was (unfortunately) memed, with people calling her out for apparently looking unhappy. But Chelsy never wanted to live the royal life, so in my opinion, all those meme-ers should rethink their memes.
Anyway, the Mirror reports that at the private evening reception, Chelsy showed her approval of the union by giving Meghan a big hug. I certainly could see Chelsy giving her a hug — she seems like a generally happy person — but Lainey Lui has her doubts about the Mirror's reporting on this one, since there's no proof Chelsy was even at the reception. In fact, last I'd heard, she wasn't invited. So I guess that makes this a gossip mystery!
• The private reception had some frat party-like aspects. The exclusive post-wedding evening reception (that I was for some reason not invited to?) was certainly fancy — with a sit-down dinner, Idris Elba DJing, and guests being individually greeted by Prince Charles, Camilla Parker Bowles, and Kate Middleton — but it also sounds a lot like the frat parties I used to attend in college. By that I mean, there was apparently beer pong and an ice luge. Classy.