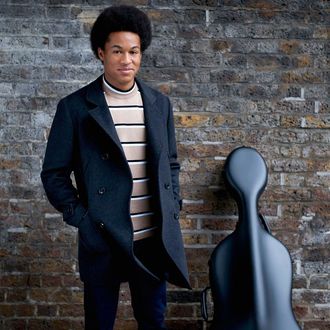 Sheku Kanneh-Mason.
Photo: Handout
There was no shortage of moments that left royal wedding-watchers speechless: the Most Reverend Michael Bruce Curry's brilliant sermon, Prince Harry crying, and the pair's first kiss as a married couple. But perhaps the longest moment came in the form of a nine-minute-long cello solo by 19-year-old Sheku Kanneh-Mason.
Born in Nottingham, England, the cellist — deemed a "Cello Bae" by Esquire — made history at 17 years old when in 2016, he became the first black winner of the BBC's Young Musician of the Year award since the competition premiered in 1978.
According to the Los Angeles Times, Prince Harry and Meghan were first awed by Kanneh-Mason last summer at an event for the Halo Foundation in London. Though the 19-year-old had to break his previous commitment to perform with the Los Angeles Chamber Orchestra this weekend, it's not every day — or year, or lifetime — that one gets to perform at a royal wedding.
"I was bowled over when Ms. Markle called me to ask if I would play during the ceremony, and of course I immediately said yes," Kanneh-Mason said in a statement from Kensington Palace. "What a privilege to be able to play the cello at such a wonderful event. I can't wait!"
And, for everyone who just can't stop thinking about Kanneh-Mason's phenomenal rendition of "Ave Maria," there's a short BBC series about him titled, "Young, Gifted and Classical: The Making of A Mastro."