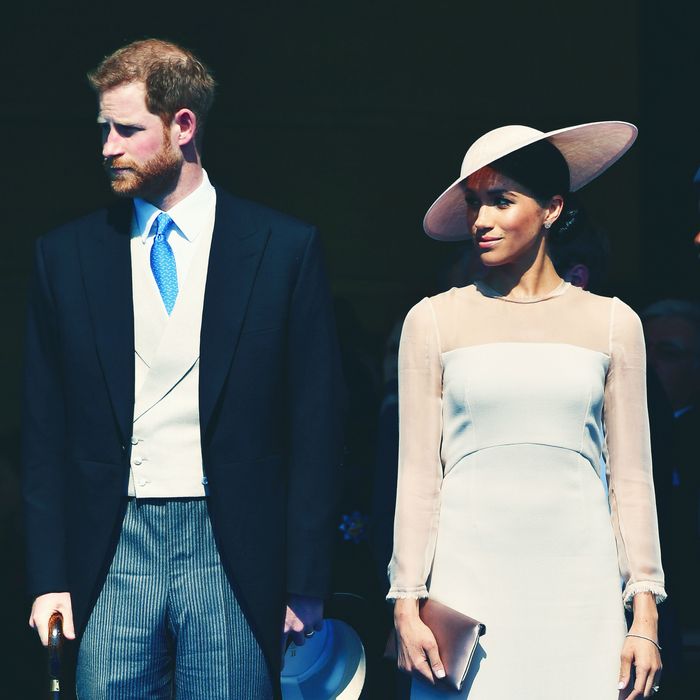 Prince Harry and Meghan Markle.
Photo: Dominic Lipinski-WPA Pool/Getty Images
Bad news for those of you who sent monogrammed hand towels or a fancy cheese board to newlyweds Prince Harry and Meghan Markle: The couple is reportedly returning or turning down most of the over $9 million worth of wedding gifts they received.
According to royal protocol, members of the royal family can't accept gifts from businesses who might "exploit the gift for commercial purposes" — like the company Bags of Love, which reportedly sent the couple a matching bikini and swim trunks for their honeymoon — or private individuals "not personally known to the Member of the Royal Family" — like me.
The couple didn't really want presents anyway. Back in April, Kensington Palace announced that in lieu of gifts, Prince Harry and Meghan Markle would like well-wishers to donate to a charity instead.
To celebrate their nuptials, Canadian prime minister Justin Trudeau announced Canada will donate $50,000 Canadian dollars to a youth charity called Jumpstart, New Zealand prime minister Jacinda Arden said her country would donate $5,000 New Zealand dollars to Pillars, a charity that supports the children and families of prisoners, and Australian prime minister Malcolm Turnbull said Australia would be donating to Prince Harry's Invictus Games, which will be hosted in Sydney later this year.
They also had several animals named after them, including two koalas, and a bull named Merry (a combination of their two names.)
Prince Harry and Meghan Markle are currently enjoying their honeymoon at the "Royal Retreat" cabin at the Fairmont Jasper Park Lodge in Alberta, Canada, according to TMZ. No word on what Prince Harry and Meghan Markle the koalas are doing, but probably napping.