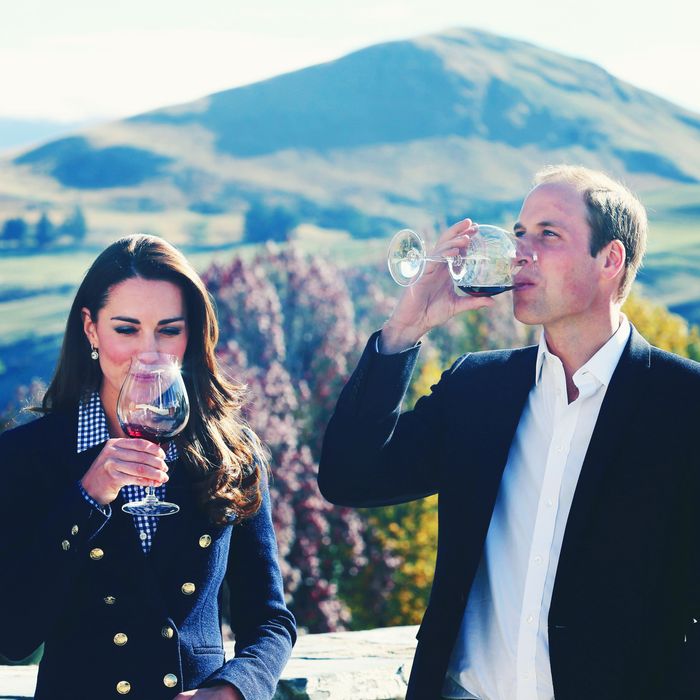 Kate Middleton, wine, Prince William, and more wine.
Photo: Samir Hussein/WireImage
Royal Inquiries is your comprehensive guide to everything you ever wanted to know about life under the crown.
Well, we made it. The royal wedding of my best friend Meghan Markle and reformed party boy Prince Harry is finally (nearly) upon us. It's been a long ride — full of drama and more drama — and isn't it so nice that I found time in my busy royal expert schedule to guide you all through this fancy process?
To see if there were any royal stones I'd somehow left unturned before my big day, I asked my apathetic colleague Kelly Conaboy if there's anything else about the wedding she wants to know. In turn, Kelly requested that I find out if there will be a signature cocktail at the wedding — the Instagram-ready preselected drink you find at most nuptials these days.
Sadly, I couldn't dig up any definitive information about that. But as I am well versed in the drinking habits of the British monarchy, let me tell you everything I know about getting drunk as a royal.
The queen likes her gin and Dubonnet.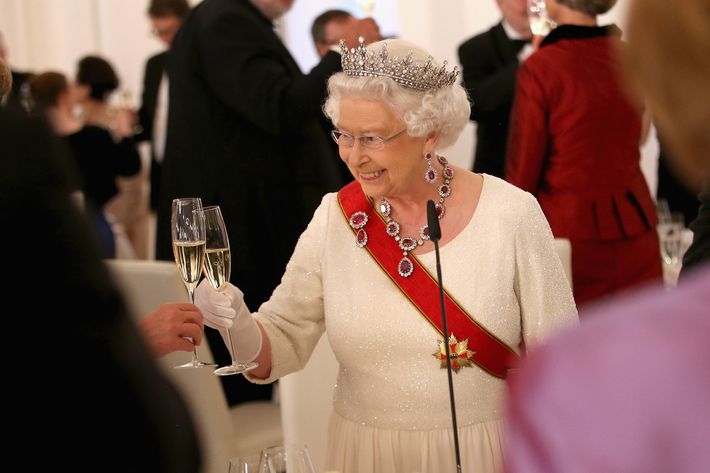 Queen Elizabeth enjoys a daily pre-lunch gin and Dubonnet cocktail — which is made of gin and Dubonnet, a wine-based aperitif that I can confirm from experience tastes bad. I'd describe it as "cough syrupy," but I think the queen would describe it using other words. The 92-year-old monarch also apparently fancies sweet German wines, and her cousin Margaret Rhodes once said the queen has a nightly glass of Champagne.
Kate Middleton is apparently into whiskey.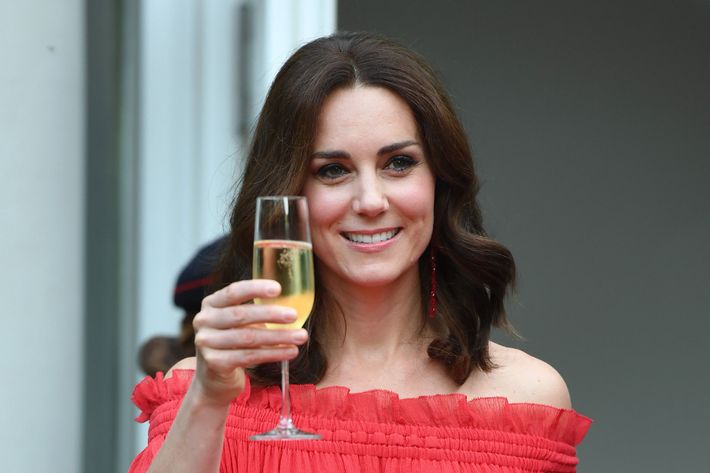 Just like the queen, my other best friend Kate Middleton is pictured above with a glass of Champagne. While I have no doubt that the mother of three enjoys a glass from time to time, I also know that the fizzy drink is not her poison of choice. No, she's much more likely to be found drinking whiskey — specifically Jack Daniels. But her all time favorite drink is apparently the "Crack Baby," a cocktail from the London nightclub Boujis, which she used to frequent with Prince William back when they were dating. The cocktail includes vodka, raspberry liquor, passion fruit and, of course, champagne.
Prince William just likes beer.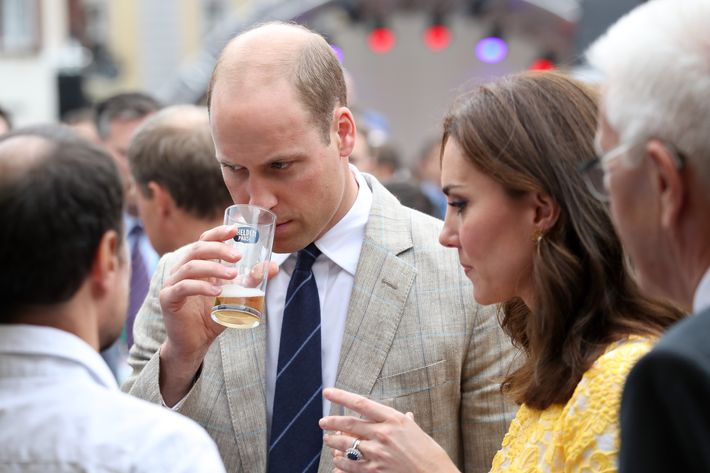 Perhaps the least surprising revelation about the royal drinking habits is that Prince William likes beer, especially Stella Artois and Guinness.
Prince Charles and Camilla Parker Bowles pack alcohol with them when they travel.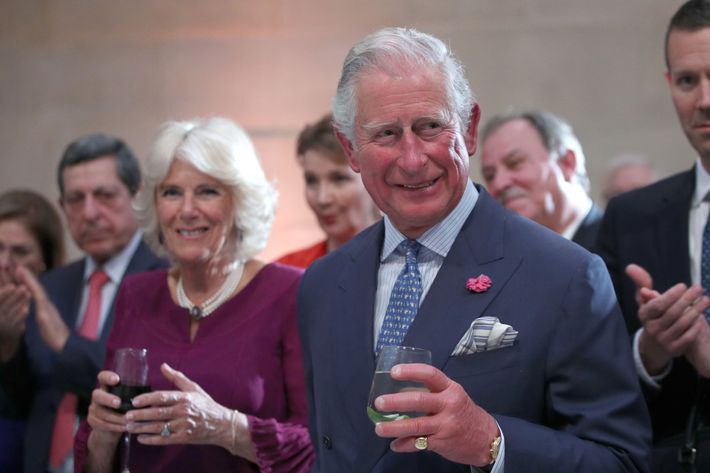 These two apparently really like to drink — to the degree that they reportedly pack alcohol when they're traveling (and also for security reasons so that their drinks are not spiked, but whatever). They both love gin and tonics, which, fine, same. Charles also likes gin martinis.
Prince Harry does not discriminate.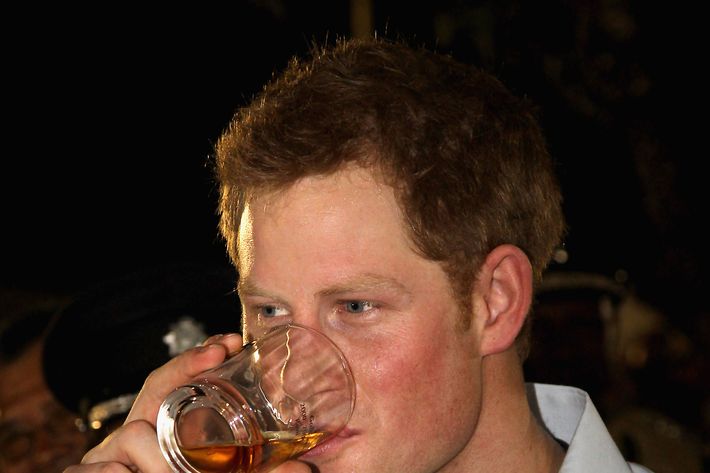 One fun fact about Prince Harry is that before he was set to become the future Mr. Meghan Markle, he was quite the party boy. It's been said that the prince has cut back on booze in preparation of his wedding, but it's safe to say that back in the day, he did not really discriminate with his drinking, though he favored the vodka Ciroc Ultra and occasionally mixed it with Red Bull.
Meghan Markle loves wine, as you can tell by the name of her former lifestyle blog.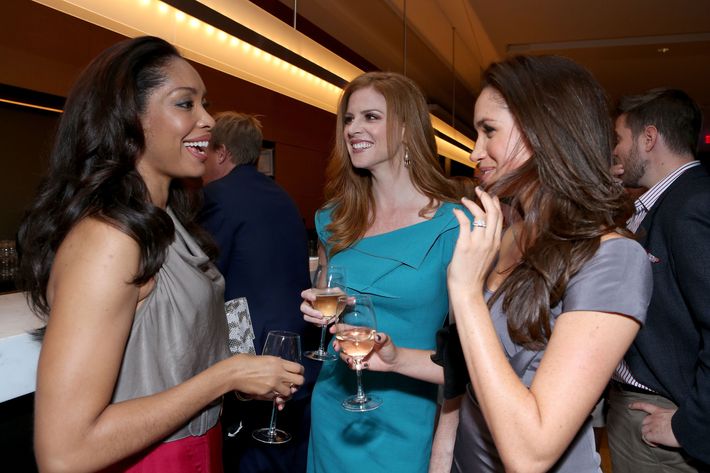 One of the most important facts about Meghan is that, until recently, she had a lifestyle blog. Isn't that wonderful? The blog was called the Tig, and it was named after the wine Tignanello, which Meg just adores. She once said, "God, do I love wine. A beautiful full red or a crisp white. But if it's cocktails, I love a spicy tequila cocktail, negroni, or good scotch (neat)." So, wine or another type of alcohol for her!
Speaking of, I need to top off my glass of wine.