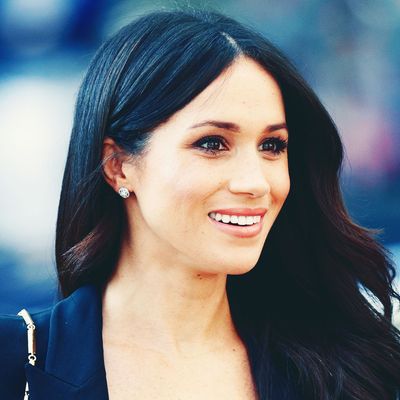 Meghan Markle.
Photo: Max Mumby/Indigo/Getty Images
After news broke this weekend that he had apparently staged the (incredible) paparazzi pictures of himself prepping for the royal wedding, Meghan Markle's father, Thomas Markle Sr., reportedly told TMZ that he would not be attending the May 19 nuptials. Now, Thomas Markle is reportedly saying that he's had a change of heart, and he does want to go to England to walk his daughter down the aisle, but it all depends on his doctors.
According to TMZ, Markle Sr. is back in the hospital after suffering a heart attack last week, and doctors say his heart has been "seriously damaged." Meghan reportedly called her dad on Monday to see how he was doing, and when she couldn't reach him, texted him to say that she loves him and is concerned about his health.
Prince Harry's soon-to-be father-in-law also seems unconcerned about reports that his publicity stunt angered the queen, saying "I don't think the queen is thinking about what I'm doing." (Who knows how she might feel after "several martinis," though.)
And while Markle Sr. concedes that setting up the paparazzi photos of himself was "stupid," TMZ says he told them that if the doctors give him the okay, he will risk his health and fly to England for the wedding: "I hate the idea of missing one of the greatest moments in history and walking my daughter down the aisle." Doctors have supposedly been noncommittal about discharging him.
Yesterday, Kensington Palace issued a statement following the news that Meghan's father would not be attending this weekend's wedding, writing: "This is a deeply personal moment for Ms. Markle in the days before her wedding. She and Prince Harry ask again for understanding and respect to be extended to Mr. Markle in this difficult situation."