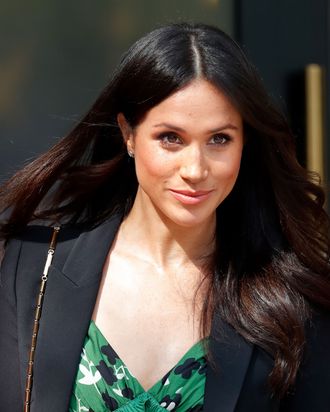 Meghan Markle.
Photo: Max Mumby/Indigo/Getty Images
We're only nine days away from the hottest ticket in town: our couch, where we'll watch Meghan Markle and Prince Harry wed. Right now we know all about the guest list (Priyanka Chopra was invited and Serena Williams may attend, should her schedule permit). We also know that Markle's estranged father plans to walk her down the aisle, and that her dress is rumored to be the work of British design duo, Ralph & Russo. And while all of that is good to know, let's talk about her hair.
Last month The Sun erroneously reported that Miguel Perez, Amal Clooney's London-based hairstylist, would style Markle's hair for the big day. Perez quickly denied the report on Instagram to squash speculation. However, last week Markle's former hairstylist spoke to People and may have dropped a hint about Markle's hair plans.
"Meghan came to see me at least twice for keratin treatments," Theonie Kakoulli, a hairstylist at a London salon told People. Kakoulli used to work with Markle during the summer of 2016. Markle, who is famous for her wonderfully relatable "messy bun" hair has "beautiful curls," says Kakoulli, although we likely won't get to see those on her wedding day; Markle prefers to wear her hair straight.
A keratin treatment is a frizz-reducing chemical process. The treatment is somewhat expensive, costing upwards of $200, but results last for months. If Markle is still a fan of these treatments (and her shiny, smooth hair suggests that she is), it's likely that she arranged a tune up ahead of her wedding day. As for how she will style her hair for the nuptials — well, we'll all find out on May 19.