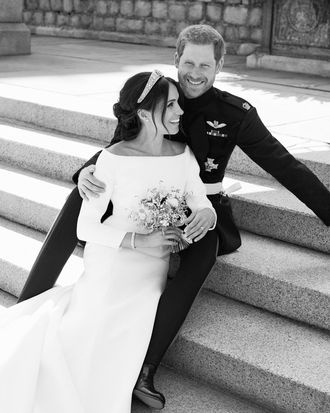 Meghan Markle and Prince Harry.
Photo: Alexi Lubomirski
On Monday, only two days after Meghan Markle and Prince Harry got married in a very royal wedding, Kensington Palace released three official portraits from the event — each of which were taken by Alexi Lubomirski, the photographer who also shot the couple's (extremely attractive) engagement pictures. Now, Lubomirski opened up about what went down during the wedding photo shoot.
In a new interview with Reuters, Lubomirski revealed that Meghan and Prince Harry were happy, excited, and exhausted during the post-wedding photo shoot. "It was just one of those magical moments, when you're a photographer and everything falls into place," he said. And when speaking of the beautiful black-and-white portrait of the couple (see above), Lubomirski said:
The sun is setting right just over the top of Windsor Castle just behind them, it was just the most serene, beautiful light, they're in love, walking around this beautiful garden. I said just before you go in, let's sit down on these stairs, and she just slumped in between his legs. They were just laughing because they were joking about how they were exhausted and finally it was over.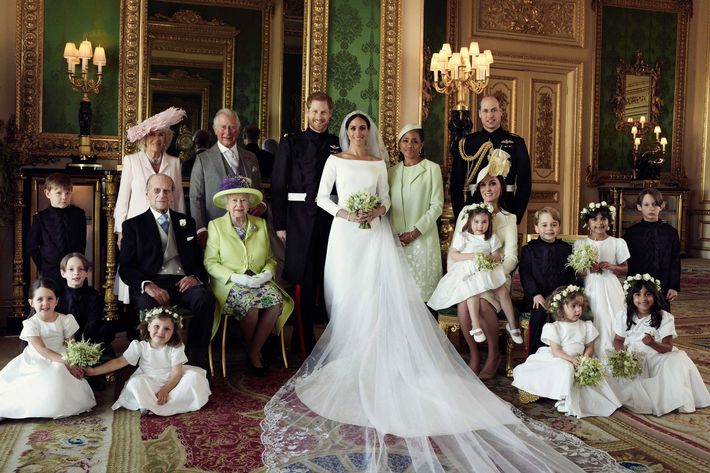 Another one of the official wedding portraits included Prince Harry and Meghan alongside their entire immediate family (including Prince William, Kate Middleton, Prince George and Princess Charlotte, as well as Prince Charles, Queen Elizabeth, Meghan's mom Doria Ragland, Prince Philip, and Camilla Parker Bowles).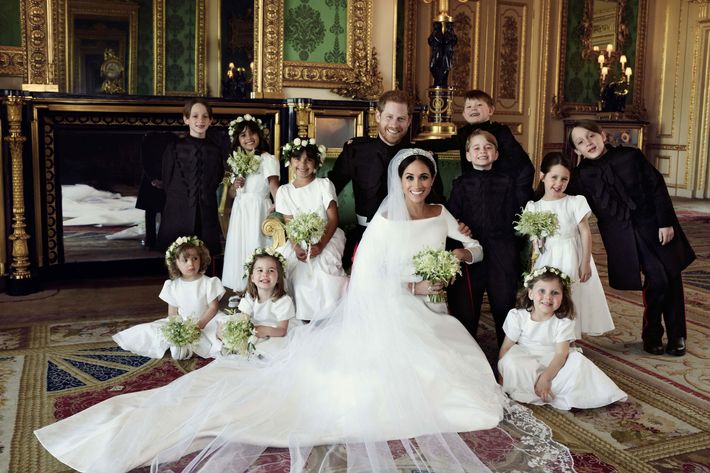 Lubomirski revealed that he only had 25 minutes to take the family portraits — and things got more complicated when he took the image of Meghan and Prince Harry with their young page boys and bridesmaids. Luckily, he and his team had rehearsed the process, and knew to bribe the kids into smiling by mentioning the candy "Smarties," which are like M&Ms in the U.S.
They were being bribed with one Smartie here, one Smartie there, so as soon as the kids came onto the set, I immediately just shouted out "Who likes Smarties?" and then everybody, hands up, smiles, even some adults put their hands up. Some parents were trying to wrangle their children, other uncles and aunts were talking to their nephews and nieces. It was a family, that was essentially what it is.
How cute and fancy!