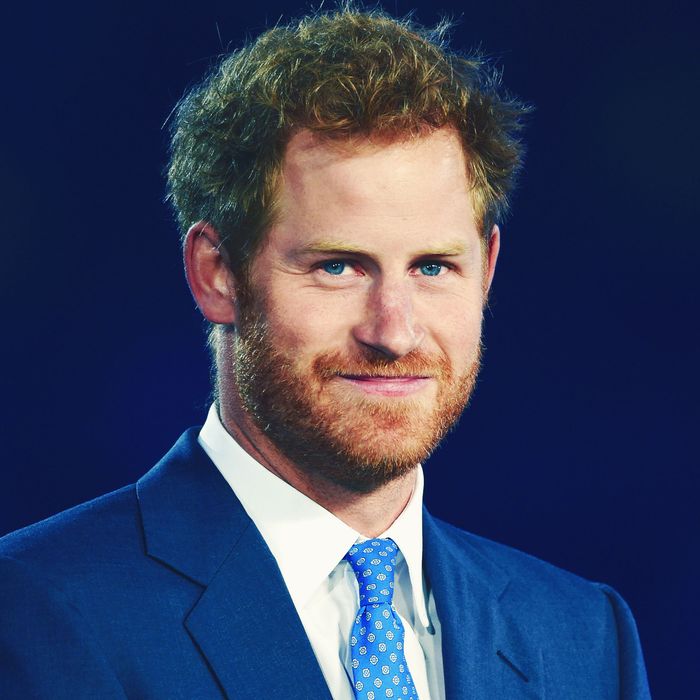 Meghan Markle's soon-to-be-husband.
Photo: Karwai Tang/WireImage
On May 19, USA Network princess Meghan Markle will wed a man named "Harry" who is tall and British and a ginger. Congratulations to both of them, especially Harry.
Markle, as we know, was the star of Suits (her final episode aired April 25), a show about a guy who is like, "I could've gone to Harvard Law if I wanted to," and everyone's like, "Okay, sure. Come do law." Markle stars as this guy's romantic interest, who works way harder than him at everything. Outside of Suits, she had a lifestyle blog called The Tig, which she has since shut down, was once a suitcase model on Deal or No Deal, and worked briefly as a calligrapher (she did the wedding invitations for Robin Thicke and Paula Patton!). But what's the deal with her fiancé, Harry?
Just kidding! We love Prince Harry, every version of him — from Naked Party Boy Harry, to Soldier Harry, to Humanitarian Harry, he truly is the people's prince, or at the very least, the Cut's prince. Join us, won't you, on a journey through everything we know about the future Mr. Meghan Markle.
The Basics
Full name: Henry Charles Albert David
Official title: His Royal Highness Prince Henry of Wales
Born: 4:20 p.m. (blaze it!!!), September, 15, 1984, at St. Mary's Hospital in London
Age: 33
Height: 6'1"
Principal Residence: Nottingham Cottage, on the grounds of Kensington Palace, London, England
Education: Eton College, 1998–2003. A-levels in art and geography. Royal Military Academy Sandhurst, 2005–2006
Parents: Harry is the second son of Charles, Prince of Wales, and the late Diana, Princess of Wales. The press has speculated, however, that Harry's real father is James Hewitt, Diana's riding instructor with whom she admitted to having an affair, and who, like Harry, happens to be a ginger. Hewitt has claimed it would be impossible for him to be Harry's father, though, because his affair with Diana only started after Harry was born.
Likelihood He'll Be King Someday
Slim to none. Harry is currently sixth in line to the British throne. His father, Prince Charles, is first in line, his brother, Prince William, is second in line, and William's children, Prince George, Princess Charlotte, and Prince Louis, are third, fourth, and fifth in line to the throne, respectively.
His Wild-Child Past
Harry wasn't always the mellow, upstanding chicken-roaster we know today. Before, he was William's ne'er-do-well younger brother who took advantage of the fact that he had almost zero chance of ever becoming king, and decided to forgo his more tedious royal duties in favor of partying with Olympians and flirting with starlets and wearing regrettable costumes. His greatest (and worst) hits included:
• 2002 Going to rehab for one single day when he was 17 after he admitted to drinking alcohol underage and smoking weed. There, he reportedly spent the day talking to heroin users who said weed was their gateway drug.
• 2005 Dressing like a Nazi at a friend's "colonial and native"–themed birthday party. He later apologized for his "poor choice of costume."
• 2007 Reportedly snorting vodka on a trip to Namibia.
• 2011 Dancing too hard and falling in the pool at a club in Croatia.
• 2012 Playing a game of strip billiards in Las Vegas, which he lost. TMZ then published photos of him from that evening, naked except for his joie de vivre and a distinctive round pendant.
• 2012 Racing Ryan Lochte in the pool (and maybe getting peed on by him, who knows).
His exes:
Allow me to refer you to this handy graphic New York published back in 2013.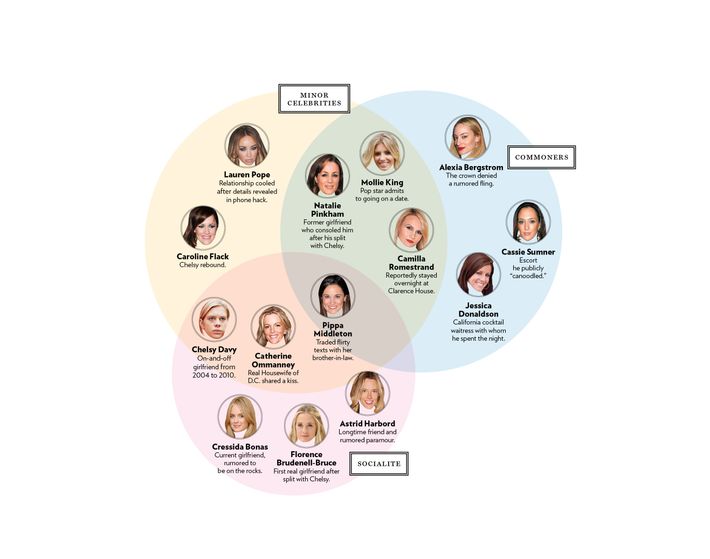 Of the women — mostly blondes — Harry is rumored to have dated and/or hooked up with (including a former Real Housewife of D.C. 13 years his senior!!) his two longest and most high-profile relationships were with Chelsy Davy and Cressida Bonas.
Davy, 32, is the Zimbabwe-born daughter of a millionaire safari operator. She and Harry dated on-and-off between 2004 and 2011 (she was his date to William and Kate Middleton's wedding in 2011), but Davy reportedly was overwhelmed by the media scrutiny that came along with dating a royal.
Bonas, 29, is an actress and model Harry started dating in 2012, after splitting from Davy. She loved overalls, and scrunchies, and music festivals, and had an excellent name, but despite all that, the couple called it quits in 2014. Harry's biographer, Katie Nicholl, told Newsweek that although Bonas loved Harry, she "didn't love him enough to make all the sacrifices that entailed being a royal fiancée." Ouch.
He's also been repeatedly negged by Margot Robbie, but it's unclear if there was any romantic connection, or they're just friends. For a more in-depth look at his past loves, check out our Royal Inquiries column on the topic here.
His Time in the Army
By all accounts, the army has been a tremendously important part of Harry's life. It's a sphere within which he is (somewhat) able to shed his identity as a prince and international celebrity, and just be one of the guys.
Harry studied at the Royal Military Academy Sandhurst from 2005 to 2006. He was originally supposed to be sent to Iraq in 2007, but his deployment was canceled after a number of threats were made against him, and officials determined it would be too dangerous for both him and his unit if he were to go. But in 2008, he was secretly deployed to the Helmand Province in Afghanistan for ten weeks, making him the first member of the royal family to serve in a war zone since his uncle, Prince Andrew, fought in the Falklands War in the 1980s.
In 2011, Harry received his badge to fly Apache military helicopters, and was promoted to Captain of the Royal Army and Marines. After completing helicopter gunship training in California, he was deployed to southern Afghanistan in September 2012, where he completed a 20-week combat tour.
When asked about whether he felt more comfortable being Captain Wales than Prince Harry, he answered, "Definitely. I've always been like that. My father's always trying to remind me about who I am and stuff like that. But it's very easy to forget about who I am when I am in the army. Everyone's wearing the same uniform and doing the same kind of thing. I get on well with the lads and I enjoy my job. It really is as simple as that."
His Activism
Harry's been involved with a number of charitable causes in his life, but in the past few years, his work has centered on advocating for army veterans and mental-health awareness.
In 2013, he joined 11 wounded service men and women in a race to the South Pole for the veterans charity Walking With the Wounded, and in 2014, he founded the Invictus Games, an international sporting competition for wounded, injured, or sick army personnel and veterans.
Most recently, in 2016, Harry, William, and Kate launched the Heads Together campaign aimed at ending the stigma surrounding mental health. To promote the campaign, Harry opened up about his own struggles with mental health over the years, telling the U.K.'s Telegraph newspaper that he sought counseling at age 28, at the urging of his brother.
"I can safely say that losing my mum at the age of 12 and therefore shutting down all of my emotions for the last 20 years has had a quite serious effect on not only my personal life but also my work as well," he said. "I have probably been very close to a complete breakdown on numerous occasions when all sorts of grief and sort of lies and misconceptions and everything are coming to you from every angle."
Meghan!
And all of that has brought Harry, and us, to this moment, when he will wed Meghan Markle. Do you feel better prepared for the wedding now that you know Harry made out with a Real Housewife? Me too. And if you would like to know absolutely everything there is to know about this #blessed union, we've got you covered.