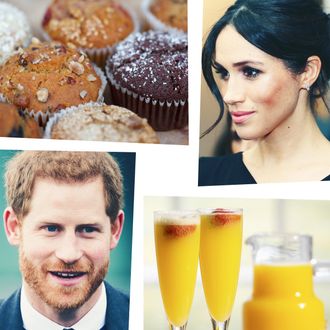 From top left, clockwise: Muffins, Meghan Markle, mimosas, Prince Harry.
The upcoming May 19 nuptials between Meghan Markle and Prince Harry is less than two weeks away, which means you only have a few days to throw together your royal wedding viewing party. But if you're anything like us (that is, not particularly domestic), you probably have no idea where to start. What alcohol is appropriate to serve at 7 a.m. EST?, you're probably wondering. What breakfast foods are British?
While we certainly feel your anxiety, we also have you covered. We spoke with British person Nicky Perry, co-owner of New York's Tea and Sympathy, who actually knows what she's talking about. Here's everything you need to know about hosting the perfect viewing party.
First off, here's how to view the royal wedding.
The most important part of hosting a royal wedding viewing party is offering your guests the ability to actually view the royal wedding. Guests of the royal wedding will start arriving at St. George's Chapel, Windsor Castle around 9:30 a.m. in the U.K., so 4:30 a.m. EST, but the ceremony won't start until noon U.K. time, 7 a.m. EST.
You can play the royal wedding for guests on your TV (CBS, NBC, ABC, PBS, and BBC America will all be airing it live). HBO is also airing the wedding with commentary from Molly Shannon and Will Ferrell at 7:30 a.m. EST. You can also stream it online via CBS, ABC, BBC America, and the New York Times's website. The wedding will also be streamed live from the royal family's Facebook page. Now, let's focus on the important task at hand: party planning! The royal wedding, if you haven't noticed, occurs incredibly early for those of us living in North America. So that means a breakfast party is in store.
Prepare the ultimate British breakfast menu for your guests, with a few American touches.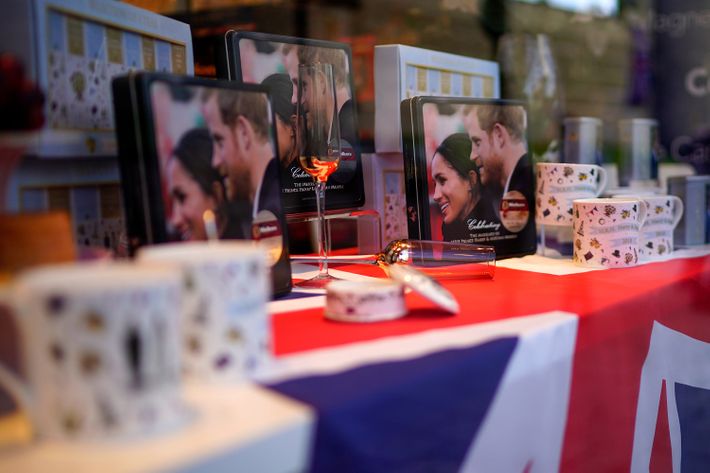 To figure out how to serve the perfect British breakfast, we asked Nicky Perry for some tips. "The great British fry up is eggs, bacon, sausage, toast, beans and mushrooms. That's the classic," Perry told us. "Some people like black pudding but not me, thank you very much. It's a blood sausage and it's one of those things that you love or hate."
Hmm. While Perry supports us all going full-on British with our menu, she understands that preparing blood sausages might not convenient for us all. So here are some of her other breakfast tips:
• Scones: Perry suggests offering your guests some delicious scones during your viewing party. "We have the really classic traditional cream scones that you have with clotted cream and jam," she said.
• Toast and marmalade: Or, go even simpler, and offer some toast with a side of marmalade. Perry suggests going to a British specialty store to get the good stuff, though. "I find that the British marmalades are just better quality," she said. "I quite like bitter marmalade with large chunks in it, not too sweet."
• Lemon elderflower cake: This isn't necessarily easy to make, but given that it is the type of cake Meghan and Prince Harry selected for their wedding, you should probably offer it to your guests in at least some capacity. Perry told the Cut that when she first tried to make the cake, she simply added elderflower to her go-to lemon cake mix, but it didn't work out so well. So she instead added elderflower to her lemon cake's buttercream frosting, and it was amazing.
• Muffins: This would be a nod to Meghan's American heritage, which would be very respectful of you. "English people don't really eat muffins at breakfast but Americans love all of that," Perry explained.
Load up on alcohol for your guests.
A royal wedding viewing party isn't a royal wedding viewing party unless everyone gets drunk — even if it's before 8 a.m. So as a good party host, it's simply vital to stock up on alcohol for your guests to imbibe while watching two rich, beautiful people get married.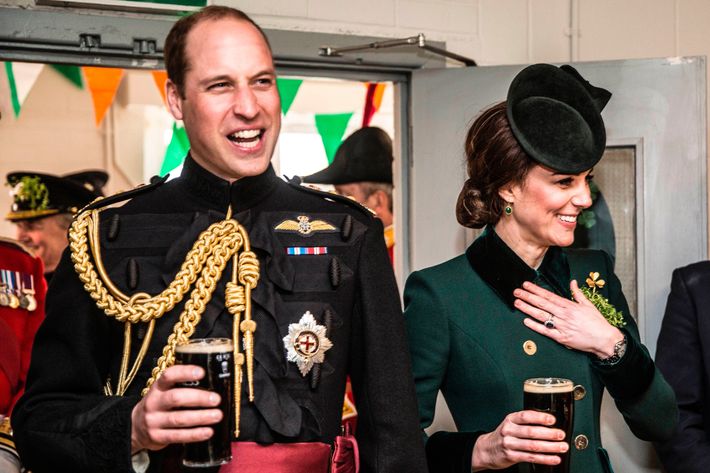 Perry suggests offering these beverages:
• Mimosas: Or, as Perry told the Cut, "mimosas, darling!" You know the drill — it's just Champagne and orange juice. Easy.
• Beer: She did not specify the type of beer to pick, so just select the beer at your bodega that looks most British. As Perry explained, "I'm sure men will be drinking beer in the pub at 8 a.m. in the morning."
• Gin and tonics: This is a must-have. "Gin and tonic of course is extremely English," she said.
And some coffee and British tea.
As the royal wedding is insanely early, why not offer your guests a caffeine boost? Perry told the Cut that coffee is becoming more common in London — "Coffee in London is much better than anything you'd get here. It's everywhere you go. You know what it is, I think? There's a lot of Italian places in London, that's why." — but she also said that offering English breakfast tea is a good way to go.
Be sure to decorate accordingly.
This is a royal wedding viewing party, not a keg party for your roommate's brother's birthday, so it's important to decorate accordingly. Perry suggests ordering a life-size cardboard cutout of Meghan Markle and Prince Harry online – she currently has one in her tea shoppe, and it's quite a hit. "I've got one, I love it," Perry explained. "Everyone loves it."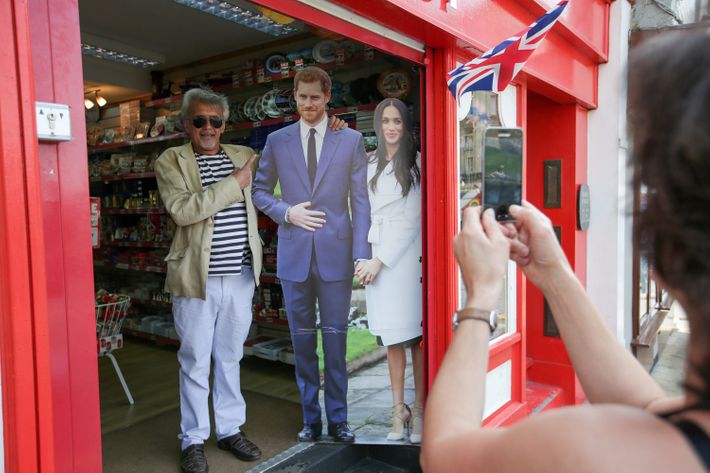 There's also a wide array of wedding china, British flag napkins, on-theme tablecloths, masks of the couple's faces, and so much more to decorate your viewing party. Feel free to turn your home into a literal union jack even. The possibilities are endless!
Most important: don't forget to invite us.
Thanks!!!!!!!!
This post has been updated.