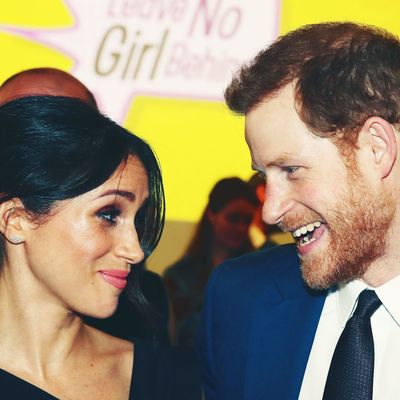 Meghan Markle and Prince Harry.
Photo: Chris Jackson/Getty Images
Buckingham Palace is in the midst of a very-real crisis: the upcoming May 13 Lifetime movie about Prince Harry and Meghan Markle — appropriately titled Harry & Meghan: A Royal Romance — contains a sex scene, and the Palace is reportedly "seriously worried" about it!!!!!
According to Vanity Fair, Queen Elizabeth's press office has apparently already viewed the movie, and they aren't too pleased that the made-for-TV movie depicts the royal couple in bed together. The movie's director Menhaj Huda told the magazine, "What I've heard is that they're seriously worried about the sex scene."
But how did he hear about this concern? Was it an official complaint from the Queen? Did the government issue a formal sanction against him? No. "My wife's best friend has been dating the press secretary of the palace," Huda told Vanity Fair. So you know it's probably true!!!!!
Harry & Meghan — a film with a script that was written in only two weeks — not only features, well, Harry & Meghan in bed together, but also apparently traces other milestones in the couple's relationship. There's a scene where Prince Harry fights with the Palace about letting Meghan keep her lifestyle blog The Tig (did that actually happen???) and the couple's secret dates in Toronto. But the thing I'm definitely looking forward to most (other than the sex scenes) is a scene in which Prince Harry apparently confronts Princess Michael of Kent about the racist brooch she wore around Meghan!!!!!!!!!
While I'm certainly concerned for all of the royals during this trying (and sexy) time, I also simply cannot wait for yet another royal love story to get the Lifetime treatment.