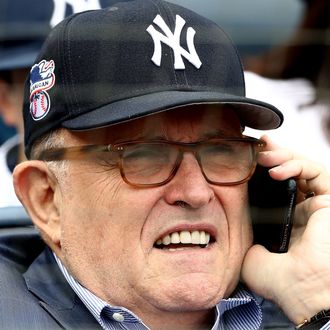 Rudy Giuliani at Monday's Yankees game.
Photo: Elsa/Getty Images
The days are getting longer, the air is getting hotter, being at work is getting more intolerable — meaning, summer is almost upon us. And with that comes a new song of the summer. While last year's was the dulcet tones of Chris Christie fighting with a radio caller who called him a "fat ass," this year's pick has come early. Behold: the sweet sounds of Rudy Giuliani getting mercilessly booed by the crowd at Yankee Stadium on his birthday.
The former NYC mayor and current Donald Trump lawyer attended the Yankees-Astros game on Monday afternoon for his 74th birthday, only to be greeted by mass disapproval when his birthday was announced. And with that, the perfect bit of audio for all of your summer (and fall and winter and spring) activities was born.