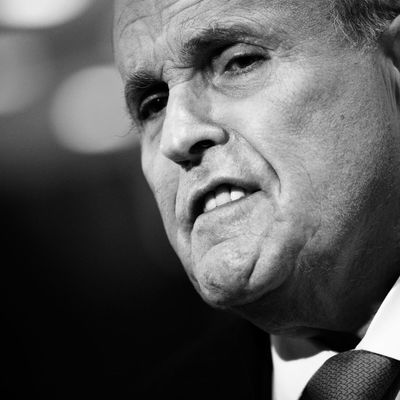 Rudy Giuliani.
Photo: Drew Angerer/Getty Images
Rudy Giuliani may think that women can't be president, but he also holds the belief that "men are disposable" — or, to be more specific, he thinks Jared Kushner is trash.
In the same Fox News segment where Giuliani revealed that Donald Trump had repaid his lawyer for the $130,000 payout to Stormy Daniels, the technologically challenged man tried to explain to Sean Hannity why Special Counsel Robert Mueller would go after Kushner in his investigation, but not after daddy's girl, Ivanka Trump.
"Jared is a fine man but men are … disposable," Giuliani said, with an unsettling laugh. "But a fine woman like Ivanka, come on."
"Fine woman" or not (also, gross), it appears that Ivanka's time may be coming.