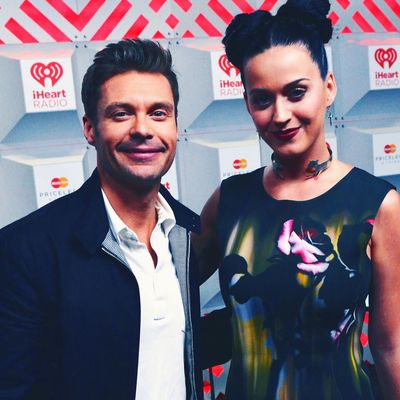 Ryan Seacrest and Katy Perry.
Photo: Bryan Steffy/Getty Images for Clear Channel
American Idol — the show that gave us Kelly Clarkson and Simon Cowell's deep V-necks — is still on air (though it's now on ABC instead of Fox), and human Ken doll Ryan Seacrest is still the host. I was reminded of both of these facts today when I watched a clip that has been circulating from Sunday's Mother's Day episode, in which Seacrest appears not to realize that the show is back on air, and makes some creepy comments to Idol judge Katy Perry.
Tapping his pen on the judge's table, Seacrest says to Perry, "Your mom's pretty."
"My mom? Well, I hope the apple doesn't fall from the tree," Perry replies, smiling and winking at the camera.
"You are too. But you're not a mom yet," Seacrest continues.
"Not yet," Perry confirms.
"Wanna talk about it?" Seacrest says, as the audience and judges go silent. Perry and fellow judge Luke Bryan laugh awkwardly, as Lionel Richie says, "Don't start."
Whether it was staged or not (it seems unlikely that Seacrest, a seasoned television personality, would be completely unaware that the show had gone back on air) the clip is painfully, awkwardly tone-deaf. Earlier this year, Seacrest was accused by E! stylist Suzie Hardy of repeatedly harassing and groping her. He denied the allegations, and both E! and ABC stood by Seacrest, and continued to pay him tens of millions of dollars.
Anyway, what was that you were saying about sexual-assault allegations ruining men's lives?