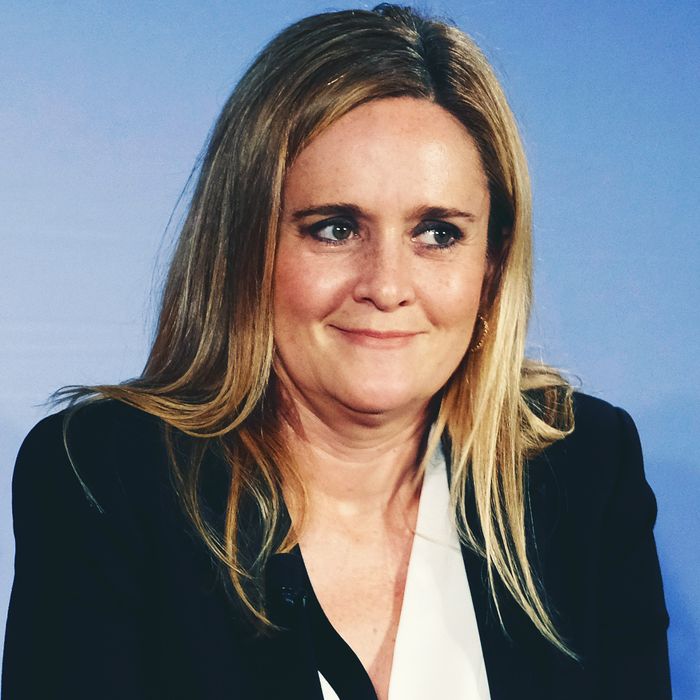 Samantha Bee.
Photo: Bryan Bedder/Getty Images for Vulture Festiva
Samantha Bee is under fire for referring to First Daughter Ivanka Trump as a "feckless cunt" on her Wednesday night broadcast of Full Frontal With Samantha Bee. Many were scandalized by Bee's choice of words, with White House press secretary Sarah Huckabee Sanders saying in a statement on Thursday, "The language used by Samantha Bee last night is vile and vicious. The collective silence by the left and its media allies is appalling." Bee apologized later that day writing in a tweet:
"I would like to sincerely apologize to Ivanka Trump and to my viewers for using an expletive on my show to describe her last night. It was inappropriate and inexcusable. I crossed a line, and I deeply regret it."
Some on Twitter drew (wildly unwarranted) parallels between Bee and Roseanne Barr, whose show was cancelled earlier this week after she tweeted a racist comment about former Obama adviser Valerie Jarrett. Below, find everything you need to know about the latest media controversy, or ignore it, throw your phone/computer in the nearest large body of water, go off the grid and try to salvage whatever bit of your well-being remains.
What exactly did Samantha Bee say about Ivanka Trump?
On Wednesday night's pre-taped episode, Bee discussed the New York Times report that federal immigration agencies have lost track of almost 1,500 migrant children who were placed into government care after crossing into the United States. Bee went off on President Trump, Attorney General Jeff Sessions, and Secretary of Homeland Security Kirstjen Nielsen, before turning to Ivanka Trump, who, this weekend, posted a picture of her and her son on Twitter.
You know, Ivanka, that's a beautiful photo of you and your child. But let me just say, one mother to another, do something about your dad's immigration practices, you feckless cunt! He listens to you! Put on something tight and low-cut and tell your father to fucking stop it!
Wow. I definitely already know this, but for those who maybe don't, what does 'feckless' mean?
It is an adjective that means "lacking initiative or strength of character; irresponsible."
Can I see the clip?
Not anymore. TBS pulled video of the segment from YouTube.
Why?
Likely in response to pressure from advertisers. One company, Autotrader, has already announced it is pulling its ads from Bee's show.
TBS also tweeted that it was right for Bee to apologize: "Those words should not have been aired. It was our mistake too, and we regret it."
How did people respond?
Uh, badly.
Some said Bee wouldn't be taken to task for her comments like Barr was.
And others got upset that people were equating the two:
CNN's John King got really worked up about it, saying on his show this morning, "Let me just say, one parent to another — parent of a daughter — no, no, no!"
"Criticize the president's daughter, criticize the policy. Some things just aren't funny," King went on. "Roseanne's racism is not funny. Samantha Bee using that word is not funny. Sarah Sanders just called it vile and vicious language. I could not agree more."
Other's came to Bee's defense, criticizing the fact that so many of those who seem to be clutching their pearls over her comments conveniently ignored offensive language from the president.
What about the White House?
In her statement this morning, Sarah Huckabee Sanders appeared to call on TBS to cancel Full Frontal, saying:
The language used by Samantha Bee last night is vile and vicious. The collective silence by the left and its media allies is appalling. Her disgusting comments and show are not fit for broadcast, and executives at Time Warner and TBS must demonstrate that such explicit profanity about female members of this administration will not be condoned on its network.
What does 'censorship' mean?
It is a noun that means "The suppression or proscription of speech or writing that is deemed obscene, indecent, or unduly controversial."