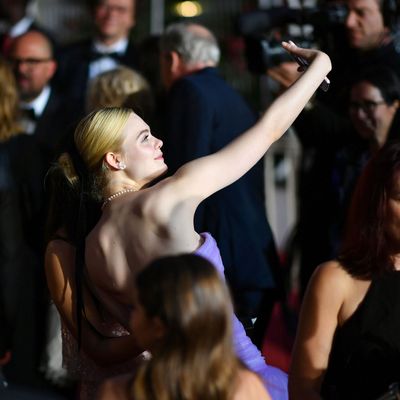 Photo: Loic Venance/AFP/Getty Images
It's the Cannes Film Festival, baby, ohhh yeaaaah — that time of year when some Hollywood people make big movie deals and party on the French Riviera, coinciding with that time of year when you stay at home, doing whatever it is you do with your time. It's okay, though. Your home is nice enough, and you don't want any of that trouble — networking, having to be around frightened movie men who just learned harassing women is not cool, etc. Plus you cannes take selfies at your home, unlike at Cannes, where you Cannesnot.
Or Cannes you?
The film festival outlawed selfie-taking on the red carpet in March, and according to this tweet from Variety writer Ramin Setoodeh, the red carpet of Tuesday's opening night Everybody Knows screening began with a selfie warning:
Uh-huh. Sure. "Reading is agreeing," as they say, and I do not doubt that this sign is ironclad. However, if I could get a second to just connect with all of those who may walk the red carpet at this year's Cannes Film Festival — just lean in, mhm, okay, and put your hands around either your phone or your computer screen as if you're protecting your PIN at an ATM. Got it? Okay. Make sure no one is looking. Are you ready? Stop reading aloud now if you were reading aloud previously, and please go on to the next line, regarding red carpets at Cannes:
(…I don't know, I bet you could sneak some selfies.)
Did anyone hear that? Okay, act normal.
Elsewhere at Cannes, it was announced that Ladybird favorite Beanie Feldstein will play the lead in the upcoming adaptation of Caitlin Moran's coming-of-age novel How to Build a Girl, which, according to Deadline, "Protagonist is launching world sales on in Cannes." Huh. Sounds … good? You're on your own figuring out what that means, I do apologize. In any case, yay for Beanie.
We love you, Beanie!
Take a selfie!