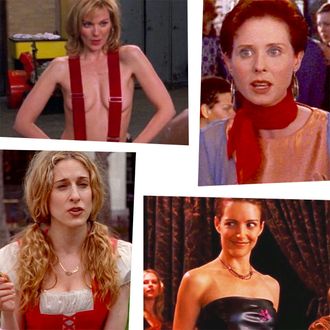 Photo: everyoutfitonsatc/Instagram
Sex and the City aired its first episode on June 6, 1998 — in honor of the occasion, we're taking a look back at 20 years of SATC. Read all the Cut's anniversary coverage here.
Nearly two years after creating the fan-favorite Instagram account @everyoutfitonsatc, designer Chelsea Fairless and writer-director Lauren Garroni still don't feel like they've scratched the surface of accomplishing their goal: documenting every single look from Sex and the City. Though the Los Angeles–based duo feel as though they're just getting started, they've accumulated nearly 500,000 followers since launching in June 2016, and are the minds behind the popular #WokeCharlotte meme. Plus, they've learned a lot about what people still love about the show, nearly two decades since it premiered. Here, they share their insight.
So let's get right to it: Who do you think has the most interesting, varied wardrobes? And the worst?
Chelsea: I think with Carrie, there's the most to talk about, but Samantha I believe is the best-dressed, after re-watching the show. Charlotte is the worst to talk about of the main four women, but when we get to people like Magda … well, we haven't even done a Magda fashion post yet. That's when it's going to get really bleak, when we're doing posts with her and Steve's mom.
Lauren: I love doing posts about Aidan's style, or lack thereof, especially his style evolution from season three when he's wearing Canadian tuxedos or leather pants with a denim shirt, to the sleek Aidan of season four. It's harder to come up with succinct, sharp takedowns of Charlotte's outfits. That's one of the reasons that #WokeCharlotte came about. We do want to talk about Charlotte and contemporize her, but it's hard when her fashion is a bit redundant.
What have you observed about how each of the characters's fashion plays out with fans?
Chelsea: We have unusually high engagement for Miranda, given the fact that she wasn't the center of the show in the way that Carrie was, so I think that's kind of unique. Generally speaking, people tend to care about Carrie and Miranda the most, and perhaps some of Samantha's more out-there moments.
Lauren: Again, it's the angle we choose to take. One of our most liked posts is one we did that shows that Carrie and Samantha wore basically the same outfit, and how it looks like the Maybelline Great Lash mascara. Sometimes it's an outfit that's maybe not interesting but we connect it to something very relevant.
What types of looks perform the best? Going out, business casual, etc.
Lauren: I think it's either the most out-there Carrie outfit, like the time she wore a men's shirt and Hermes belt, or it's more deep-cut outfits, where there's some overlap with contemporary fashion. Specifically, if you look at a character like Miranda, some of her early series outfits that used to be seen as drab are now very Balenciaga, normcore aesthetic — they fall in line with what's popular today.
Going back to Carrie — what is it about those looks that make them so great? 
Lauren: It's escapism at its best. Who else would or could get away with wearing a knit playsuit and trench or a Sailor Moon/school-girl outfit to go to the bodega? It's how we wished we looked in our everyday, but things like gross city streets and untenable dry cleaning bills preclude us from doing so.
Chelsea: It's fun to see someone who has a playful approach to fashion. People are overly self-conscious, they don't really want to take risks. Carrie is an authentically eccentric dresser — and it's refreshing.
Has engagement with Miranda posts changed since Cynthia Nixon announced her gubernatorial bid?
Lauren: Since Cynthia announced she was running, posts of her have done especially well, especially where she looks especially governor-ish.
Chelsea: Yeah, anytime there's some throwback thing that is suddenly relevant to current events, there's always a significantly higher number of likes and engagement. So yes, since Cynthia has announced her bid, those posts have done well.
Also, would love if you both could speak about why you think Patricia's costume design is so brilliant.
Lauren: Firstly, Patricia created four distinct style personas, which is no easy feat. You immediately understand who the characters by their way of dress. Secondly, we take for granted the high/low fashion aesthetic because it's second nature to the way most people dress today, but Patricia Field really ushered in that concept. The mix of high fashion with street style and flea-market finds, is distinctly Patricia.
Chelsea: There is a line where Carrie says, "I was looking for the perfect $7 dress to go with my $300 shoes," and that perfectly encapsulates how Patricia Field changed fashion. Mixing vintage clothes with new clothes or designer clothes with fast fashion was not as commonplace as it is now. Sure, people in the fashion industry always dressed like that but Pat Field made it mass. And her eponymous store was so great because you could always buy something there for $5 or $500. But of course the way that she put together outfits was completely brilliant. The looks never felt stale or overly referential. You really got the sense that she was fully in the present moment, throwing things together and seeing what worked.
If you were to speculate about how each of the four main characters's style would evolve, what do you think they would be wearing today?
Lauren: It is my personal belief that Charlotte would believe in the philosophy of Goop hook, line, and sinker, so I think Charlotte would be wearing whatever collaborations Goop would have going on. I think Carrie would be wearing Alessandro Michele-era Gucci. That or her personal style would resemble Helena Bonham Carter off-duty looks.
Chelsea: It's Miranda's moment right now. Balenciaga would street cast her for their fashion shows if they could. And I would hope that at this point she would revisit to those androgynous, corporate looks that she favored in the early seasons. Carrie would definitely be a Gucci girl, and I imagine Charlotte embracing a Victoria Beckham–type aesthetic. And Samantha would be buying a lot of Versace, as always. She would also be dusting off all of the vintage Mugler that she bought in the '80s.
So if you had to pick your all-time favorite outfit …
Chelsea: I like early series Miranda and late series Samantha, but in terms of specific outfits, the Miranda overalls with the puffer coat and baseball hat will always be very close to my heart.
Lauren: In general, season three and four tend to be the strongest, and I think you really see costume designer Patricia Field come into her own, certainly with the power and the popularity of the show. Everyone's style begins to ramp up, especially Carrie's. My personal favorite look is in season four when she's dating the jazz musician, and they end up going to a club and runs into Mr. Big. She's wearing a Stella McCartney–era Chloé silk overcoat with horses all over them, that Patricia Field paired with a 1950s teddy coat underneath to give it a lot of volume. She's also wearing an exposed nude bra that you would get as Macy's or something. It shouldn't work, but it does. This to me shows the genius of Patricia Field, because you would never fathom that outfit would work.