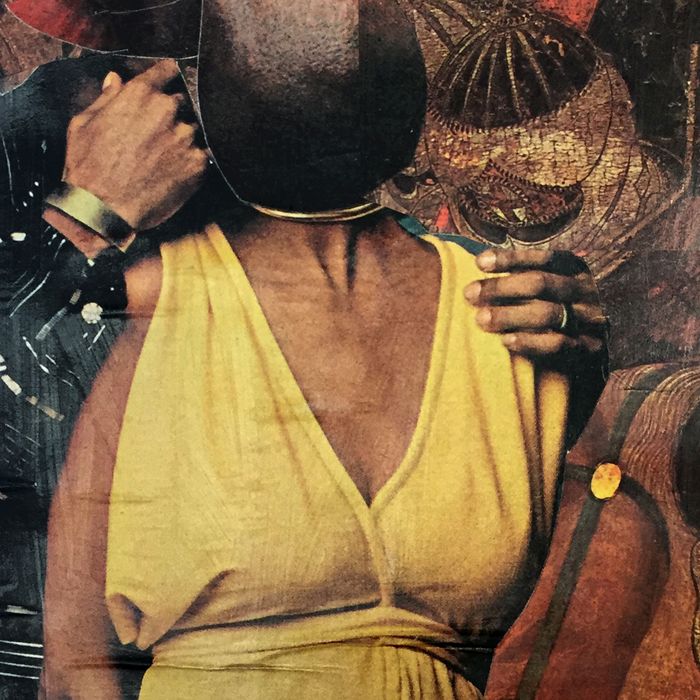 Illustration: James Gallagher
Get Sex Diaries every week.
New York's Sex Diaries series asks anonymous city dwellers to record a week in their sex lives — with comic, tragic, often sexy, and always revealing results. This week, a copywriter who has a giant crush on her co-worker but sleeps with a different one: 38, straight, single, Montreal.
Day One
7 a.m. I wake with a horrible nightmare still on my mind. It's kind of teenage, but in the dream, I'm being chased and teased by young boys at a ski hill. They're "cool" boys, and I'm a rejected outsider. What is it about being "cool" that still haunts me?! I'm 38, for God's sake.
8:30 a.m. Getting ready has taken on new meaning in the last year because I'm always anticipating seeing the married guy at work, whose presence haunts me day and night. He's a totally spun out, frenetic, wily man with messy hair and tight jeans … but just seeing his silhouette through frosted meeting-room glass can bring me to my knees. I look hot in a cropped T-shirt, high-waisted jeans, and an oversize blazer. I'm a curvy size 10 and I know how to wear clothes that flatter me.
11a.m. My outrageously loud co-worker who sits next to me is telling me about his nonstop Grindr weekend. Jesus, hearing how much sex he has on a weekly basis always puts my single sex life into perspective. But mind you, he's 27 and a hot gay top with tattoos everywhere and an outrageous style.
11:30 a.m. Married Guy is rushing to a meeting on my floor and winks at me as he walks by. HEART STOPS. It's bad. It actually affects my ability to work. I get up and go to the bathroom to calm my shit. My loud co-worker tells me he can actually feel the hairs stand up on his neck when Married Guy and I are in the same vicinity. "I hate the tension, it's sooo stressful!" he says.
He says this all in French because we live in Montreal and speak French at the office. I come from a really small town in rural Alberta (the Canadian equivalent of coming from rural Montana except maybe less romantic and less fly fishing), but I'm fully bilingual since I've lived in France a few times and Montreal for the last six years.
4 p.m. I just presented a small campaign to a client. It seemed to go well. One of the advantages of being a bilingual Anglophone in Montreal is the opportunity to sound very impressive in both languages. I've discerned that people who like to be foreign, or live in foreign places, have underlying intimacy issues and are likely running from something. This is definitely the case for me, anyway.
7 p.m. I see Married Guy as I'm leaving the building and look down so I don't make eye contact. He looks so hot in his wool-lined jean jacket. He and I have never slept together, or done anything physical, but we've written long letters and very romantic, poetic texts that share intimate truths about our hearts. It's not a stretch to say that I'm addicted to him. It's a very real pattern for me to become completely fixated on and obsessed with highly unavailable men.
8 p.m. Home drinking wine. The addictive, void-y parts of me can be filled with basically ANY substance if I'm in the right mood. Tonight, I just feel like getting tipsy to cool the desire of seeing Married Guy. His being gets into my whole fucking body and it's hard to come down.
JM, a guy from work who's single, texts me to see if I'm going to the 5@7 on Thursday ("5@7" is what we call "happy hour"). I just say maybe — I know he really likes me and always tells me how nice I look.
11 p.m. JM texts good night, but I don't respond. I masturbate before falling asleep imagining Married Guy kneeling in front of me giving me head. Then it's time to sleep.
Day Two
7 a.m. Ugh, wake with headache from the wine.
10 a.m. Coffee with co-workers, getting full updates on work gossip. Sometimes I think this is the only reason why I still have an office job — otherwise, I hate the hours and the insane pressure. JM comes to chat. He does have a nice beard and I bet he's a pleaser and would happily make me come with his mouth if I wanted him to …
12 p.m. I'm tempted to text Married Guy and ask him for lunch. Honestly I go through this same process nearly every day — want to invite him to do something, obsess about what to write for an hour, write, rewrite, erase, rewrite, obsess some more, erase text, almost send … Eventually, I go get soup alone and write a long thing in my phone about how I'm feeling.
2 p.m. Fuck! This is bad. The VP in charge of everything related to my job just came to my desk to ask me to talk in 30 minutes in her office. My heart nearly fell out of my asshole. I'm pretty sure I know why.
3:30 p.m. Shit shit shit. I was right: She found out about an incident a few weeks ago when I was very drunk with my brother. It would have simply been a really fun weekend of karaoke and drinking, but I sent a very bad drunk text to this artist our agency collaborated with in the autumn after he and I worked on something together.
Things had become very flirtatious between us over Instagram DMs until he suddenly ghosted me. I was SO resentful of him. I think it was a combination of his success as a 28-year-old white male with a minimal amount of talent and the fact that he blithely flirted then ghosted.
I've been ghosted so many times over the course of my life, including by the OG of ghosters: my shitty, unavailable, abandon-at-the-drop-of-a-hat father — and something about all the praise and attention this artist was getting, his unbelievable privilege, and his "cool boy" status obsessed me. So when I got really drunk a few weeks ago, I texted him: "You suck" and he responded right away, "WHO IS THIS? NEW PHONE …" and I started fucking with him ("THIS IS GOD," etc.) Even then, I knew I was doing something job-threatening and potentially career-lethal, but I was full of smiling, satisfied rage.
3:35 p.m. VP says she knows I'm a boisterous, expressive person, and it's why people have an affection for me in the office, but that this particular case is "delicate" and she wants to hear my side of the story. She says he said I'm "obsessed" with him and that I "harassed" him. I concede I sent more texts than he sent and that I indeed did send a mean text a few weeks ago while drunk.
Meeting ends with her asking if I can promise her I'll never do it again. Even though I'm feeling supreme shame about the whole messy situation, I say no because that my voice is all I have. She asks if I can apologize. I say no again because he and I were consenting adults and it was a private matter between us — but I do tell her she can personally pass on an apology if she thinks it's appropriate. Then she asks me to present work a few days later at the big agency meeting.
6 p.m. An easy dinner at home alone. I rarely go out on weekdays. Mulling over today and not feeling great.
 
Day Three

10 a.m. Working at home this morning. Just made a perfect latte with my Italian carafe and warm milk. I should freelance again. I feel weirdly relieved that the terrible "secret" is out, plus kind of proud of myself for being honest with VP.
2 p.m. Going to smoke a skinny cig and drink another coffee. Last winter, when I was feeling supremely melancholic, I sent Married Guy a video of me walking around braless in a ripped T-shirt, smoking a cigarette and listening to "Suzanne" by Leonard Cohen, then reading poetry in the bathtub — like c'mon, that's some Montreal-flavored romance. My naked body was obscured by the darkness, but still, the video was highly seductive. He went absolutely nuts for it.
I woke up the following morning feeling extremely ashamed, like I'd really crossed a line.
6:30 p.m. Reading a new book series that I can't put down. Masturbate on couch with curtains open and fall asleep. Naps are sublime …

10 p.m. Wake feeling anxious panic about my job. Maybe I'm sabotaging it? I did think of that while confessing what I'd done to the VP — like, maybe I just want the fuck out of my job.
Text from JM: "See you tmw???" I text back: "Yeah, I'll be there." I don't like him that much but admittedly, I like his attention.

2 a.m. Shouldn't have napped! Get up and take a sleeping pill, try to get back to sleep. Can't stop thinking about wanting to escape from job. Masturbate thinking about the same Married Guy fantasy. Then I spy on his IG — as boring and basic as ever!
Day Four
10 a.m. The VP asked me to present the artist and our collaborative work at the big agency meeting next week. Is this punishment?
10:30 a.m. See Married Guy and RUN to him to ask if he'll be at the big meeting next week. He frantically checks his phone and says he hadn't planned on it, why? I tell him that I have to present and it would make me really, really happy to see him there, to have his support. He touches my shoulder reassuringly and says he'll be there. Literal shockwaves of love flowing through my body.
Noon I text Married Guy to thank him and he writes back saying "Of course!" Ugh, I ask for so little from such small men.
4 p.m. They've put wine and beer out and I'm drinking it before heading to the 5@7. JM comes to my desk and I'm a bit tipsy. He suddenly looks a lot cuter, my veins warmed by wine and my heart gooey with Married Guy's promise to be there for me.
11 p.m. Don't remember how I got home, but JM is here and he says I can't smoke. He starts kissing me against the stove as I'm boiling water — what was the water for? Can't remember. His beard is tickly and his hands are warm and moving up my shirt. I pull him into the bedroom and he takes my tights and skirt off, leaves my shirt on, goes down on me.
Day Five

8 a.m. JM is watching me eat cereal with blueberries. I feel like complete shit but also kind of relieved and emptied out. Having sex always gives me that feeling — emptiness.
He says I cried last night after we fucked. Omg, seriously? I ask him if he remembers why and he says it was really intimate and kind of beautiful. I put more blueberries in the bowl and keep eating, not looking at him. He says he likes watching me eat. I can't deal with all of this, it's making me want to crawl out of my skin. Real intimacy is a terror.
12 p.m. Someone kill me now. I can't drink anymore, I can't. JM keeps writing me long messages about how special last night was for him and it's wearing on me.

4 p.m. SO HAPPY TO GO HOME! What a day. Crazy busy as usual and a slew of romantic texts from JM …
7 p.m. JM texts to ask if we can just sleep together sometimes. I'm not totally opposed to the idea because I know I'm not ready for a serious relationship, but I've also come to accept that I can't fuck anyone I don't care about except when I'm drunk. I tried having sober sex with a stranger back in January and I couldn't go through with it. I told him halfway through and asked him to leave saying, "Sorry, I can't have sex with someone I don't care about." This was actually a major breakthrough for me!
8 p.m. Order salad and cookies from Mandy's.
11 p.m. Netflix has been my co-dependent friend for the evening and now it's bedtime. I check Married Guy's IG — nothing interesting — and fall asleep.
DAY SIX
11 a.m. Slept in! Feels amaaaaazing.
12 p.m. At the gym on the treadmill. There are a lot of gorgeous men at this gym, but I actually want to keep it as a non-flirting space so I can get my sweat on and relax.
2 p.m. I feel really good about myself today. It's just one of those days.
8 p.m. Having tea with my neighbour bud. She's the smartest woman when it comes to dating and men, always tells me the truth no matter what. She's always saying that I'm too smart and hot to waste time on men who don't care for me and, you know, I've heard this a million and one times in my life and still my brain craves the bad ones. I'm working through it though. I am.
Day Seven
10 a.m. Lazy Sunday in sweats. Reading my book series again, so obsessed.
2 p.m. Late lunch with JM. Not feeling attracted at all but he offers to stop by the bar on his way home to see if he can find my sunglasses (which I lost during our very drunk night out), and if they're not there, he says he'll ask his buddy who works at the Sunglass Hut for a deal on new ones. I'm touched by the gesture. Maybe there's really a chance for me to meet a man who treats me well.
10 p.m. In bed and dreading another week at the office, while simultaneously stimulated and excited about seeing Married Guy. Sigh.
Get Sex Diaries every week.
Want to submit a sex diary? Email sexdiaries@nymag.com and tell us a little about yourself.