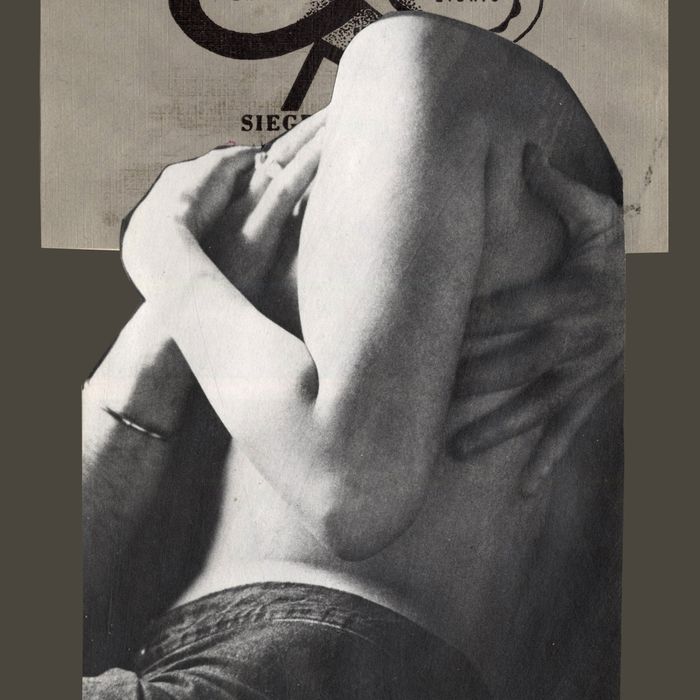 Photo-Illustration: James Gallagher
New York's Sex Diaries series asks anonymous city dwellers to record a week in their sex lives — with comic, tragic, often sexy, and always revealing results. This week, a 31-year-old woman juggling a busy job and multiple suitors: queer, 31, single, Bushwick.
DAY ONE
6:30 a.m. It takes about 25 minutes to get ready and 30 minutes to get to work, but I don't have to be in office until 10 a.m. Still, I wake up with the intense need to be at my desk significantly earlier than everyone else. I've always been this way.
9:45 a.m. Co-workers start to trickle in. I smile, trying to hide that I've been here for the last two hours by turning down my Spotify and throwing away the evidence of my early breakfast. Every morning: two hardboiled eggs and an avocado with hot sauce and red chili flakes.
1:30 p.m. I get thrown into a few brainstorms that cause me to push back my day-to-day work. When this happens (and it happens a lot), I excuse myself for a moment to grab a coffee before I'm trapped in a room for hours.
3:45 p.m. We finally leave the room after trying to creatively pivot an entire platform for a client. The simple answer to what I do is: I come up with ideas for brands to align with our millennial-focused company and try to sell them on it.
5 p.m. Amy, the woman I'm casually seeing, posts a cute photo on Instagram. I question whether or not to like it immediately as she only has six other likes so far, and I don't want to come off as eager. I don't do it.
6:30 p.m. As everyone starts to leave, I tell my co-workers I'm just finishing a few things up. I'm actually not. Daddy is picking me up in an Uber, so I'm waiting for most of my team to leave so that no one sees me walk out of the building and jump into a cab with a man 20 years my senior.
8 p.m. I'm at La Sirène on Broome Street drinking wine and on a date with my much older Daddy. People glance over and raise an eyebrow. While 20 years is not that big of a deal, people often tell me I look five to seven years younger than I actually am. Daddy tells me that I'm beautiful and asks me how I'm feeling — like he's a therapist.
10 p.m. Daddy and I walk over to the hotel that he has booked for us. We are arm in arm as we stroll to the elevators. A woman his age stares at us.
10:20 p.m. I'm already naked and lying on the bed. Daddy is checking his face in the bathroom (he had cut himself shaving that morning). The sex we have is rooted in a lot of power dynamic — he has all the power but I make all the final decisions.
10:30 p.m. I'm bent over Daddy on the bed; both of us positioned so we can see our reflection against the window. He spanks me until my ass is super red. I can feel him getting hard as he does this, and we eventually move to having sex. Emotionally, I feel like I'm being taken care of. Yes, this man is 20 years older than I am, but there is a lot more connection felt between us than I've felt with people my age — not necessarily a love or like situation. More like I'm using him to feel more secure and he is using me to feel like he has a purpose.
DAY TWO
7:15 a.m. This hotel's sheets are significantly nicer and the view is paramountly better than my tiny Brooklyn apartment's. I have a text: "Good Morning, Baby. Order yourself some breakfast before work. Hope you enjoyed your sleep!" There is a Venmo notification for $30 on my phone. No real reason for the amount — outside of the fact that he was thinking that it's probably enough for me to splurge on breakfast and hop in a cab. Daddy knows that I have a hard time with people taking care of me, so he never goes overboard with the money sent. This isn't like a typical baby/sugar relationship — I don't have an allowance based on my own preference. Daddy is a tech executive, and could very much give me an allowance if I wanted.
Daddy left last night a few hours after we checked in; making sure to leave the hotel robe on the bed for when I woke up. This is his thing: treats me to dinner, books a lovely hotel, we have sex, he leaves, I wake up and have the space to myself.
9:30 a.m. I arrive at work after a very short Uber ride from the hotel to my Financial District office. This is probably the latest I've ever been on a typical day, but still early enough for no one to notice.
10:30 a.m. A co-worker asks if I had a good night. I tell her, "Oh yeah, I just stayed home and painted! Super chill."
1 p.m. I text Daddy: "Thank you so much for last night. I really needed that. I should be around tomorrow during the day if you want to get a coffee." He texts back with a smiley-face emoji.
5 p.m. I go back to my desk after a one-on-one with my boss. She's lovely and remarks how fully committed she is to seeing me succeed as a creative director. I'm elated that she has so much faith in my work.
7:45 p.m. I go home and watch late-night clips until I fall asleep.
DAY THREE
8 a.m. I walk into the gym and head straight for the treadmill. I can tell my anxiety is a little intense this morning and decide to run myself until I'm so tired that all I can do is take a shower and slowly walk to work afterward.
9:20 a.m. I'm in the office trying to come up with a creative solution for a client ask in 30 minutes. The anxiety is back.
11:30 a.m. Cameron, an ongoing Tinder hookup, texts me an eggplant and a peach emoji. We make a plan for him to come over later tonight.
12:45 p.m. "Coffee?" Daddy actually works 11 blocks away from my office, making it easy for a midday getaway if I really need to breathe. I look at my calendar to find that I don't have to be in a meeting until 4:30 p.m. so I block off the time in between, grab my wallet, keycard, phone, and computer and head out — I bring the computer with me so my team thinks I'm in a meeting.
1 p.m. Daddy is already sitting at our coffee shop. People definitely think he's my actual dad when he embraces me with a kiss on the cheek. There is a matcha latte with coconut milk already waiting for me at the table (my favorite). I have the impulse to offer to pay him back but I know that gesture offends him. Daddy pays for everything, and that's it. He asks me about my day, how I'm feeling, if I need anything — actually, I do. I want him to look over a text exchange I had with my mother last night.
She and I don't really talk but have been trying to be cordial over the last few years; this past exchange clearly indicates that she has a major drinking problem. Daddy tells me to wait a few days and then text her again.
I grew up in the New York area with other members of my family — only living with my mother in high school when she regained custody of me after years of drinking. I'm still shocked she managed to give it up for that blip in my teen years. Her sobriety faded and she started drinking and being emotionally abusive again, but by that time I was 18 and left. I don't really consider her my parent. The only real reason I'm talking to her now is because I'm staring down the barrel of my grandmother passing away and just wanted to let some anger go.
1:35 p.m. Daddy walks me halfway back to my office, kisses me on the cheek, and tells me to check in with him tomorrow.
8:45 p.m. Cameron comes over. There's not a lot of small talk. I turn on loud music, switch on the noise machine in the corner of my room, and we fuck like we're angry at each other. I need it — my work days are often so consumed by decision-making that there's not often a lot of room for me to be vulnerable or give up control.
DAY FOUR
9 a.m. It's Bagel Friday. The throngs of digital media employees flock to the main floor to grab fruit and half of a bagel; telling the people around them that it's their cheat day so they can have that half. I keep my headphones on as I snag both sides of a whole wheat bagel with cream cheese, fruit, and hardboiled eggs. I have no reason to judge them — today's the only day I allow myself to have carbs at work.
2 p.m. I walk out of a presentation prep meeting feeling pretty good about my performance. It's moments like this I wish I had a relationship with my parents so I could tell them the good news. I text Daddy instead. "BABY! That's so good to hear. Let me know if you're at work on Monday — I'll send you a treat!"
7 p.m. Amy and I take a walk around Tribeca looking for places to eat. We hold hands and kiss every chance we get. I like her, but super terrified to admit it. I'm wearing an ASOS Curve red dress that is sticking to every single curve of my body and she is in a black-on-black blazer/denim combo. We look really cute drinking white wine across from each other at an outdoor café. I've identified as queer for about ten years; dating men, women, people who identify as both, neither or the opposite of their birth. It's not uncommon for me to be seeing different types of people and identities at the same time.
9:30 p.m. We're back at her place. Gosh, she is cute. She rests my leather jacket on the back of the chair and we head to her bedroom.
DAY FIVE
10:30 a.m. I wake up in Amy's apartment. She just moved so all of her stuff is in boxes in her living room, and her bedroom is filled with windowsill candles and her Floyd bed. She has things to do, I have things to do. We kiss and part ways at the Essex JMZ train station.
12:00 p.m. I'm back in Brooklyn with my best friend, Erin. She's about to leave for Iceland for two weeks so we take a long walk around Bed-Stuy with iced coffees in hand. For what I lack in a real family, I make up with a chosen family. Erin is definitely in the pack.
2:30 p.m. Daddy texts me: "Just checking in to see how you are. Let me know if you need anything." It's funny. This weird, interesting relationship that started on a FetLife group actually works. I often feel like I worked the system — instead of paying for therapy, I got myself an Emotional Support Daddy that only asks that I check in, accompany him on luxe dates, and the occasional sex. Side note: Daddy is married, he does not have kids, and he lives in Brooklyn with his wife where they both entertain other partners and kink interests.
10 p.m. Amy texts me to tell me that I'm cute. I smile at my phone. "No, you're cuter."
10:05 p.m. I text Cameron. "Come over. Take off your pants."
12:30 a.m. Cameron comes over and … takes off his pants.
DAY SIX
8 a.m. I could sleep through the morning (I definitely need it), but I don't.
11:30 a.m. I text Daddy and tell him that I'll be available tomorrow to have dinner. "Yes, of course. I will set it up. 8 p.m. good for you?" "YES!"
2  p.m. I go to the grocery store and buy all the salmon, chicken, eggs, and vegetables that I'll need for the week. Sunday is my food prep day, but also the day I look at any work emails that I can check and complete now so that I don't have to in the morning. Maybe I'll sleep in a little bit … (I know I won't.)
DAY SEVEN
6:30 a.m. I'm scrolling through my Instagram feed; waiting for my alarm to go off. Amy posted a photo yesterday that I'm just now seeing. Fuck it. Like.
12 p.m. I get a Gchat message from reception: "There's a gift for you at the front desk!" I go upstairs. There is a bag filled with Milk Bar cookies and Cereal Milk with a note, "Have a good day, baby!" A co-worker at the office walks by and asks if my boyfriend sent me a gift. "Kind of."
3 p.m. I literally booked time on my calendar for me to text my mother back. "It's very hard for me to trust you after all these years. I love you, but you can't expect me to be okay with how you speak to me. Especially when you've been drinking. It's been a very long time since we had a real relationship. I'm willing to work on it if you are."
4 p.m. No response from my mom. I'm not worried. This is very much like her.
5:30 p.m. I'm asked to prioritize a creative request by EOD. I'm now in the largest stall in the bathroom trying to breathe. It's nothing that I can't handle, it's simply the amount that I already have to get done on top of this last-minute pivot that makes me stress. My boss sees me in the hall. "I saw that request. Push for a tomorrow deadline. Just because you're fast and good doesn't mean you should have to handle everything like it's a fire drill." Praise the work-gods for this moment.
9:30 p.m. I had no idea that Eataly in FiDi had a restaurant. Daddy is sitting at a table wearing a nice jacket and a tie. He gets up, kisses me on the cheek, pulls out my chair, and sits for himself. White wine is already placed at my setting. "So, tell me about your day, Baby," he starts.
9:40 p.m. The bread is on the table — I'm taking small bites out of my piece while I go on and on and on about my weekend and dates, and how I'm not surprised I haven't heard from my mother yet. He nods, intently listening to every single word I have to say. He doesn't interrupt or gesture towards any other topic. But I feel bad for taking up so much time with talking.
11:40 p.m. I hop in a cab back home to Brooklyn. Daddy offers to pay. I don't want him to. I like the balance of Daddy taking care of me and my own personal independence. He kisses me on the cheek and tells me to text him when I get in. I'm too guarded all the time; always seeking perfection from myself, my work, my life. If I like someone, I don't always show it. If I need sex, I get it and tell that person to keep it moving. But with Daddy, I'm not expected to do anything but let him be lovely to me. I'm still getting used to it.
Get Sex Diaries every week.
Want to submit a sex diary? Email sexdiaries@nymag.com and tell us a little about yourself.