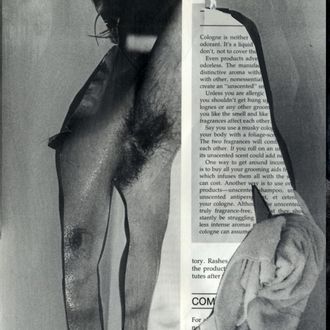 Illustration: James Gallagher
Get Sex Diaries every week.
New York's Sex Diaries series asks anonymous city dwellers to record a week in their sex lives — with comic, tragic, often sexy, and always revealing results. This week, a new-to-NYC humanitarian worker lusting after a younger guy and bored by a preppy one: 37, straight, single, Upper East Side.
DAY ONE
7:30 a.m. Monday mornings are for my therapist. I wake up, like I do most mornings, not wanting to get up. But knowing I'll see Sarah gets me out of bed. She helps me work through my relationship issues with men. Men see me as two things: best friends or fuck buddies. I know this is partly my own doing, but at 37, I need to be my best self and find the man of my dreams. Right?
9 a.m. I'm at my desk, after a good chat with Sarah. I work for an international organization in midtown. I've traveled all over the world for my job and have lived for a couple years at a time in various countries. I've only recently ended up in New York. Six months in, and I love the city. I finally feel like this is a place I could settle.
3 p.m. I leave the office for a quick coffee and start scrolling through my few dating apps. After more than a decade of being on it, I recently went off the pill. This has changed my sex drive in a major way. I suddenly feel sexual all of the time.
6 p.m. On my way home I text Sam, a guy I slept with a few weeks ago. We met on Bumble. He's ten years younger than me, which I find a huge turn-on. I love the idea of being seen as an experienced "older" woman who knows what she wants. I recently lowered my age range on the apps …
8 p.m. After texting back and forth with Sam, it seems tonight won't happen. Still, I make it clear that I'm interested in seeing him and invite him over. I've never been one to beat around the bush. He tells me he just got out of yoga and doesn't have any clothes with him. Lame.
10 p.m. I head to bed after deciding against using one of the two dildos I've bought since I moved to New York. God, I love living in this city. Everything is available.
DAY TWO
9 a.m. At my desk and thinking about what I can do to lure Sam to my apartment tonight …
Noon I text him in my usual brazen manner — always first. I wish I could be one to play hard to get; that seems to work for some female friends. He tells me he's working at the restaurant tonight, but should be off by 10:30 and can come over for a glass of wine.
2:30 p.m. The day goes by fast, multiple meetings at different offices. I spent nearly an hour waiting outside of a conference luncheon for my director, who's in town. Some days I'm writing speeches and at other times I'm a glorified doormat.
7 p.m. I'm home and ready to go! Why can't he get off work sooner? I drink wine, check emails, and try to keep my mind occupied.
8 p.m. He texts me — he's off work early and ready to come over. Hooray! I jump in the shower. I call the front desk downstairs and tell them I'm expecting a visitor. The doormen can be a bit guarded. I hope they don't keep track of visitors …
9 p.m. He rings my doorbell. I answer and am immediately ready to jump him. He's shorter and younger than me, and we're at different stages of our life. But his smile and his sex appeal — they get me every time.
10 p.m. Two glasses of wine in. He's telling me about his acting, I tell him about my job. He makes a comment about me having my "shit together," which turns me on. We start kissing and he asks if he can jump in the shower. While he's in there, I strip. When I come out he tells me he wants to watch me shower. Weird. I jump in, but before I turn on the water he demands I kneel in the bathtub and give him a blow job. We spend some time in the bathroom and then make our way to the bedroom, where there's some spanking and hair-pulling.
2 a.m. So much sex … including anal. We're both falling asleep and he asks if he can stay over. I don't really want him to, as I have to wake up early tomorrow. But okay, I guess.
DAY THREE
7:30 a.m. My alarm goes off and I turn over. Oh right, he's in my bed. Last night was great, but I also love being on my own in the morning. I get up, close the door, and make coffee.
8 a.m. Part of the reason I didn't want him to sleep over was because I have a call this morning with one of our offices in Europe. I sit at my kitchen table, still in my pajamas (I hate sleeping naked), and take the call. I have to give a presentation on leadership skills. Ugh, can he hear me?
9 a.m. The call's done and I shower. I finish up in the bathroom and open my bedroom door to find him still passed out. He's on top of the duvet, ass out for the world to see. He's a cutie, but right now I need him to get out. I wake him softly and nudge him into the shower so he can be on his way. He leaves and says he'll message me.
2 p.m. I can't stay awake! Last night was fun and the third time I've had anal sex in my life. I feel sore, but in a good way. I keep thinking about him and it turns me on. I wish he lived closer — I'm on the Upper East Side and he's in Brooklyn.
7 p.m. I go out for a drink with my best friend, Matt. Obviously I can't wait to gush about last night. Matt is a gorgeous gay man who has been my lifeline in New York. I feel like I can talk to him about anything. I tell him about my anal sex adventure, along with the hair-pulling and ass-slapping. He laughs; he knows me too well. I love to be dominated in bed.
10 p.m. I'm home and a bit tipsy after a few glasses of wine. I shower and jump into bed, reaching for my book.
Day Four:
11 a.m. I've had meetings all morning at our different offices in New York. I'm feeling good and still thinking about the other night's adventures. The sun is shining and spring seems to have finally sprung. I call my sister during a quick and talk to my 2-year old nephew about monkeys, his new thing.
1 p.m. I meet Matt for lunch at one of our favorite Japanese lunch spots.  We work a few blocks away from each other and try to meet for lunch a few days a week. He's gushing about the guy he recently started dating. I'm happy for him but can't help wondering when I'll find something like that.
5 p.m. I leave work early and head to the gym. The high of the other night has begun to fade.
8 p.m. I make a spinach omelette and some toast — breakfast for dinner. I pour myself a glass of red wine and begin scrolling through my dating apps. I resume talking to a guy that I've been chatting with off and on for a few weeks. He's completely different than the young, enigmatic actor. Six years older than me and a reliable texter. We send texts back and forth for close to an hour. We set a time and place to meet tomorrow night.
10:30 p.m. Is it weird that I suggested the same place I went on my last date? There's something comforting about going to the wine bar a few blocks from my apartment. If it's a bad date, it's an easy walk home; if it's a great date, it's also an easy walk home.
11:30 p.m. I've finished three-quarters of a bottle of red, solo. I take a bath and go to bed.
DAY FIVE
Noon I'm editing a document for work and trying to feel inspired. Sometimes I wonder what it's like to work in the private sector.
3 p.m. I've spent most of the day at my desk, save for a quick walk around the block at lunch to grab a sandwich and some sanity. My date tonight feels far away and my mind drifts to Sam. Why hasn't he messaged me? How hard is a simple text message?
7 p.m. I'm home and getting ready for my date. I love Friday nights. I've nibbled on some cheese and crackers, but haven't made myself anything for dinner — the wine bar we're going to has a great menu of small dishes.
8 p.m. I arrive at the wine bar. The bartender says hi as if we're old friends. Embarrassing. I don't see this new guy, Leo, around, so I grab a table and sit down.
8:10 p.m. Leo texts me — he's here, sitting in the back, and I've been sitting in the front waiting for him. I grab my purse and jacket, and make my way to the back of the bar. He's there, and immediately rises to greet me. He's tall and dark, dressed in jeans and a beige sweater. He looks a bit preppy, which isn't my usual taste.
9:30 p.m. Nearly an hour in and I'm bored. Leo is exaggeratedly courteous. When I get up to use the restroom he stands. When he suggests food, he asks me if it's okay to order. He even asks my permission to use the restroom. Is this guy for real?
11 p.m. I've finished three glasses of wine and half of a goat cheese and caramelized onion flatbread. He's had two glasses and the other half of the flatbread. We talk about his basketball injuries and the properties he's bought for his family back home in the Dominican Republic. He's nice, but I've already made up my mind that it won't go much further.
11:30 p.m.: He insists on walking me home. We walk to my cross street and say the usual pleasantries. I decide to make the first move and kiss him on the mouth. We talk a bit more and as we say good-bye, I give him another kiss. He gives me another closed-mouth kiss.
Midnight The date wasn't bad, but certainly not the most interesting. I'm happy the night is over and I'm in bed.
DAY SIX
9 a.m. I wake up, have some cereal, a quick coffee, and head to the gym.
11 a.m. After the class I'm feeling great, but exhausted. I think about Sam. Grab the bull by the horns, right? I bet he's a late sleeper, but I text him anyway.
2 p.m. Sam texts me back with an elongated "heyyyy." We text back and forth and he suggests meeting up later. He's working, but will try to swing by tonight.
5 p.m. Now that I'm off the pill, I have no idea when my period's going to arrive. I feel a bit achy as I run some errands, but hope tonight isn't the night. Sex on my period is all well and fine, but not with someone I've only been naked with twice. Is that normal?
7:30 p.m. I've cooked myself dinner and am relaxing on the couch. Sam said he would be off by 10:30. I talk to Matt for a while, about my anxieties over my relationship status and my consistent falling back on men who only want me for one thing.
11 p.m. Sam texts and says he can't make it tonight. The restaurant is busy. I ask him about tomorrow and he says, "Yeah, it should work," but immediately regret it. I'm not on demand!
DAY SEVEN
11 a.m. I sleep in late and then spend a good half an hour trolling through Instagram from my bed. It's the simple things in life.
4 p.m. Sam actually texts me. He apologizes for last night and asks if he can "wine" tonight. I say yes. He says he'll be over after dinner. It's almost too easy.
5:30 p.m. After a walk around Central Park and some grocery shopping, I'm home, showered, and have started preparing an early dinner. I make some pasta and open up a bottle of wine.
7 p.m. Sam messages and says he's on his way over. I call the front desk downstairs to let them know a friend is coming over. Once again, I wonder if they keep track of who comes to visit who. Surely not, right?
7:30 p.m. Sam arrives. His hair is a bit wet, he has a pashmina tied around his neck and is wearing a white collared shirt. His good looks get me each and every time … well, the four times we've hung out. He sits down and I pour him a glass of wine.
8:30 p.m. He starts telling me about this couple he knows after I tell him about some friends who are polyamorous. When I ask him how he knows them, he makes a comment about a painting on my wall. I ask again and he says through an app. He whips out his phone and starts showing me pictures of the couple. Then he comes straight out and asks me if I want to be a fourth.
I've never been asked this before. Should I be flattered? I ask him what being "the fourth" entails. I've never been sexually attracted to women, and I tell him that. He tells me that he's not attracted to men, so last time they took turns. I drink more wine.
He says the experience was just a lot of hanging out, followed by a wild sex session with the girl. The couple is apparently married … New York is the city that has everything, right? Sam and I start kissing before making our way to my bedroom. As always, the sex is great, but this time the night ends with him leaving and saying he'll be in touch about No. 4. I don't say anything. I just smile, nod, and give him a kiss good-bye.
Get Sex Diaries every week.
Want to submit a sex diary? Email sexdiaries@nymag.com and tell us a little about yourself.