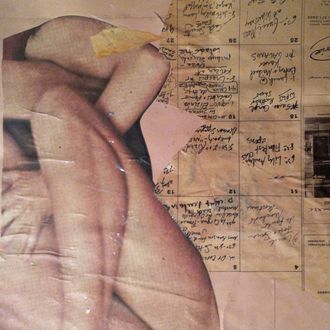 Illustration: James Gallagher
Get Sex Diaries every week.
New York's Sex Diaries series asks anonymous city dwellers to record a week in their sex lives — with comic, tragic, often sexy, and always revealing results. This week, a newly single woman, mixing business with pleasure at her tech job: 29, straight, UES.
Day One
7 a.m. Ugh, Monday. I wake up and go to the gym in an attempt to burn off the mistakes of the weekend.
9:30 a.m. I listen to my morning podcasts and arrive at work, exhausted. Luckily for me, my company is based on the West Coast, so mornings are typically slow. I grab some cold brew and start working on a presentation I have to give to the entire company in a few weeks. My job is changing, which is super exciting, but I'm also kind of making my new role up and hoping it works.
Matt isn't in sight. He's three years younger than me, 26, and we've been hooking up here and there for a few months now. I have to admit, I never thought twice about him, and our first encounter happened by total chance. But it was SO fucking good that I couldn't let it be the only time. It's his birthday today, so maybe he's off.
3 p.m. Ugh, there he is. I start going through Hinge to distract myself … but none of these guys seem appealing.
3:30 p.m. Andrew texts me, confirming plans for tomorrow. We met on the League and then had an amazing eight-hour first date. He's so hot and I'm obsessed with basically everything about him, but I think I'm way too into him for it to work. Since I just got out of a very long, serious relationship, I know I should keep things casual. But I would basically marry this dude if I could.
4 p.m. I run into Matt in the kitchen and wish him a happy birthday. Why does every non-sexual encounter feel so awkward?
9 p.m. I'm home and bored. I tell Matt I have a birthday present for him. He is intrigued. I tell him that I can't tell him what it is, I can only show him. He suggests Thursday. I can't wait to see him/his dick.
Meanwhile, I have to come up with a "gift" that is both exciting but also casual enough for our fuck-buddy relationship.
10 p.m. Until pretty recently, I lived with my ex, Sam, and sometimes I feel like I'm still adjusting to living alone. We met at a bar and were together about four years — probably moved in together way too soon. We had a ton of issues (he was kind of a controlling dick), yet he was totally blindsided by the breakup. I'm pretty happy with my newfound freedom and independence, which is what I think about before reading a few pages of The Sun Also Rises (I have a thing for Hemingway) and fall asleep.
Day Two
10 a.m. At work, drinking cold brew, and staring at Matt's ass. I'm so obsessed with sex now that I'm single.
1 p.m. Eating lunch, and Andrew texts me to tell me how busy he is. Is he trying to blow me off? I remind myself to re-fucking-lax and that he's probably just making conversation.
Ever since I ended my relationship with Sam, I find myself going back into my 24-year-old self's habits: overthinking and overanalyzing every single thing a guy says or does. The only difference is that, now, I'm (usually) able to talk myself out of these irrational and obsessive thoughts.
Andrew suggests meeting at a place downtown at 7:30 tonight. Crisis averted.
3 p.m. Matt is sitting at the desk across from me, chatting with one of his friends. Stop torturing me, guy!
7:30 p.m. I arrive to my date and feel super nervous. What happened to the cool girl I was on our first date? Why do I psych myself out like this? Every. Single. Time.
8 p.m. We are on our second drink when we start getting handsy and making out.
9 p.m. At the next bar, we continue making out, joking about future plans. It couldn't be going better. Then, he asks about my tattoo. I should just brush it off and give some surface-level explanation, but I tell him the meaning behind it. It's for my mom, who passed away five years ago. I guess my nervousness got the best of me, and I continue to ramble on about my life story.
There's a shift in the mood and I can't help myself from feeling awkward, and he can totally feel it. The date is going to shit.
10:30 p.m. We end the night. He kisses me good-bye and asks me to text him when I get home.
Day Three
8:30 a.m. I am so tired. Andrew still hasn't texted me back from last night … my heart sinks. I just know he's not into it anymore.
11 a.m. My friends want to murder me. I can't stop word-vomiting about my date last night. I need to get over it.
1 p.m. Andrew finally texts me back but I just have a feeling that something ain't right. Oh well, at least I have Matt to look forward to.
4 p.m. I have an afternoon coffee and prepare for the networking event that I am reluctantly attending tonight. I really want to put myself out there, make connections, and excel in my career … but this shit is exhausting.
8 p.m. I'm just about to leave the event when I see a super hot guy across the room. I tell my friend that I want to chat with him, and coincidentally, he is friends with her boyfriend and they're getting drinks after this. She invites me, and I gladly accept.
10 p.m. Drinks turned into dinner that turned into more drinks. I am small-talking with this New Hottie and feeling much better about myself and the disaster of last night. If Andrew isn't into me, who cares? It's New York, and there are a million other guys at my disposal.
Everybody decides to go home, and I ask New Hottie if he wants to grab another drink elsewhere. He's down.
Midnight I am back at the New Hottie's apartment and we are making out … clothes come off. I didn't plan on having sex with a random stranger tonight, but here I am!
He has a tattoo that looks like a tribute to his dad. Weird coincidence, given last night's sitch. I decide not to bring it up.
He starts going down on me and sticking his fingers in my mouth. Oh my God, he is so fucking good. I come really hard. I give him head, he comes, then he tells me that he can get hard again and fuck me right away. Where has this guy been all my life?!
4 a.m. "Fuck, fuck, fuck!" We wake up after falling asleep post-sex. He was letting his starving-artist friend stay the night, but we slept through all 16 of his calls. Oops. In a total daze, I get up, get dressed, and order an Uber. His friend shows up before I can make my escape, and apologizes profusely, encouraging me to stay. Hard pass. I kiss New Hottie good-bye and bolt the fuck out of there.
Day Four
8:30 a.m. What a night. That sex was so good. I get ready, head to the office, and put my head down in work.
3 p.m. Getting an afternoon drink with my friend Nikitha (it's Thursday, after all), and I tell her about my rendezvous with Matt tonight. She suggests we go to a sex store and buy something.
I've never used handcuffs, but I've always been curious. Matt and I have had some kinky sex … a little hair pulling, choking. He'll probably be into it. I buy a pair.
9 p.m. I'm out for drinks and I text Matt. He asks if I'm going out with other people from work, but I tell him I don't feel like raging tonight. He cabs it to my place.
9:30 p.m. We start hooking up. I can feel his hard-on through his sweatpants. It's been a few weeks since we last hooked up. God, I missed his dick. SATC is playing, and Charlotte and Trey start fighting about Charlotte's infertility — kind of a mood killer, so I throw on some music instead.
I'm wearing a super-sexy corset and he takes notice. "Wow," he says. I assure him I didn't buy it for him … I mean, I really didn't.
I ask if he's ever used handcuffs and he says no, but he's down. I handcuff him and start riding him. He loves being submissive. I've never been the dominant one in bed, but I'm into it. I eventually let him get on top, and we continue having sex. He stops as soon as he is about to come, he goes down on me, waits until I come … then he fucks me again.
10:30 p.m. We're cuddling, pillow-talking and making out post-sex. I don't know why we always do this. Is he actually into me, or does he just not know to fuck and bounce? We don't really go there in our conversations, though, and I'm totally fine with this. I want the casual sex, and am down for avoiding the serious talks — but nobody wants to feel completely used.
He reluctantly leaves because we both have early meetings. I welcome the sleep and pass out in a buzzed, sex-induced coma.
Day Five
7 a.m. I am exhausted, but not hung-over. I wake up, head to the gym, and take my morning meetings from home.
10:45 a.m. Matt makes eye contact with me when I walk in. Less than 12 hours ago, he was handcuffed in my bed. And now here we are, co-existing in this office, like nothing happened.
12 p.m. Headache starts to creep in. I am SO tired now. My friend Sarah is in town from our California office, though, and we're having fun BSing back and forth.

6 p.m. I'm wrapping up my work for the day and Sarah is drinking beer. Ugh, I really don't want any, but it's so nice out, so I decide to go for it anyway. Sarah comes to see my apartment, and then we head to the park.
We sit at my favorite secret park spot by the lake, chatting about life and laughing away. I love Sarah! I wish she lived in NYC.
8:30 p.m. Sarah goes out with friends, but I decide to go home. I order in some Greek food and eat while reading The New Yorker. Eventually, I make some detox tea (I really need to flush out all of this alcohol), watch some SATC, reply to my boring Bumble and Hinge matches, and pass out.
Day Six
9 a.m. I love waking up not hung-over! It's a gorgeous day.
I throw on my running shoes and do the Central Park loop. I really love runner's high and having productive weekend mornings. I'm feeling good about myself.
11 a.m. I shower, get a cold brew, head to the nail salon to get a mani/pedi/massage.
2 p.m. I walk to an art studio near my apartment. I'm trying to cultivate new hobbies so I feel less shitty about this partying lifestyle I've picked up post-breakup. I've always liked to draw, but I'm not really good at it, so I decide I'll spontaneously take a drawing class. It's fun! I'll never be Monet or Van Gogh, but I'm improving.
5 p.m. I'm getting ready for a date I have with this guy, Dave. I met Dave on Hinge and we've been texting back and forth. He seems interesting and attractive. I'm excited, but as with all app dates, a bit apprehensive. I typically wouldn't do a Saturday-night first date, but I am still feeling a little bummed about Andrew, so I want to put myself out there.
8:30 p.m. I grab a pre-date drink and apps with Nikitha, and meet Dave at a wine bar. I walk in, and there he is. Except, he doesn't look like his pictures at all. He's about 150 pounds heavier. This cannot be real.
I reluctantly sit down. Listen, to each his own, but this dude straight-up DUPED me. He casually tells me he's gained weight since his last breakup, where he lost all motivation from a broken heart.
I don't know if this guy thought he would win me over with his sob story, but I'm not interested. I ran a 10K this morning and this guy is having an emotional meltdown over his ex, eating God knows what.
I still have a glass of wine, politely decline a second, and leave.
10:30 p.m. I meet my friend Jon and another friend for drinks near Union Square, where I quickly down two dirty martinis. We walk downtown, through Washington Square Park, randomly stop for some gelato before heading to another friend's party.
1 a.m. We left the party and are now making our way to some speakeasy. I'm pretty drunk at this point. I meet a guy who tells me he's from Paris, visiting NY for the first time. I love Paris. My only connection is the multiple trips I took there with my ex, but I still love it. And now I'd have a new connection!
The Parisian and I dance the rest of the night and make out a bit, but I'm not really DTF. I already had sex with two people this week, including a one night stand with a stranger. I am definitely feeling more uninhibited than ever these days, but I, for whatever reason, am not feeling it. I guess, deep down, I do have some morals left.

3:30 a.m. The Parisian and I get pizza and he comes back to my place, even though I tell him sex is off the table. He recites a poem to me that he wrote, in French. We watch TV, giggle over nonsense, and pass out.
Day Seven
6:45 a.m. I'm woken up by a practically naked French stranger kissing me. I am so nauseous I could throw up everywhere.
Apparently I promised him we could go to Central Park before he left in the morning.  I throw my sweatpants on, chug some water, and we head out.
7:15 a.m. Here I am, walking through the Park with this Parisian stranger. He is SO French. Think long curly hair, bomber jacket, chain-smoking cigs. He's making fun of all the morning runners and bikers, when just yesterday I was one of them myself. Now, here I am, so hung-over I could die, makeup running down my face, alcohol coming out of my pores.
The Parisian is actually hilarious though, and I'm enjoying our time together. We head to the spot I took Sarah to two days ago. Somehow the fresh air and French humor has done wonders for my hangover.
9 a.m. We exchange numbers and he kisses me good-bye, on both cheeks. I need to go back to bed.
11:30 a.m. I wake back up and finish what remains of the pizza from last night. I am disgusting, but it's really gross out today, so I don't feel that bad about just staying in. I need to do chores, anyway.
5:30 p.m. I make it to the gym for a Barre class. Every minute feels like an hour and I feel like absolute garbage by the end of it.
8:30 p.m. My physical hangover turns into a moral hangover over. I constantly go back and forth between "Treat yourself, live your life" to "What are you doing?!" I start feeling upset about Sam. I know we weren't right for one another, but sometimes I just really miss him and the stability that came along with our relationship. I wish I could just hug him sometimes.
But that's the thing, I just want to hug him — I don't want to fuck him. And, clearly, my sex drive is out of control. So I know for that reason, amongst others, he definitely ain't the one.
I know I'll find him, "the one," one day. Until then, I just have to focus on developing my career, and having good, casual sex with different guys — until one of them sticks for good.
Get Sex Diaries every week.
Want to submit a sex diary? Email sexdiaries@nymag.com and tell us a little about yourself.