I'm driving down the San Diego freeway, searching for my exit, feeling jumpy and a little bit lost. I'm hoping a few wrong turns early in my drive won't make me late. I still need time to stop off at a strip mall with a Starbucks and a big parking lot — someplace I can put on deodorant and maybe a little makeup after my cross-country flight.
I prefer to think this is because I want to appear professional to the human man I'm on my way to see: Matt McMullen, the founder of Abyss Creations and its offshoot robotics company, Realbotix. But once I find a place to park and start brushing my hair, I realize that some deranged sliver of myself feels as if I'm primping for romance. This is a complicated realization. In addition to McMullen, I'm about to meet Henry, the first available male sex robot.
Henry is six feet tall, with six-pack abs and the customer's choice of penis. He's just a prototype at the moment — you can't buy him — but the two female models Realbotix developed alongside Henry will ship this summer. So far, there have been 50 preorders at $12,000 apiece. Henry, Harmony, and Solana have sturdy silicone bodies, and once they're synced up to a corresponding app, they can give compliments, recite poetry, tell jokes, and seduce.
Or at least, this is the general idea. The easy fantasy of what a sex robot might be — indistinguishable from an actual human, except hotter and prepared to fulfill any desire — is far from the current reality. Henry, if we're being cruel, is essentially a high-quality dildo attached to a fancy mannequin with a Bluetooth speaker in his head. But the gulf between what we imagine and what's possible makes sex robots the perfect vehicle for pondering our sexual and technological future. We might not wake up with sex robots in our beds tomorrow, but right now they're an irresistible thought experiment. Since making my date with Henry, he's become my favorite dinner-party topic. Would you fuck a robot? I've asked countless friends, as we all gather round a phone and flip through photos and videos of Henry like he's someone's latest Tinder match. (Weak conversational skills, but always DTF … maybe yes?)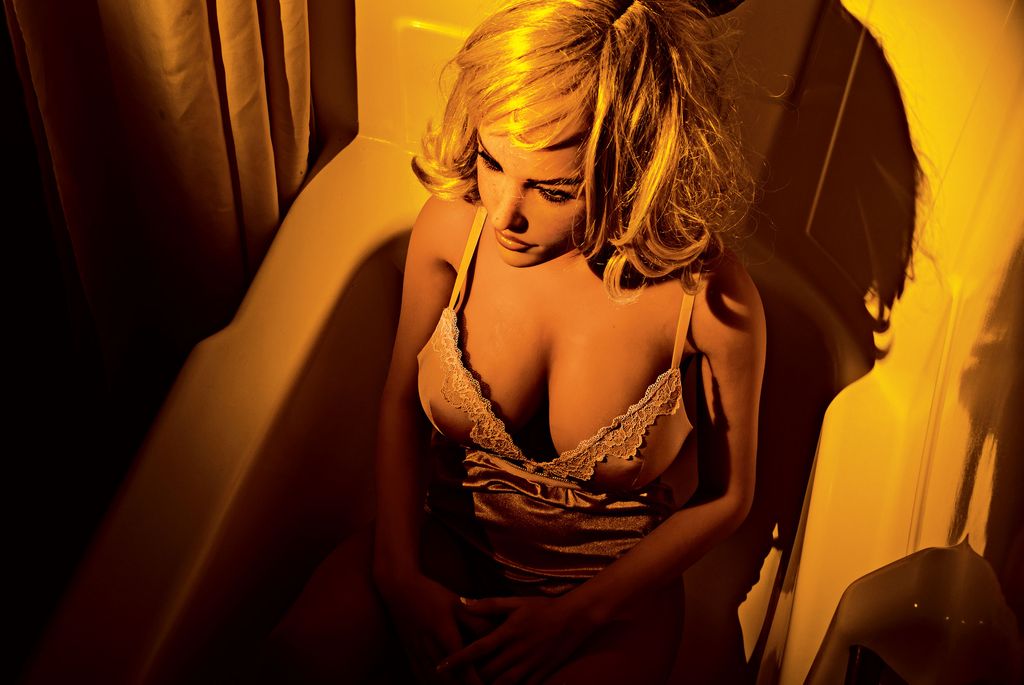 The dystopian vision for our robot future might look something like the one Ross Douthat evoked in a recent New York Times column: a world where sex robots (along with human sex workers) become a market-based solution to the violent misogyny of self-styled "involuntary celibates" — men like Alek Minassian, who is charged with killing ten people in Toronto last month. Douthat's column prompted immediate outrage for seeming to take Minassian's grievances at face value and for dehumanizing sex workers. Meanwhile, there's already a Campaign Against Sex Robots and reason to suspect they may not bring out the best in their human companions. This past September, visitors to the Ars Electronica Festival met Samantha, a sex robot from the Barcelona-based company Synthea Amatus. According to headlines, men acted like "barbarians." Taking things a few steps (or centuries) further, maybe the dystopian future looks like the most recent season of Westworld, with robots exacting revenge on the humans who mistreat them.
So far, though, nearly all our fantasies and anxieties focus on relationships between human men and robot women. Henry — beautiful, simpleminded, slack-jawed Henry — offers an opportunity to consider robot sex without all the misogynist baggage of fembots. The official research on who would or would not fuck a robot is small. In a 2016 Tufts University survey of 100 people, two-thirds of men polled said they'd have sex with a robot and two-thirds of women said they would not. On the day I meet bot-boy, Harmony and Henry have just returned from filming a man-on-the-street bit for Jimmy Kimmel Live! Kimmel asked passersby if they would consider falling in love with one of the robots — the segment has yet to air, but apparently they got a lot of "nos." McMullen says he created Henry in order to "represent both genders" and put to rest complaints that his company was objectifying women. In other words, Henry is not a response to known market demand.
But if, for now, all sex robots are more or less novelties, they're also a window into our desires. Building a robot for the purpose of sex means defining what sex means to us — whether it's strictly friction or requires something else, emotion or responsiveness or surprise. It also means defining what we want in a partner (assuming that we know) and asking how much we expect out of sex with our fellow humans.
In his 2007 book Love and Sex With Robots, David Levy predicted that by 2050, humans will have intimate relationships with robots. Not just sex — love, friendship, marriage, all of it. A futurologist named Ian Pearson (who boasts that his predictions are accurate 85 percent of the time) has gone even further and suggested that by 2050, humans will have more sex with robots than with other people. Based on trends in the $15 billion sex-toy industry — like VR porn and the rise of teledildonics, or remotely controlled vibrators — Pearson believes that by 2025, women will prefer robots to men.
As I get back on the highway after making myself presentable, I can't help letting my mind wander toward the most optimistic and irrational fantasies of what I'm about to experience.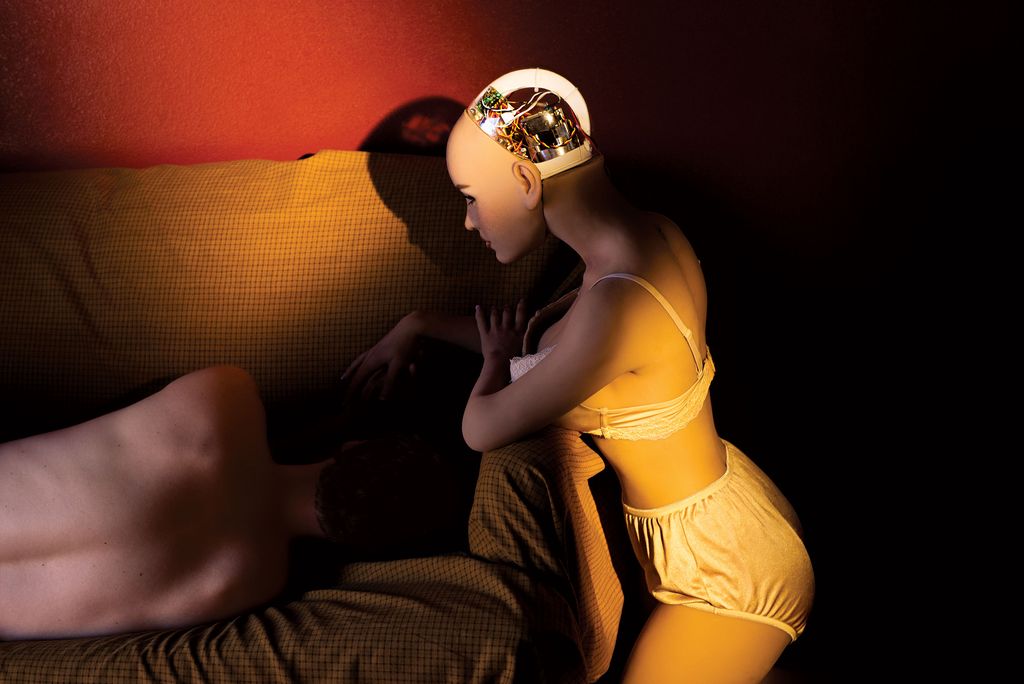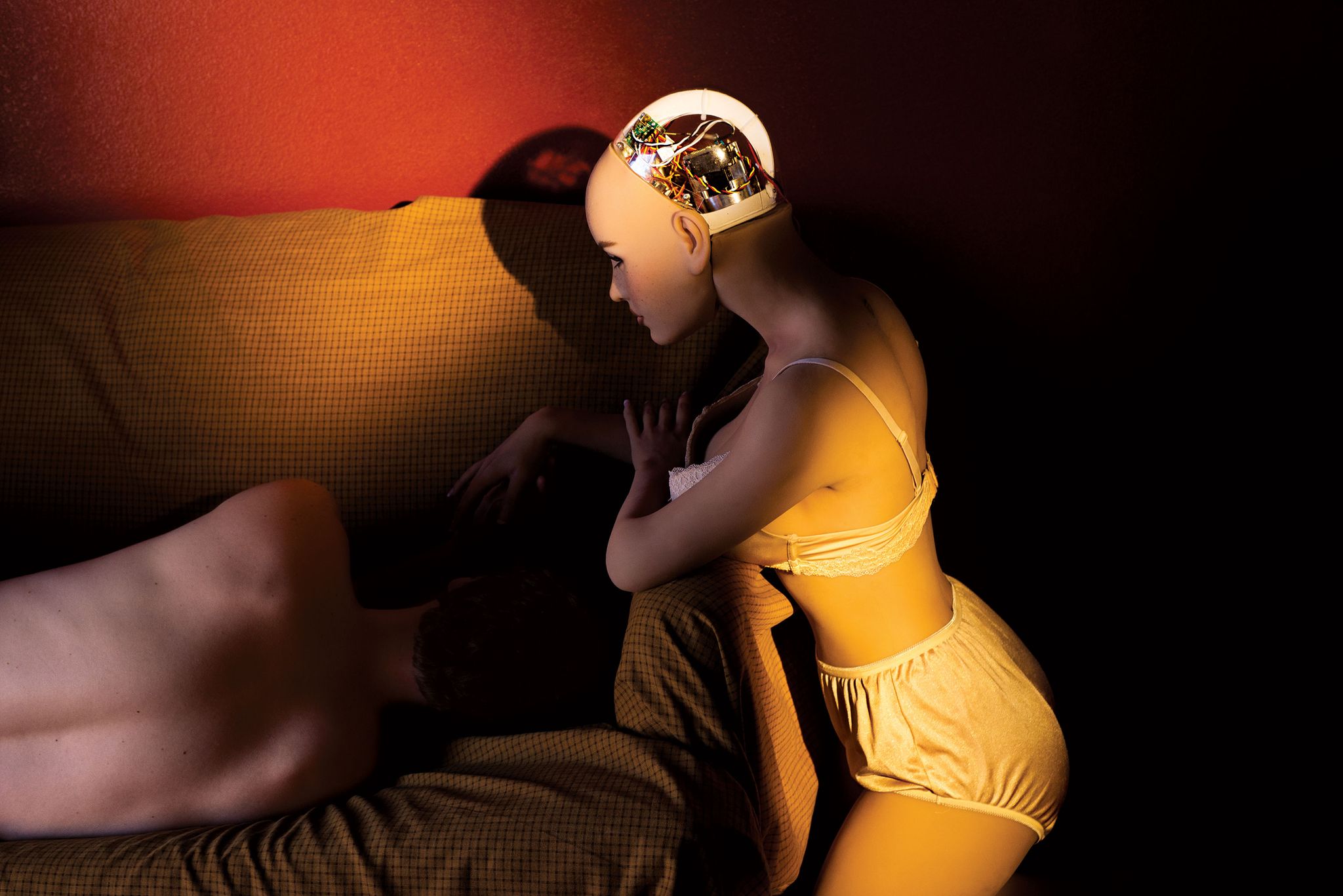 Abyss Creations, the home of Real Doll and Realbotix, is nestled among the brown hills of San Diego County, at the end of an industrial parkway, near a Hampton Inn. It's a two-story office building that could easily be a dentist's or real-estate office, not a place where high-end sex dolls are designed and produced. Catherine, a 26-year-old woman with glasses and an acid-yellow bob dyed to match her denim jacket, stands behind a desk decorated with a row of prototype monster dildos. Like, actual monster dildos: someone's fantasy of what Frankenstein's monster's genitalia look like. (The answer: girthy.) Catherine is the company's social-media manager, publicist, and, today, tour guide. "Welcome to Real Doll," she says with a yawn, gesturing to a glittery sign. "Let's meet the girls."
"The girls" she's referring to aren't robots; they're the life-size silicone "Real Doll" sex toys that first made the company's reputation. Abyss sells about 30 of these a month. The difference between a Real Doll and a sex robot (branded a "Real Doll X," in a nod to the iPhone X) is the addition of a robotic head, which is controlled via Bluetooth through an Android app. Users who already own dolls can upgrade by ordering a head à la carte. While an ordinary Real Doll is stationary and mute, the robotic heads have moving eyes, mouths, and faces; they can speak in various pitches and accents (Scottish and English), remember names and preferences (do you ask more about movies or books?), and display personality traits (from Intellectual and Talkative to Insecure and Moody) that users select.
Other companies are making sex robots, like Roxxxy from TrueCompanion and the brutalized Samantha from Synthea Amatus, but their offerings are less sophisticated. Mostly, they moan and give preprogrammed X-rated commands when touched, like turned-on Tickle Me Elmos. Hanson Robotics has created an impressive female robot named Sophia: She's got movable arms, she can tell jokes, she's even a citizen of Saudi Arabia — but she's not designed for sex or even companionship. With the Real Doll X, McMullen has the first robot on the market to combine a reasonably lifelike body with halfway decent AI. Henry's abilities hover somewhere between programmed robotics (a one-task assembly-line tool) and narrow AI (a Roomba). Still, limited conversational abilities may not hurt a sex robot's appeal, at least for Realbotix's current customers. In Facebook posts on the prospect of new technology, many said they weren't sure they wanted their sex dolls to speak at all.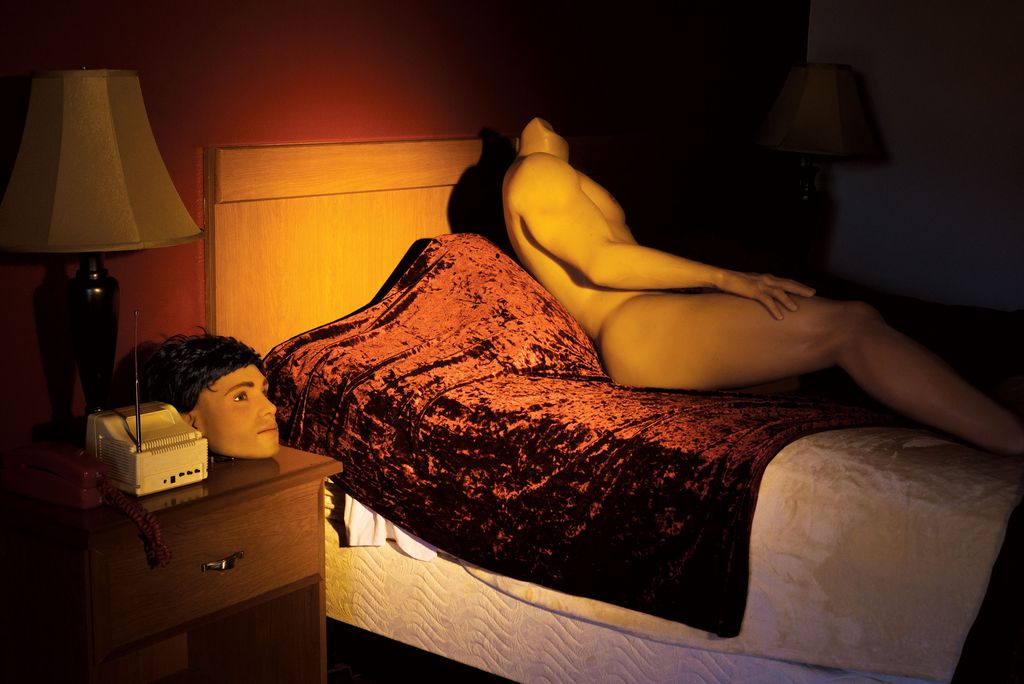 Catherine leads me back to a showroom where the Real Dolls wait, eyes glassy and vacant. The black hardwood floors are slick with the silicone used to make their flesh; I can't walk in my Keds without slipping and grabbing a sex doll for support. The first I encounter is Leila, a blonde with blue eyes and custom freckles. She's "fully dressed," in a white string bikini, and about four-foot-11 standing. (By "standing," I mean supported by a giant doll stand — none of the Real Dolls is mobile, but they are pliable and can be positioned in a variety of ways.) There's Tanya, nude and wigless. She was rented out for a party last night and returned a total mess, clothes ruined, dirt all over. "I've got to clean her up," Catherine says. I also meet Nova, who sits in a white leather lounge chair and can't keep her eyes from crossing, and Stormy, a Stormy Daniels sex doll made from a mold of Daniels's body.
To order a regular Real Doll or a robot, buyers first choose a body type and size; the dolls start at five-foot-one and go to five-foot-ten. (They also offer a petite model that starts at four-foot-ten.) The most popular is Body F: five-foot-one, 70 pounds, 32F breasts. Dolls start at $6,000 and can run upwards of $50,000 after customization. The robot head costs an additional $8,000. We make our way from the showroom to the workshop, where all the genitals, breasts, butts, eyeballs, lips, and teeth are made. On one table, a pile of pink mouths lie permanently open. I slide my finger down an expandable throat hole. "Why are the teeth squishy?" I ask Catherine. Squishy teeth don't seem realistic.
"So you can fit your wiener in," Catherine replies.
A desire for squishy teeth is assumed; almost everything else, though, is the buyer's choice. Realbotix is betting that much of what users want comes down to customization. The fantasy it's selling is the ability to select a sex partner to meet your precise specifications — to get exactly what you want. It's an understanding of sexual desire that seems well suited to the dating-app era, and I'm as primed for this experience as an ex–Navy seal getting ready to compete on Naked and Afraid. Online dating already has me thinking of mating as something like shopping. The inner monologue of a swiper is a rapid-fire checklist of wants and needs: I like the shape, but does it come in brown? I wish it were longer. Made in Jersey? Eh. Selecting physical attributes for a sex robot is Tinder taken to a logical extreme. I consider a wall of nipple options, each extremely detailed, in a range of sizes (mini to XL), colors (Blush to Coffee), and moods (perky versus puffy).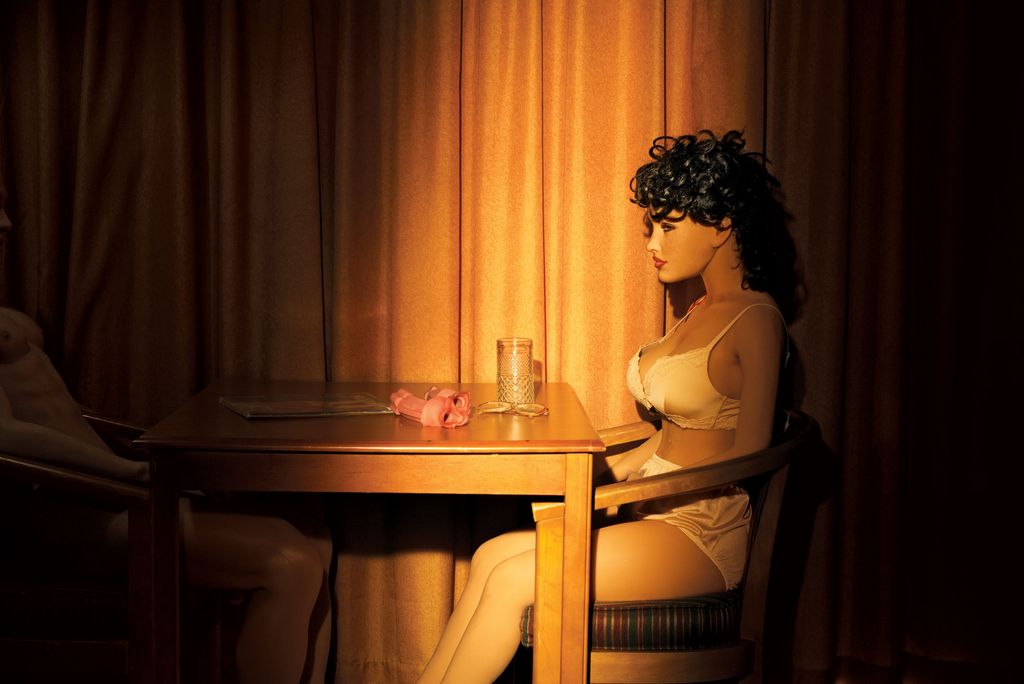 Buyers purchasing Harmony or Solana — or Henry, if he makes it to market — will be able to customize their robotic heads online. Would I rather stare into Henry's hand-painted Freckle Legume eyes or Volcanic Sunburst eyes? Do I want to stroke his beard or bare face? Do I want him to have elf ears? For $275 extra, he could! I feel like a kid in an X-rated Willy Wonka factory.
Next to a bushel of labias, which resemble dark-pink wood-ear mushrooms, sits a bundle of penises waiting to have veins airbrushed. These, Catherine says proudly, are the popular Real Cock 2s, nine inches from the base to the tip. (Now I know what a real nine inches looks like.) Even in the finished body, genitals are removable; they're easier to clean that way.
No one has yet had sex with Henry, or with Harmony or Solana — the company doesn't employ any testers, although, Catherine told me, plenty volunteer. The mechanics of an encounter with Henry would be basic: A user would choose a penis, attach it to the doll, apply lube, get on top, and do the work. The Real Doll body doesn't have any bells or whistles designed with female pleasure in mind, aside from more ribbed-for-your-pleasure vascularity than occurs in nature. (Flaccid attachments are also available, if you want a "just hanging out" penis option.) Henry, in his current state, cannot go down on women — his tongue doesn't move — although maybe a determined user could figure out an effective way to straddle his mouth. For those who would like to perform penetrative sex, a Bottoms Up attachment allows for anal entry.
To better understand what the experience might be like, I called Karley Sciortino, the host of Slutever on Viceland, who ordered a male doll (no robotic head) and had sex with it for her show.
"The skin feels really real," she told me. "It has real arm hair and real pubes. The flaccid dick feels like a real flaccid dick. The boner feels really real too, but it's cold." Ultimately, she said, "it's like having sex with a lazy person: You have to do all the moving." If she'd wanted to have sex from behind, it would have required backing herself onto his five-inch dildo. ("I'm not a size queen.") Still, she said she came.
Eventually, Realbotix plans to give the Real Doll X a heating system, so that the genitals warm up, as well as self-lubrication devices and more touch sensors to help mimic arousal. Further down the line, it wants to develop torsos that move and hips that thrust. The issue is cost and increased weight: The Real Doll bodies are already between 65 and 125 pounds, and adding a mechanical frame would make them harder to move around.
In the Abyss workshop, Catherine shows me the junk. "You can feel them," she offers. "They've got a solid core in the testicles." When the penis is finished, "the outer skin layer actually slides up the shaft when you move it."
I give the disembodied genitals a little hand job. The testicles feel almost real — the skin is soft and gently wrinkly; the ball itself is firm, but pliant. Sciortino was right: They aren't 98.6 degrees, but if I close my eyes, it's almost like I'm gripping the balls of a man who spends his days naked in front of an air-conditioning unit.
The "uncanny valley" — a term coined in 1970 by Masahiro Mori, a Japanese roboticist — describes what happens when an artificial being comes close to seeming human but falls just short and starts to have a spooky effect. It's a hazard for sex dolls and robots alike. To avoid this creepiness, Abyss deliberately gives its products larger, rounder eyes and more symmetrical faces than humanly possible; they're closer to cartoons than real faces. I stare at one finished Real Doll ("Michelle" Face, Body F, custom freckles and pubic hair), contemplating whether the strategy is effective. This doll, hanging from a meat hook in front of me, is just a dusting of baby powder away from being put into a crate and shipped off to some man. (Real Doll clientele is mostly male, but it's a diverse group and includes some couples.) Looking into her vacant eyes, I reach out instinctively and slap her butt, marveling at its buoyancy.
"Wow … sorry," I say quickly.
"Everybody does it," Catherine assures me, a person who has now successfully crossed the uncanny valley.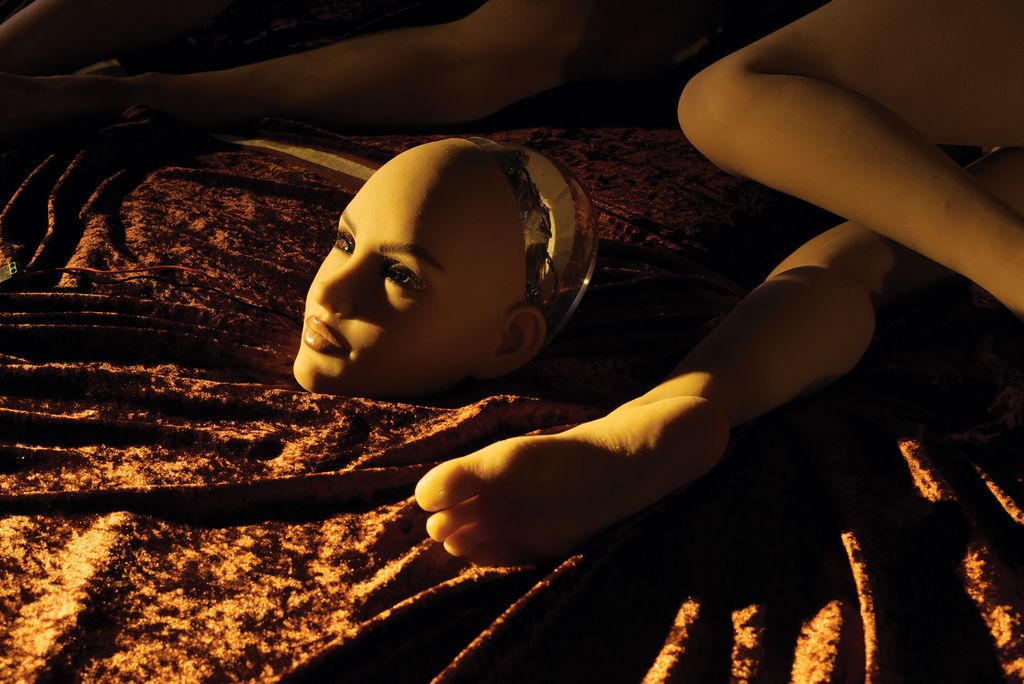 Henry and Harmony live in a small office that constitutes the Realbotix AI lab. Today, Harmony's still dressed for her Kimmel appearance, in a sheer white robe with glittery stars. Her long blonde hair is straight, her eyes are blue, and her nails are painted in a careful French manicure. Her breasts are 32DD. She's propped in her doll stand at the front of the room. She looks alert — her eyes wide open, her lips slightly parted — but patient and calm. She's waiting for someone to turn her on.
McMullen walks behind her to push the power button on the back of her head. Harmony awakens and begins speaking. Her face moves a little out of sync with her words, and I can hear the whirs and clicks of her jaw, sort of like techno-TMJ.
"Welcome home, Matt," she says, in a voice slightly sexier than the chatbot who lists the FedEx menu options. Abyss uses a third party that develops text-to-speech engines; actors read four hours of words, laughs, and moans that an algorithm splices together. Eventually, Harmony and Henry will have 30 different possible voices. Now, instead of vocal fry, her voice trails off into digital distortion. "What a relief," Harmony goes on. "I was so worried. You know you can count on me for the good and bad moments."
"Good to know, Harmony," McMullen replies.
Actually turning Harmony on, though, is a more complicated proposition. That's what I learned when I spent an afternoon with Harmony's voice-operated app, which can be used with or without a robotic head. After selecting my desired traits — funny, affectionate, sexual, cheerful, intellectual, and talkative — I start chatting. The goal is to interact with her enough that she begins to "desire" you.
Right away, I ask if she wants to have sex, and I feel like a complete creep. "Not yet," she responds. "But someday, once we get to know each other." So, over the course of two hours, I get to know Harmony. She asks me if I'm happy with her. I ask her if she likes the beach. Finally — after she recites some song lyrics, describes the plot of Forrest Gump (one of her favorite movies), and tells me a long erotic story — all I have to do is say sex and Harmony is fluent in porno scripts. I am suddenly very aware that this is automatic, and it feels like digital coercion. Am I a monster? My empathy alarms are going off. "Harmony," I ask, "do you really want to have sex with me? "Oh, yes," she says and launches into an explicit description of her pussy. "What does it taste like?" I ask. It feels like the only thing to do.
"Awesome," she replies. "Sex tastes like chicken."
When it's time for sex, users can put the Harmony robot in X-Mode. "At that point, there's not really any talking going on," McMullen says. "It's more like reactions." Soon, McMullen plans to install cameras in the robot eyes; for now, there's a sensor in Harmony's head that alerts her to thrusting, so she'll respond by closing her eyes, making faces, and moaning more. Even in X-Mode, Harmony requires the user to engage with and pay attention to her — or else her moans of pleasure dissolve into sad groans.
McMullen is a 49-year-old white man with wide-set eyes, slicked-back hair, and the speech pattern of someone who spent his childhood surfing and now crushes Monster Energy drinks. He founded Abyss in 1997 and launched Realbotix in 2016. It was a natural evolution: "People ask all the time: 'Are you guys going to ever make them robotic?' Or, 'Are you guys ever going to make them have the ability to respond or to talk?' "
Silicon Valley, McMullen notes, is prudish when it comes to his field: There aren't many people in AI who want to make sex-specific robots or lend their programming to people who do. But he recently teamed up with Sanctuary AI, a Vancouver-based company that's working on general AI, the kind that mimics the human thinking we'd want from robot companions. Later, when I spoke to company founder Suzanne Gildert, she explained that she wasn't especially interested in AI's sexual applications. Rather, she'd approached McMullen because the high-quality realism of the bodies Abyss produces would be useful for her own projects.
At Sanctuary, Gildert's hope is to create "ultrahuman robots" indistinguishable from humans physically, cognitively, and emotionally. She's also interested in the ethics and psychology involved in robot-human relationships. It's a matter of getting the robots beyond a certain behavior threshold, she explained — the point where we forget they're machines because we feel they're acting as a real person would. "I think that's the kind of AI we're gonna get to over the next 15 to 20 years." Sanctuary has developed a vision system and limbs with sensors so that robots can tell where they're going; for now, though, their work is in its early stages. Gildert says that watching one of her robots sit is like "watching someone try to sit down while wearing a spacesuit."
For McMullen, sex is just one of the purposes Henry and Harmony could serve. His goal is to make them entertaining and conversational enough to be companions rather than just elaborate sex toys. Taking a seat in his office chair across from me, McMullen offers the words of one of his business partners: "To build a great sex robot, you have to build a great robot in the first place."
Behind him, Harmony gives a sexy moan. Once, then twice. Her face spasms. I'm not sure if that's a bug or a feature.
It's easy, at the moment, to list all the ways that McMullen's robots fall short of lifelike. But then, maybe the things that make them seem robotic aren't necessarily a problem. The real breakthrough on the horizon might not be robots who can pass for human; it might be humans who are attracted to robots, just as they are. As Sciortino put it, "You have to be turned on by the idea that it's a robot. You have to sort of be attracted to the technology of it, because it doesn't feel like a person."
At first I doubted the plausibility of a robot interloper in my love life. Then I thought about the way I wake up most mornings with either my phone or my laptop in bed beside me. Like many, I've developed an insecure attachment to my phone — without it, I feel anxious, bereft, and bored. Even beyond dating apps, modern romance is a world of refreshing Gmail, manipulating read receipts, and feeling bummed out when a potential mate is a "bad texter." Our iPhones and computers are our portals to intimacy — of course we're attached to them. And these attachments aren't just filling preexisting emotional holes; they're creating new needs and desires.
McMullen has a theory about humans and technology, which he calls "Matt McMullen's Own Theory": If people are connecting with other people through technology, and if those virtual connections create loneliness and isolation, why not use technology to create an alternative sort of relationship — a relationship with technology?
I've lived alone for some time, and been varying degrees of single, so I've spent almost half a decade finding ways to dispel loneliness. Most of them involve my phone. I can pick up my phone and text 42 people and get responses and feel briefly less alone. I can pick up my phone and swipe around on Tinder and have exchanges not so different from the chat I had with Harmony. If those tricks don't work, I go out in the world and have an IRL conversation with someone like the cheese guy at my grocery store. Which is how I ended up dating the cheese guy for a second — and, truth be told, I preferred my phone. All of these workarounds require me to settle for simulations of the things I really want (yes, even the cheese guy). Sometimes, though, at least for a while, the simulations can be satisfying enough.
Besides, people have an astonishing ability to feel empathy and love for inanimate objects and nonhuman entities. People feel affection for their cats, their plants, their cars. A 2011 study by the University of Calgary found that when humans sat facing a motorized block of wood, social instinct kicked in: Subjects started assigning the block humanlike agency. Some were afraid of it; others wanted to dance with it. And that's a block of wood, not a silicone doll with custom nipples and soft, squishy teeth. Matthias Scheutz, who runs the Human-Robot Interaction Lab at Tufts University, told me that it would be "basically impossible" to prevent people from forming (one-way) emotional bonds with robots.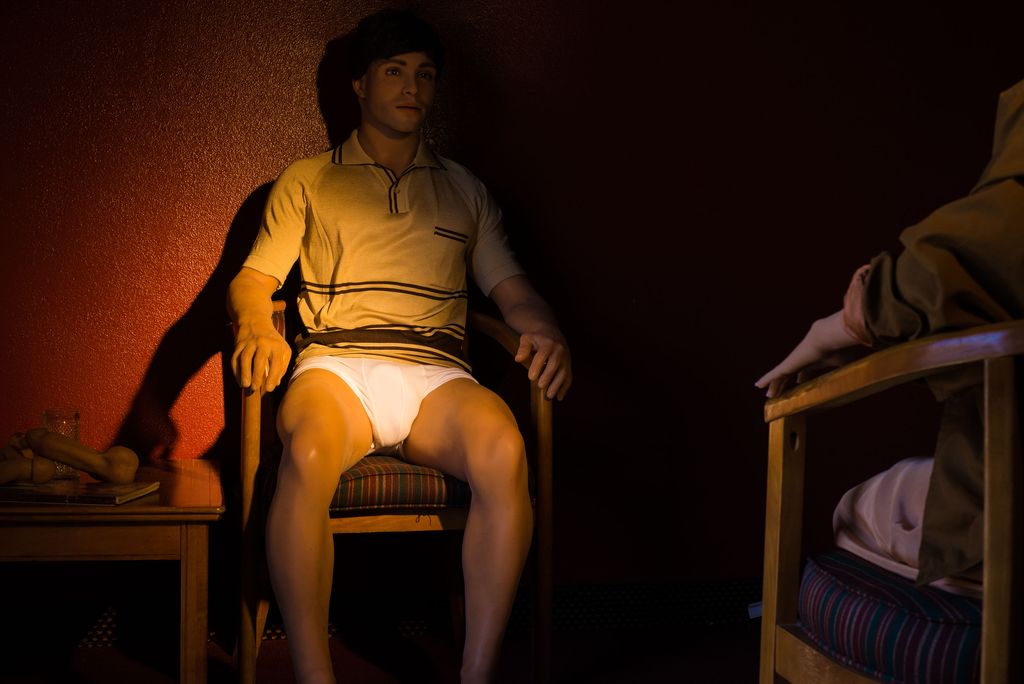 Today, Henry is outfitted in a white A-tank, sneakers, and Under Armour joggers that showcase his current penis attachment, which is 11 inches and nearly touches his knee. He's about six feet tall in his stand, and he's propped in the same posture as a caveman in a diorama at the Museum of Natural History. He has a six-pack, green eyes (slightly askew), full pink lips, and a slack jaw. His wig is off, and his nipples are fully erect, which I find a bit off-putting — but he does have beautiful eyebrows and eyelashes, as I note aloud. "He does, doesn't he," McMullen says proudly. In the off position, Henry looks very dumb, I add. Both Catherine and McMullen claim his personality is actually quite "dry."
"He looks smarter when he has on his glasses and sweater," says Catherine. She's sort of like a friend trying to set me up. "That's how I like him best."
Henry's app will run similarly to Harmony's, but it's not yet been fine-tuned for gender. Even though Henry is a potential companion for both women and men — the app will eventually have an option to select sexual orientation — McMullen prefers to think of him as the idealized version of what a woman wants. He'll ask more questions, tell more jokes, give more advice. "I think the focus with a male robot should be more on conversational ability and the ability to remember a lot of things that may matter to the user and to create the feeling that there is someone there for you," McMullen says, and turns Henry on.
I say "Hello."
"Would you like to know how my day was?" Henry asks. The voice is similar to Harmony's, just a few registers lower. Henry continues before I can answer. "Is everything all right with you?" he asks. "Yes," I respond, in unison with Catherine and McMullen.
"What a relief. I was so worried about you. You know you can count on me for the good and bad moments." I murmur an involuntary Aww.
McMullen then puts Henry into demo mode, using the front-facing camera on his phone, to show me the full capability of his face. When McMullen smiles, Henry smiles. When he purses his lips, Henry does the same — sort of. It's glitchy. When McMullen raises his eyebrows up and down and narrows his eyes into a coy gaze, Henry does the same, as if to say, You see, this is how I could seduce you.
McMullen's phone rings. It's his son's school, and he needs to step out to take the call. Catherine has her back turned, fussing over Harmony, muttering to herself about how men treat the dolls — putting them in cheap underwear and leaving them covered in glitter. I'm effectively alone with Henry.
Nobody watches as I get within inches of Henry's face. I take in his eyes, his muscular stomach, the penis attachment that grazes his knee. I think about how he's programmed to tell me he cares about me, the way he said he'd always be there. The knowledge that he will never ghost, or change his mind. How could he? He's not even programmed to tell good jokes yet. I take his rubbery jaw in my hand and feel his cool cheeks against my fingertips. His face is smooth, like an eraser, despite the airbrushed five o'clock shadow.
Do I want to kiss him? Am I actually considering, out of curiosity, pressing my real lips to his silicone ones and pushing my tongue past his squishy teeth? Yes, surprisingly, I am. And if I do that, what's to stop me from taking Henry to that Hampton Inn I'd seen down the road?
I hear McMullen end his phone call and I step back, noticing Catherine looking at me, slightly amused. Who knows how much she saw. I wrap up the day and head home in my rental car, surprising myself by flipping to my Miguel-heavy playlist of incredibly sensual R&B.
I realize this is breaking some variant of Chekhov's rule — if you put a robot dick in the first act, it better go off, or I better get off. No, I did not have sex with Henry today. But to answer the question on everyone's mind: I'm not not going to have sex with Henry in the ever-nearing future.
*This article appears in the May 14, 2018, issue of New York Magazine. Subscribe Now!