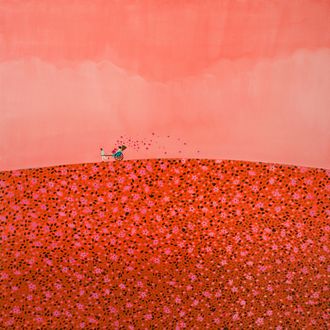 A Fragrant Delivery
, by Shirin Sahba.
Photo: New Horizons by Shirin Sahba; published by Chronicle Books 2018
An Indian mother and daughter of a Persian architect and artist, Shirin Sahba has retained a wanderlust into adulthood, driven by her nomadic childhood. Born in India as her father was building a marble temple, Sahba grew up on the Mediterranean shores of Israel and Italy, living on three continents by the age of 5. Now as an international artist, she has compiled 56 of her vibrant, vignette-like paintings into a book titled "New Horizons: The Art of Wandering."
Inspirited by her roving lifestyle, New Horizons depicts her most cherished memories and experiences from each country, accompanied by a single sentence explainer. "There is nothing like a child marveling at something simple, ethereal, and beautiful," she writes. From the art of batik in Bali, to the Antelope Canyon in Navajo Nation, to the style of West African women, Sahba drew inspiration from architecture, the natural environment, and her own engagement with family and motherhood to render her colorful illustrations.
Her paintings are simple: bisecting her canvas between earth and sky, her human depictions are small enough to be faceless. They saunter on the border of multi-chromatic landscapes, illustrating her notion of "horizons." The vivid hues and serene imagery convey a sense of childlike gaiety often found in children's books — through them Sahba captures the innocent, homogeneous essence of humanity.
"These new and exciting places revealed so many differences, but also so many similarities, teaching me that we are all of one human family," Sahba writes in the introductory essay to the book. "Whether wandering through a slum or the grounds of a palace, we are all walking the same earth."
New Horizons: The Art of Wandering was released May 1, and is available to purchase here for $15.