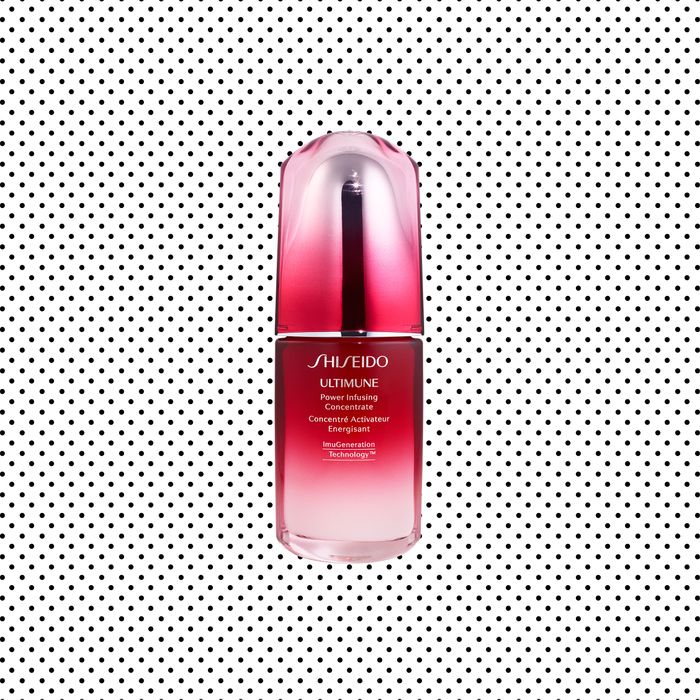 For great skin, sometimes it's not enough to double-cleanse with Cetaphil or use face masks like your life depends on it. Sometimes you need to go down to the cellular level, which is what Shiseido's reformulated Ultimune Power Infusing Concentrate aims to do.
The new formula targets Langerhans cells, which account for 5 percent of the cells that cover the outer layer of your skin. Basically, these cells can detect when foreign substances or environmental stressors are present and can kick other cells' immune functions into gear. But when the Langerhan cells are exposed to too much damage, it takes a toll on skin. (People with psoriasis often don't have them at all.)
For its updated Ultimune Power Infusing Concentrate, Shiseido took the gingko, perilla, and thyme botanicals from the original award-winning formula and added lotus germ, which is the foundation of its innovative ImuGeneration Technology. The ImuGeneration Technology also contains reishi mushroom and iris root to help skin protect itself and to increase the performance of Langerhans cells no matter the environment. The formula also contains what they're calling an ImuCalm Compound — a blend of green floral fragrances, like rose and lotus, to calm skin and relieve stress.
Ultimately, all of the compounds and technology create a serum-like product that sinks into skin, protects it, and gives a dewy finish and fresh feel. It gives a boost to whatever products you layer on top of it, and it makes applying makeup easier because of the skin's smoother texture. The new formula will be available in July at Shiseido.
If you buy something through our links, New York may earn an affiliate commission.