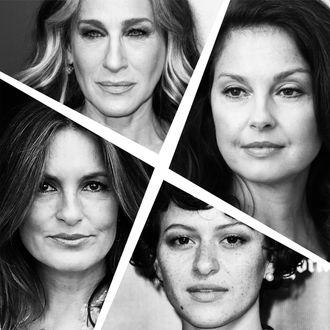 It's only been six months since the Weinstein allegations set off an outpouring of #MeToo stories, and already, we're talking about redemption. Last week, Tina Brown confirmed that she had been approached about co-hosting a show with Charlie Rose interviewing #MeToo perpetrators like Matt Lauer and Louis C.K. (she was quick to shut down the idea). Meanwhile, an article in The Hollywood Reporter invited members of the New York comedy scene to speculate about Louis C.K.'s path to getting his career back, while stories in Vanity Fair and the New York Times noted that Matt Lauer was "planning his comeback" and that Mario Batali was "eyeing his second act."
It certainly seems soon to be discussing "second acts" — while Bill Cosby may have finally been convicted, most of these men have seen absolutely no legal repercussions for their actions. But it's also clear that we face a difficult post-#MeToo conversation, about how we collectively deal with men who have been outed as perpetrators of assault, harassment, and misconduct.
In hopes of getting our heads around it a little more, we caught up with seven prominent Hollywood women at the Tribeca Film Festival (which this year dedicated a day to Time's Up) to get their thoughts on whether redemption is possible — and if so, how, and for whom?
Alia Shawkat on Women's Stories
I think that we're in a generation of information where we expect everything to happen very fast. It's been six months: It's nothing, absolutely nothing. So the idea that this conversation is even happening about making sure they're going to have a career again … [shakes her head]. I think it's preposterous that we're already making to move so that everything's fine, which I think is a womanly instinct.
Now I want to hear the stories that don't relate to [the men] at all, that talk about women's sexual agenda, education of healthy sexual dynamics at a young age, people working in the arts and other fields successfully and eventually not getting hired just because they're a woman — because a lot of time there's a reaction of like, Oh, what if we hire more women to protect ourselves. Hopefully, one day you'll hire me cause I'm right for your job. I think the goal is to get to something where it's not a monopoly. That's what I'm more interested in and what needs to happen in this movement. I don't give a shit when he [Matt Lauer] is coming back, honestly.
Ashley Judd on Accountability
There's an appropriate sequence. Accountability, amends, introspection, restitution, then redemption. You don't get to skip the stages that lead to redemption. But there has to be [a path forward]. We have to have grace and mercy for each other, especially people who are willing to be engaged in the hard work of self-improvement, to be accountable, and to make their amends. When that's genuine and authentic, absolutely there's room for redemption.
For me the biggest disappointment of this week was Tony Robbins. Because I watched that video and I saw an opportunity for him as a coach to coach his clients and tell his clients that this kind of behavior is unacceptable in our current world. He has a responsibility. I am known as a serial forgiver, I am a redemptive person, I believe in everybody coming back. I really am a Pollyanna and believe in the good in people. I want desperately for everyone to make those choices. But it is about choices.
Our favorite stories as a culture are those stories where someone makes a mistake and learns and grows and helps other people. So if all of these men choose to take this moment and help other people, anything's possible.
Sarah Jessica Parker on the Gray Area
We have to have the really hard conversations, both about the allegations and about what due process means. How do we talk about making things right? For victims and also workplaces, what is our code of conduct that we can all understand that's uniform and meaningful across the board? How do we have one code of conduct for the entertainment industry and one for the autoworkers union, or restaurant workers or the teachers union? These are really complicated questions, and as much as everyone wants a sound bite, I think it diminishes how complex and important this conversation is.
Someone was talking about Picasso the other day, about other artists and architects and titans of industry that we all know treated co-workers, women, people of color so [badly]. I think it's a really hard and incredibly exciting conversation and I think it's going to take a really long time and lots of voices and conflict to figure out the gray area, which I think is what everybody's talking about. The gray area that nobody wants to talk about. I think that's like the marrow, the bone marrow.
Emily Mortimer on Forgiveness
My dad always said when he was asked about religion, that he was an atheist for Christ. And I feel the same way: like, I don't believe in any kind of god or religion really but I do believe in this sort of Christian forgiveness as a basic philosophy of life. I think there should always be room for forgiveness and that's the best way of everyone moving forward. Even when terrible things have happened, like in South Africa with Nelson Mandela, that was the whole point, that we're going to move forward with forgiveness. I believe in truth and reconciliation. I think it's really important that all this stuff has come out I think it's changing the world and it's really exciting, but I also believe in forgiveness. I don't know what that means exactly, and I don't think I have to know the answer to that, but you can't carry on with bitterness in your heart. But before that happens, the truth has to come out.
Mariska Hargitay on Victim-Blaming
Each story is unique. I don't do blanket statements about anybody because everyone's on their own journey, some people are trying to get back on the straight and narrow and some people are full of shit. So the people that are full of shit, get out, especially if you don't understand what you did. However, if there is a reckoning and an understanding and a true come-to-Jesus [moment] with the entrenched, archaic, victim-blaming societal attitudes that someone reckons with … it really depends on the person.
People like Bill Cosby or Harvey Weinstein, who have not made peace with what they did — they're unevolved people. But if someone does something wrong and truly has an understanding and is repentant, that's different. I think there's a lot of men that need a lot of education. And victim-blaming attitudes have been so deeply entrenched in our society that even women have them. So we can focus on men, and we should, they are the majority of the problem for sure — and yet we all need to look at our victim-blaming attitudes.
Mira Sorvino on the Legal System
I think the path forward has to start with actual consequences in the legal and criminal justice realm for perpetrators. Out of 1,000 rapes, only 7 will lead to convictions and only 6 people will do time — that's 0.6 percent. And that's nuts. I think all of us are so thrilled that accountability is finally arriving, with the Nassar case, the Cosby case, that the atmosphere of total impunity with which these men have been operating since time began is starting to slowly change. And that's the path to real change. I am much more interested in talking about how to get justice for those of us who have suffered the actions of these individuals. I want to see our legal system kick into gear now; I want to see consequences. We're trying to change laws. In California we're trying to change the statute of limitations from one to three years on sexual harassment.
The system has always been stacked in favor of the perpetrators rather than the victims or survivors, and that's what we're trying to change right now. I'm not God, I'm not here to individually judge people — let's let a jury of their peers do that.