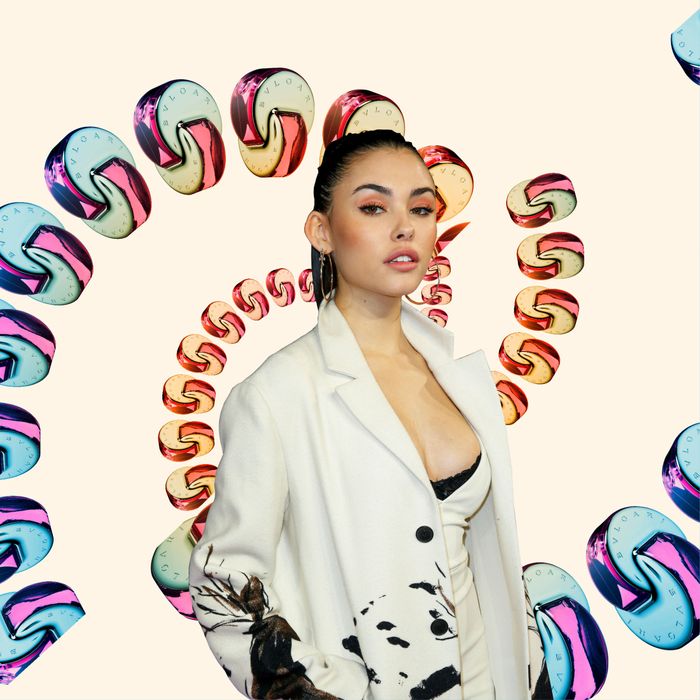 Madison Beer.
Photo-Illustration: Stevie Remsberg/Getty Images
Call it the Proust effect: Memories are best triggered by smells. Scientific studies confirm that out of all the senses, smells and fragrance offer the best recall. Our new feature, Scent Memories, asks its subjects to talk about the scents they associate with different emotions and thoughts. Next up is the fresh face of Bulgari's new Omnia Pink Sapphire fragrance, singer Madison Beer. The 19-year-old singer was discovered when Justin Bieber tweeted a video of her singing. Now, she's selling out venues on her As She Pleases international tour. In her down time, she entertains her 10.6 million Instagram followers and is the face of a new scent, which smells like citrus with base notes of vanilla, musk, and wood. Beer spoke with the Cut about her grandmother, waffles, and popcorn.
My first scent memory: Probably my grandmother. I never knew exactly what she wore, but I could always tell where she was when she wore it.
The smell I associate with love: Lavender. I've always loved it and I think it smells so pretty. It's calm and happy, which to me is love.
Happiness smells like: I love anything menthol-ish. It smells, like, really clean, like you're just out of the shower which makes me really happy.
Loss or heartbreak smells like: Trees and greenery. I remember at my grandmother's funeral, the leaves were falling and we were just covered in it.
Regret smells like: Hand soap. Whenever I do something I'm not proud of, I wash my hands like it somehow makes it better.
Sunday morning smells like: Pancakes and waffles, for sure.
Friendship smells like: Anything sweet, like candy. I love the smell of waffles being cooked, too, so maybe that.
A pleasant surprise smells like: I don't really get surprised a lot, but my friend surprised me at Madison Square Garden when I was singing the national anthem. So the scent associated with my last great surprise was popcorn, because there was a Knicks game.
If you could have one smell on your hands forever, what would it be and why? I love the smell of jasmine.
Monday morning smells like: Coffee. My mom would drink coffee every day when I was growing up, but she'd especially do it on Monday morning.
I smell like: Shampoo — that's so lame. I use so much shampoo in my hair that I think there's no way I don't smell like strawberries.
If you buy something through our links, New York may earn an affiliate commission.