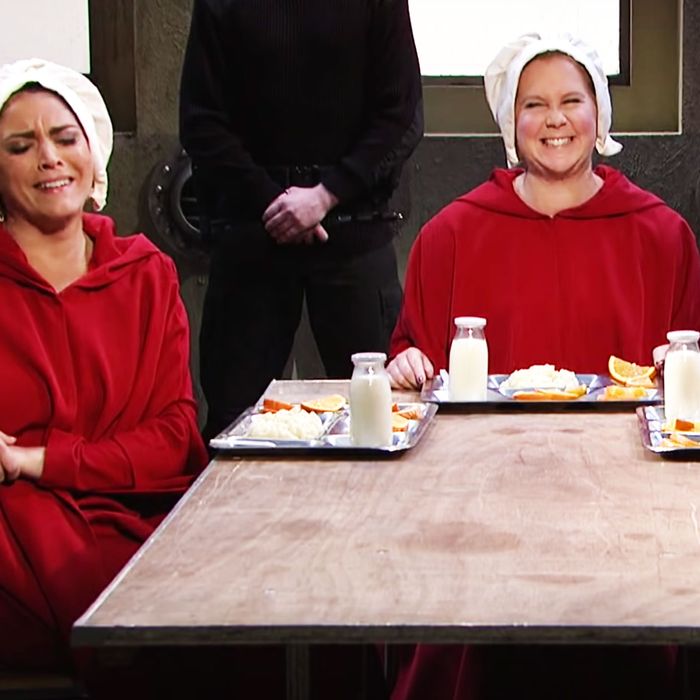 You know those uncomfortable scenes in Sex and the City that didn't quite age well, and that instantly remind you that the pop-culture cornerstone definitely premiered in the late '90s? Lucky for us, Saturday Night Live premiered a new spinoff last night to bring the show into the 21st century: Handmaids in the City, a mash-up of SATC and The Handmaid's Tale that is funny and also terrifying?
"Let's face it ladies — in 2018, a Handmaid's Tale is basically our Sex and the City," the voice-over says. "So whether you're an Offred, or an Ofwarren, you'll love Hulu's new spinoff show, Handmaids in the City."
The dystopian series stars Amy Schumer, who stars as Offred, who stars as Carrie Bradshaw, who just wants to gab and complain with her fellow faithful Handmaids in downtown Gilead. "Under His Eye? What about under my eye! Look at these bags!" she jokes to Cecily Strong and Aidy Bryant, before being joined by a one-eyed Kate McKinnon. She's clearly Ofwarren, and also maybe … Samantha?
"It's a show critics are calling 'so brutal' and 'more uplifting than the news,'" the voice-over says. "You'll laugh, you'll cry, you'll say, 'Oh my god, this so could be me and my friends with the way things are going.'"