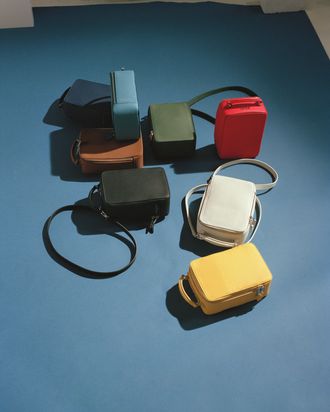 With warm weather comes the desire to simplify everything. If you're wearing lighter clothes, why not apply that same logic to your handbag? Instead of lugging around a ton of stuff in a gigantic tote, it's liberating to carry a tiny, cute purse.
Just in time for those warm-weather urges comes a new bag from a surprising designer: Sonia Rykiel. The brand just launched its Pavé Parisien cross-body, inspired by the French student protests in 1968 — the revolutionary era during which Rykiel started her own fashion line.
The playful design feels to true Rykiel's fun, "un-fashion" approach. Not only does the bag's shape literally liberate your arms, the boxy body pays homage to the iconic cobblestone streets of Paris. It comes in eight different colors, from classic black to striking red to cheerful yellow — all the better for carrying the bare minimum during the summer of 2018.
Sonia Rykiel Pavé Parisien bag, $990 at 816 Madison Ave, 212-396-3060 and available on soniarykiel.com.