The spring 2018 couture shows satisfied a craving in the fashion world earlier this year in Paris, with designers like Chanel and Giambattista Valli displaying an inherent appreciation for each stitch, cut, and drape in every garment. Fundamentally, couture is custom-made clothing produced by a precious few designers. It has always been that way, and only a handful of couture houses still exist. This season, their freedom to expend hours and hours of work into the creation of one artful garment (which will likely only be worn once, on the runway) provided a respite from our faster-than-fast fashion society. Instead of putting out clothes that screamed "photograph me!", Clare Waight Keller sent razor-sharp shoulder pads and peplums down the Givenchy runway. John Galliano at Maison Margiela — the perennial rebel of the couture scene — opted for attention-grabbing iridescent swim caps. Surrounded by an all-black runway, the clothes and the craftsmanship behind them were the stars.
Following the couturiers' meticulous ethos, photographer Peter Ash Lee shot model Wayne Booth wearing spring couture clothing in a stark, industrial space for this fashion shoot. The sharp white backdrop allowed him to focus on the layered fabric of a Dior mask, the depth of a dotted Givenchy gown, and the elegance of a Valentino cape. Ash Lee says he intentionally veered away from an air of extravagance or femininity.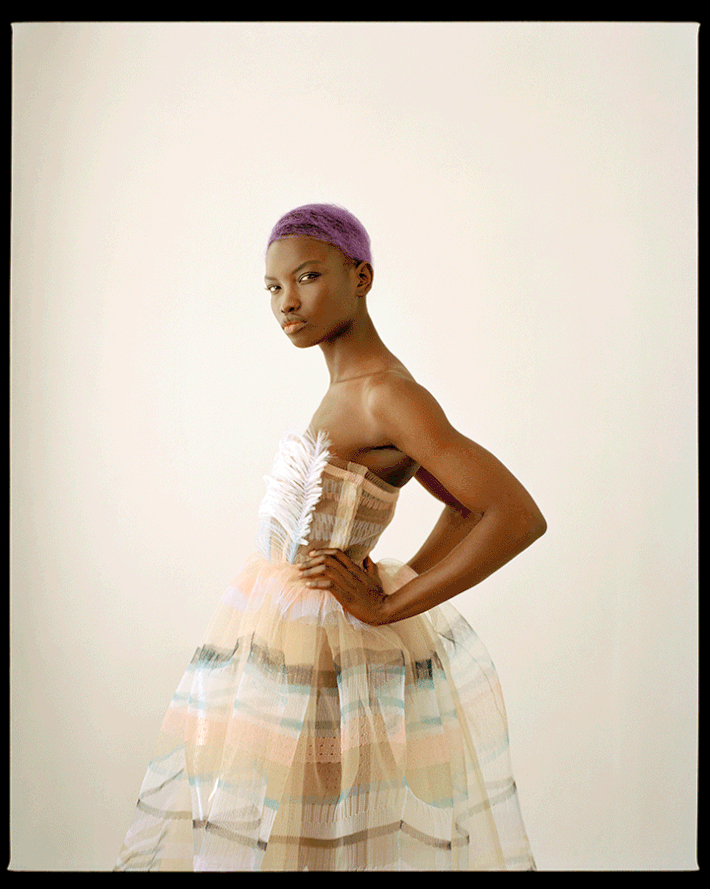 "For a lot of the photos, I asked the model to maintain a strong posture — rather than something softer and romantic," he told the Cut. "I get a lot of inspiration from nature, with the shapes and colors. A lot of fashion is influenced by nature as well."
He introduced only one prop on set: fresh flowers. Using roses and calla lilies, at one point he asked Booth to mimic a flower while wearing a purple Giambattista Valli gown. The result is a sartorial palette cleanser — a reminder to appreciate impeccably designed clothing and the couturiers' hands, which stitch each piece of fabric. Take a deep breath, and scroll down to see more.